+6100 professionals have attended BRAND MINDS 2022: What you've missed
BRAND MINDS was a fantastic event where business professionals from over 50 countries learned proven frameworks, laughed, had AHA! moments, and connected with each other.
CEOs, investors, startup founders, sales, marketing and advertising experts, business developers and many other professionals in various industries got together and networked to build new connections and business opportunities.
BRAND MINDS is the largest business event in Romania and one of the Top 5 largest business events in Europe.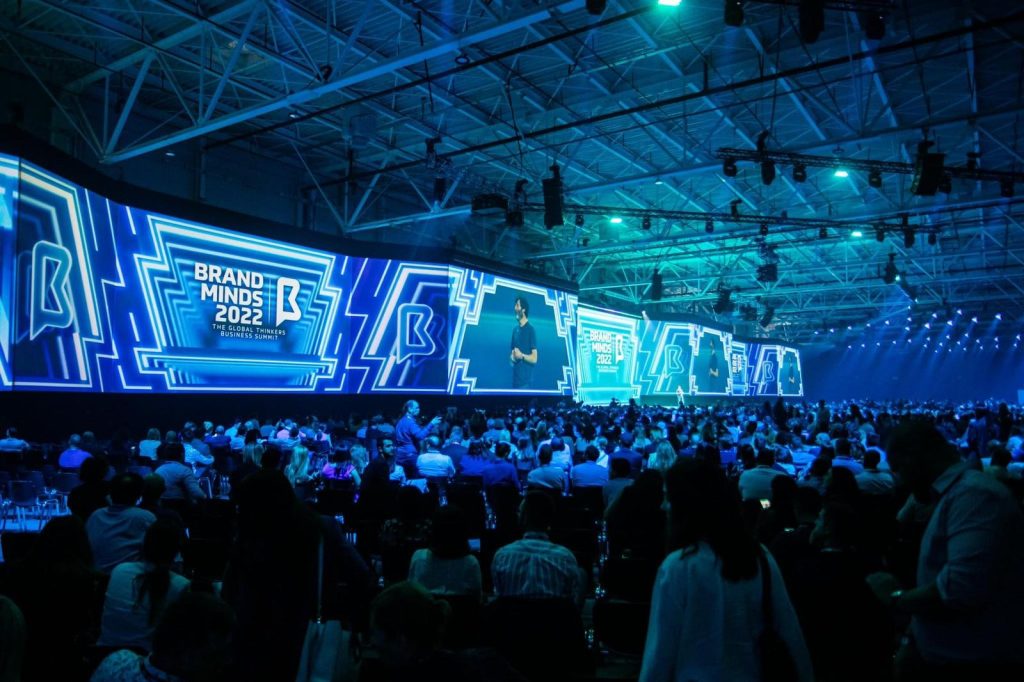 BRAND MINDS 2022: Here's what you've missed
An amazing immersive in-person experience;
One of the largest screens in the world, setting a new standard for business events;
2 days packed with invaluable insights on Business Scaleup & Strategy, Sales Strategy, Viral Marketing, Team Leadership, Team Performance, Stress Management, Business Innovation, Personal Growth, and Understanding of the consumer's mind;
Unique opportunities for high-level networking in a futuristically designed space.
Interactive & memorable activations from premium partners.
UNIQUE TAKEAWAYS FOR A SUCCESSFUL BUSINESS & CAREER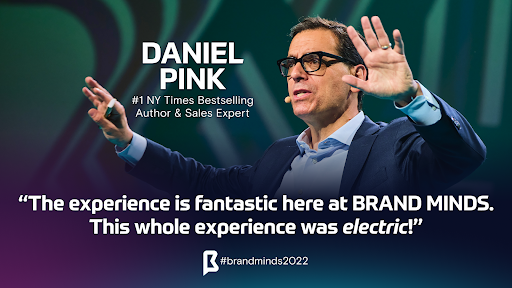 DANIEL PINK – The new rules of selling & influence
People spend 40% of their time selling even though they don't work in sales.
Successful sales professionals learn a new set of ABCs in sales: attunement, buoyancy and clarity. Attunement is perspective-taking: seeing things from another person's view. Buoyancy is how to stay afloat in a sea of rejection. Clarity is shifting from accessing information to finding what's relevant and what's not.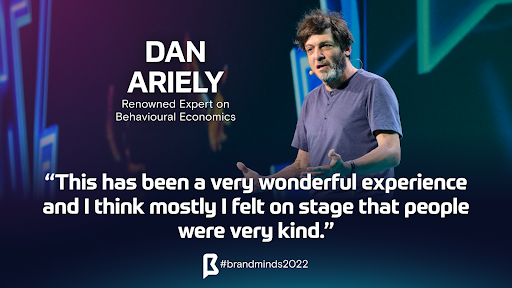 DAN ARIELY – How to change behaviour
How to eliminate friction: see what kind of effort every little thing takes and reduce it. Also, try to align the easy behaviour with the desired behaviour.
Add motivation to influence people's behaviour: more time with the family, money, improved health, and social status.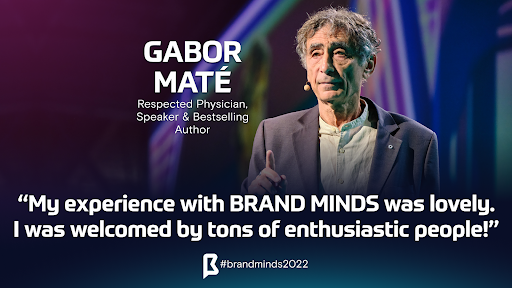 GABOR MATÉ – The mind/body unity and the stress-disease connection
People who identify with their jobs are more prone to stress-induced illness. You are not your job.
Our interpretation of what happens to us is the source of stress, not the situation itself.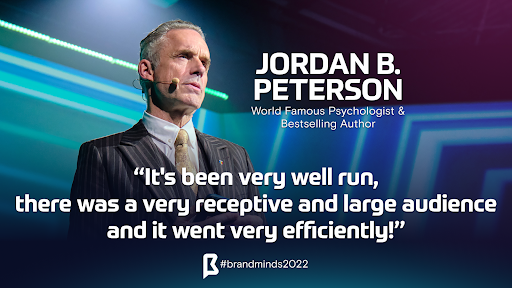 JORDAN B PETERSON – 12 rules for a successful career & life
Surround yourself with highly competent people and give them autonomy, avoid micromanaging them.
The most important skill of a leader: summarize what other people say even if you don't agree with them. You show them attention which is the essential social currency.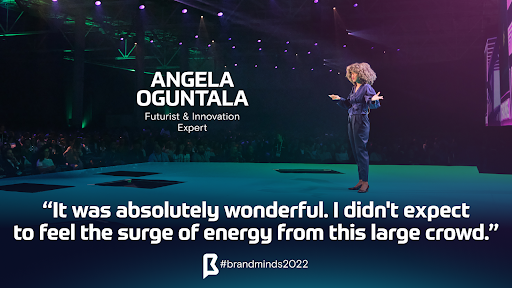 ANGELA OGUNTALA – How to rethink your company for the future
Projection bias, anchoring bias and status-quo bias are toxic to the innovation process.
Explore the idea of WHAT IF, especially for things that didn't work out.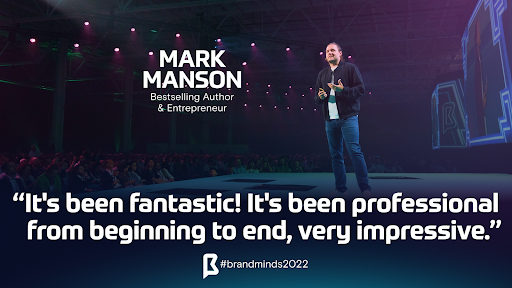 MARK MANSON – How to improve your personal leadership
It's essential you define the right measure of success.
Whatever we choose to optimize, we are always giving up on something else, whether we realize it or not.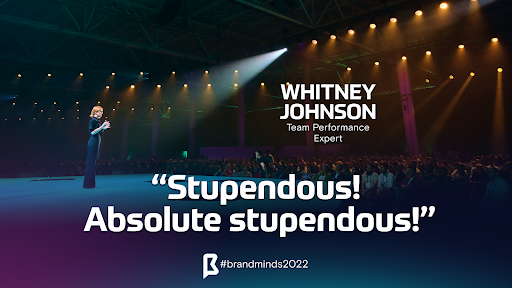 WHITNEY JOHNSON – The best tactics for building an extraordinary team
The best team is made of 20% employees at the launch point, 60% at the sweet spot and 20% at mastery.
We are wired to grow. Grow yourself to grow your people and that will grow your company.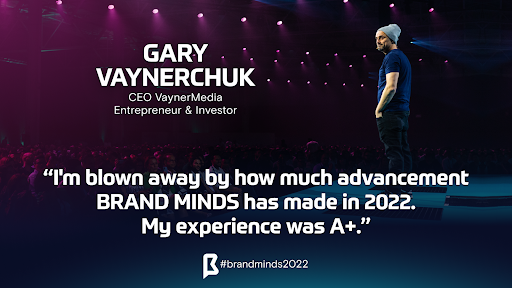 GARY VAYNERCHUK – The ultimate strategies to build outstanding businesses
The biggest opportunity since the internet and social media is the Consumer Blockchain.
Pair your service subscription with an NFT and you have a new business revenue.
Special thanks go to our supporting partners without whom BRAND MINDS wouldn't be happening at this scale and last, but not least, we are grateful for each and every person who joined BRAND MINDS 2022 and will take the inspiration forward.
Meet the GLOBAL THINKERS joining BRAND MINDS 2023!
The event will take place on June 2nd & 3rd, 2023, at Romexpo.
2 DAYS left to secure your tickets for a special price and they are available HERE.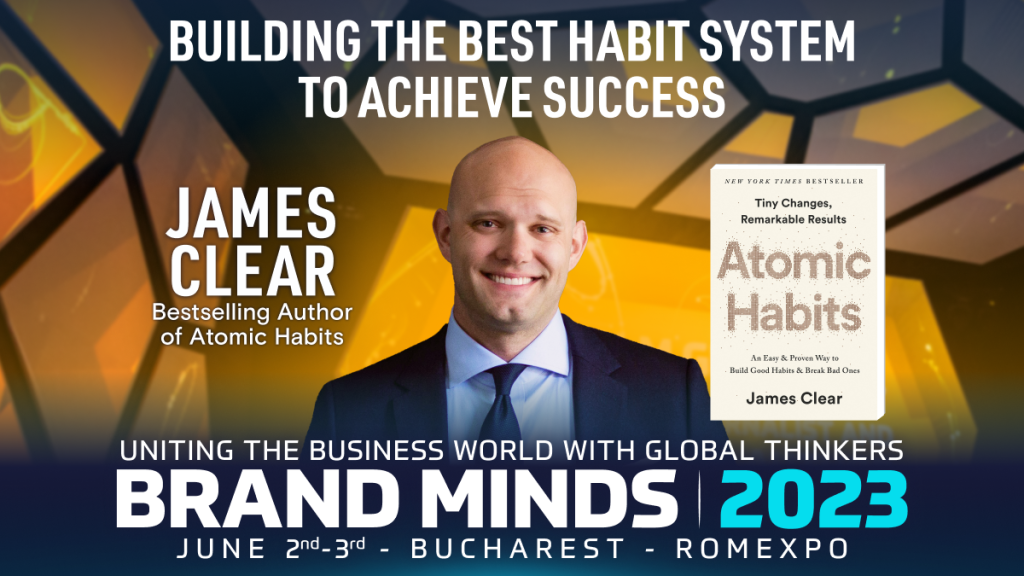 JAMES CLEAR

– Bestselling Author of Atomic Habits

Bestselling Author James Clear, one of the world's leading experts on habit formation, will be speaking at BRAND MINDS 2023.

James Clear is creating successful decision-making frameworks for building continuous improvement. His book, Atomic Habits has reached tremendous fame all around the globe, holding its title of the #1 New York Times Bestselling book for over a year.

He inspires +1.5 million people to achieve great results through his popular 3-2-1 newsletter by sharing remarkable ideas and outstanding concepts.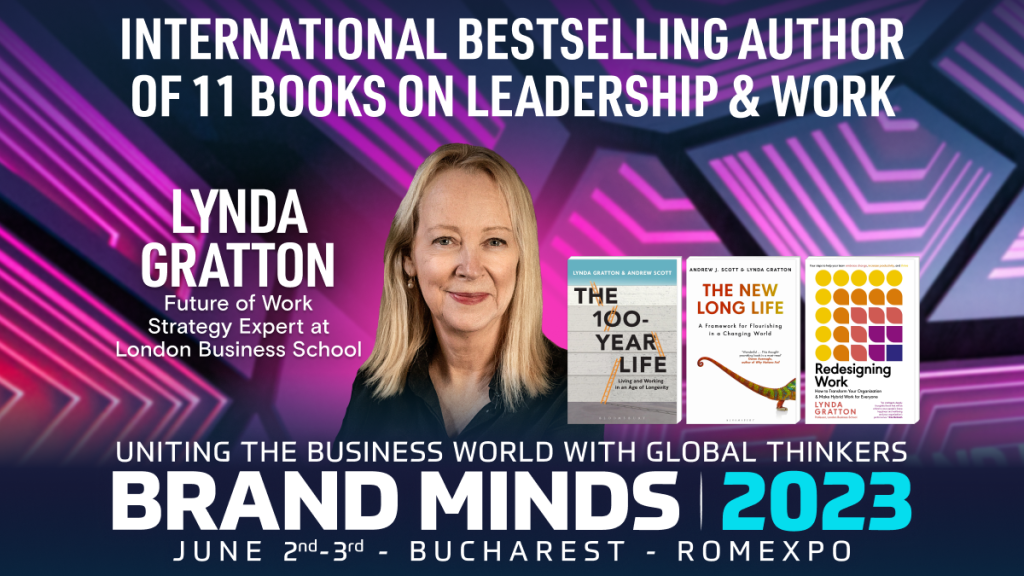 LYNDA GRATTON

– Future of Work Strategy Expert @ LONDON BUSINESS SCHOOL

Lynda Gratton is an internationally-respected Professor of Management Practice at the London Business School with an incredible teaching experience of 33 years. She is an award-winning thought leader on the future of work and the role of corporations.

She served on former Japanese Prime Minister Abe's "Council for Designing 100-Year Life Society" and is an esteemed member of the Council of the World Economic Forum.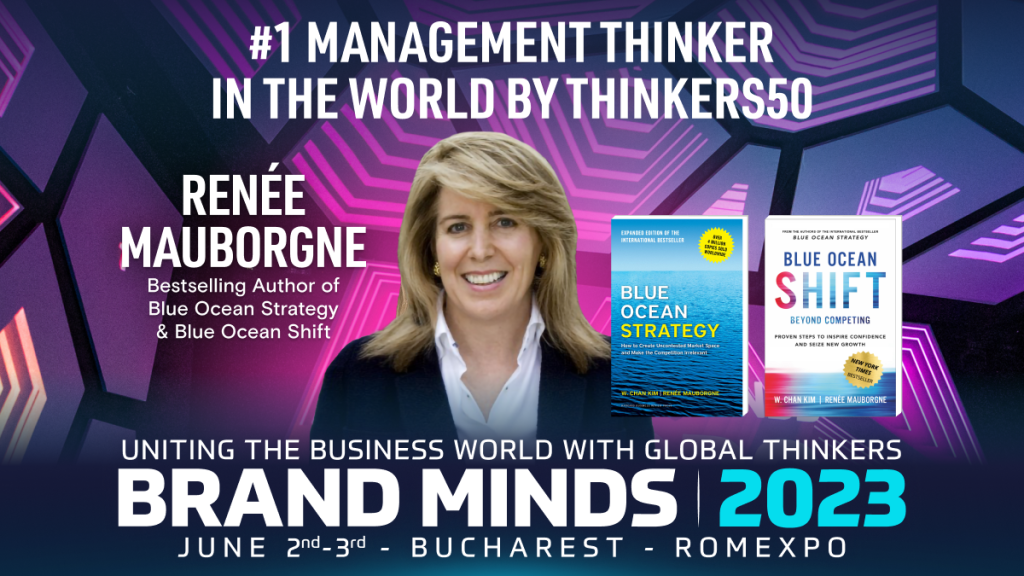 RENÉE MAUBORGNE

– Bestselling Author of Blue Ocean Strategy & Blue Ocean Shift

Renée Mauborgne is one of the world's most famous business strategists. Based on her 10-year study of strategic business moves across 30 industries, her unique strategy teaches leaders how to uncover new markets.

Her book, Blue Ocean Strategy, sold over 4 million copies around the globe and is recognized as one of the most iconic and impactful strategy books ever written. The Financial Times called it "one of the bestselling business books of the century".

She was specially selected as the Fellow of the World Economic Forum and Davos and was chosen for the Leadership Hall of Fame by Fast Company.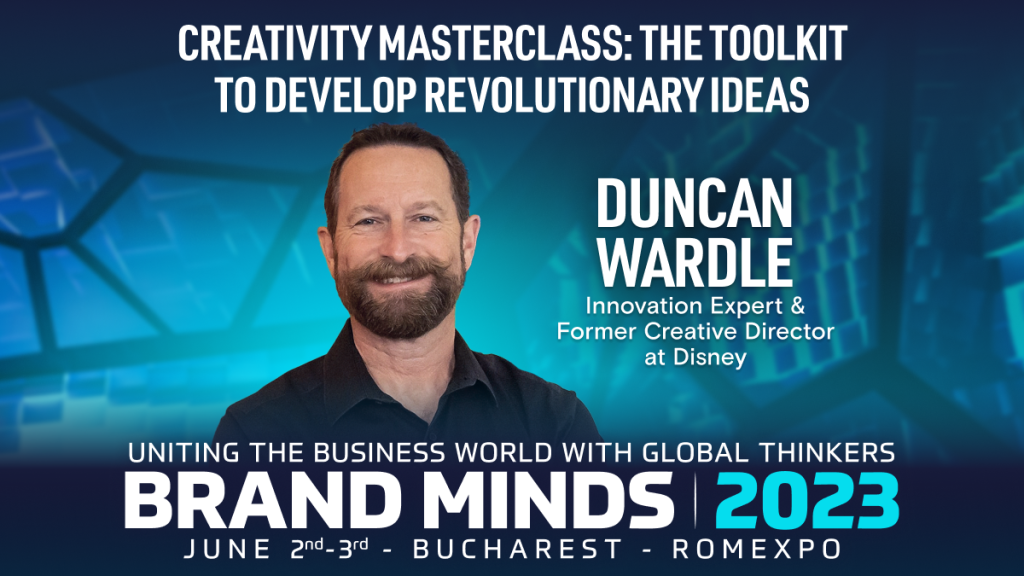 DUNCAN WARDLE

– Innovation Expert & Former Creative Director at DISNEY

He has been Head of Innovation and Creativity for 25 years at one of the most beloved companies on the entire globe: The Walt Disney Company.

Duncan Wardle is a renowned expert in developing innovative, magical brands, engaging stories, and creative experiences that drive results.

In recognition of his global and unique approach to design thinking, he received the Duke of Edinburgh Award.

On Day 2 of BRAND MINDS 2023, Duncan Wardle will deliver his premium CREATIVITY MASTERCLASS which helps leaders embed innovation into their team's DNA by learning THE TOOLKIT TO DEVELOP REVOLUTIONARY IDEAS.
More Global Thinkers are to be announced soon!
Learn more about the secrets of successful business and leadership at www.brandminds.com.
Xclusiverse co-founder Florina Onetiu – In 5 years, people will see metaverses as a part of life
Xclusiverse is a metaverse endorsed by a eCommerce platform, that will aid social interactions among people of the world and business entities, allowing them to connect, and interact while also providing the space to buy digital and physical products on the platform.
In the interview below, Xclusiverse co-founder Florina Onetiu shared with us more about the company, its mission and the future.
The first industry to benefit from Xclusiverse is real estate. Why?
We are in an era where a new world is opening for us, and we are grateful to be the builders of a virtual world that will bring value to businesses and users around the globe.
Like building a city, we started by building solid foundations that would provide people with spaces, buildings, and offices in the metaverse and in the real world.
We want to support the real estate industry in achieving its high potential. Through our metaverse, we'll give the real estate agencies and developers the possibility of the impossible.
We offer them the possibility to maximize their business, have a solid foundation for the growth of their business, build a recognized brand, run a profitable and sustainable business by increasing revenue while limiting expenses and, more importantly, to maintain an excellent relationship with their customers.
What industries will follow real estate?
From mid-July, Xclusiverse will be open to all industries that already see that the future is around the corner.
Once businesses and people will choose those locations, we will open our world to all other industries eager to bring value to the people who will explore this new world.
We are confident that businesses that want to scale globally will respond positively to our invitation to come to Xclusiverse. We are already discussing with some industries such as luxury fashion retailers, software companies, architecture and design, logistics, professional accountant's associations and more.
What is the main benefit provided by Xclusiverse to its customers?
Think about it: you are a company that plans to gain more market share. You can do this in an old-fashioned way and/or you can access customers from all over the world and be a pioneer in a world that, just like the internet 20 or so years ago, is now beginning!
The main benefit we offer to stakeholders such as companies is limitless opportunities for our growth and rapid expansion as we win the hearts of every creative and internet user. And for users: an immersive social, connection and shopping experience with both physical and digital products.
Xclusiverse is building several spaces inside its platform. What are they and what is their goal?
There will be 3 areas:
Xclusiverse City – a luxury playground for immersive social interaction, play and earn, meet, and greet and other activities;
Xclusiverse Mall – where the shops will sell regular and digital products;
Xclusiverse Club – an area designed for exclusive meetings and offline events.
Name the main 3 pain points that Xclusiverse solves for its customers.
Time
Rich connection
Lack of revenue lines for businesses
The desire for exclusive, empowered communities
What is the brand's vision for the next 3 years?
Our vision is to build the largest global community of people on blockchain technology through exquisite experiences of virtual interaction, shopping, and real-world meetings.
What will the world look like in 5 years and what role will the Metaverse play in people's lives?
In 5 years, the world will be even more supported by technology. The Metaverse technology will make it possible to bridge the real and virtual worlds, will break the distance and time issue and will build communities of people that can interact, shop, sell, and promote their business through platforms.
In 5 years, humans will probably be able to reach Mars and all this experience can be followed and lived through metaverses.
In more than 5 years, I believe that people will see metaverses as a part of life, just as they have adopted the internet, touch screen phones or social media. And most likely the metaverses will bring new learning opportunities, social, financial, shopping, jobs and so on.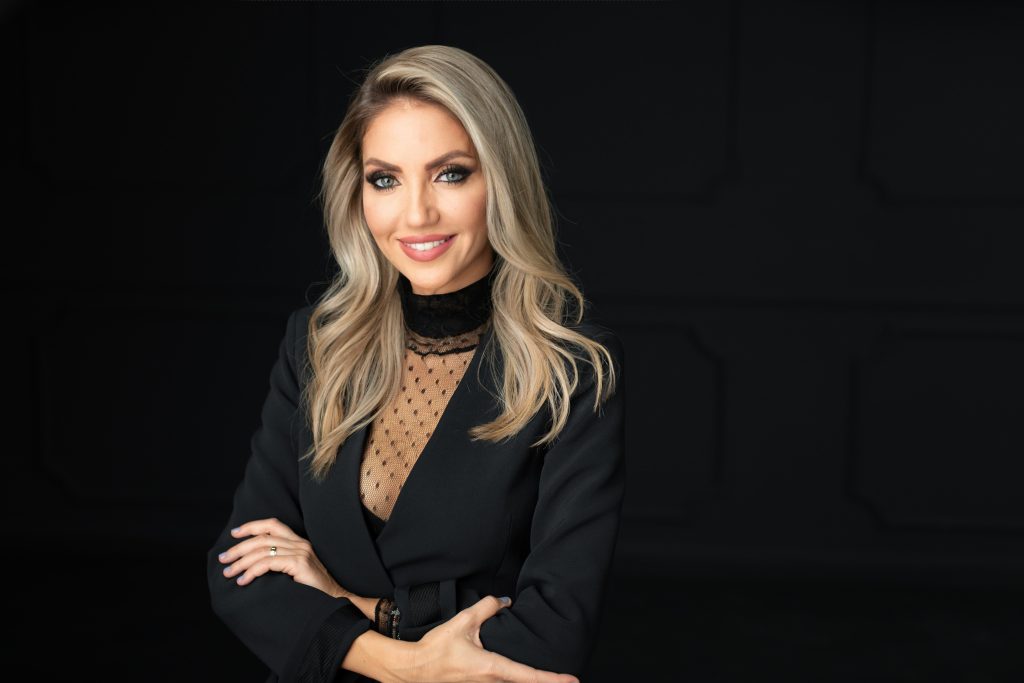 What is the latest news about Xclusiverse our readers should learn about?
I'm glad you asked! What is important to know is that at Brand Minds we are trying to break a world record!
Because we believe so much in the concept of bridging the worlds, we decided to create a community of people who would take the first step towards the new virtual worlds by building an avatar within the physical event Brand Minds.
Then what's important to know is that Xclusiverse is up and running for members – real estate companies for now, and starting October, users will be able to experience and enjoy the first features of Xclusiverse!
We can't wait, we are very excited!
Last Tickets Available for BRAND MINDS
BRAND MINDS 2022 is your unmissable opportunity to see global leaders live, on stage, and discover brilliant ideas that shape the future of business.
Prices go up on June 9th, at midnight, so hurry up, and grab your tickets before the event is sold out! Last tickets are available at www.brandminds.com
Over 5500 professionals and industry leaders are expected to join this year's edition from all over Europe to access the ultimate insights and tactics to develop their teams and business strategy.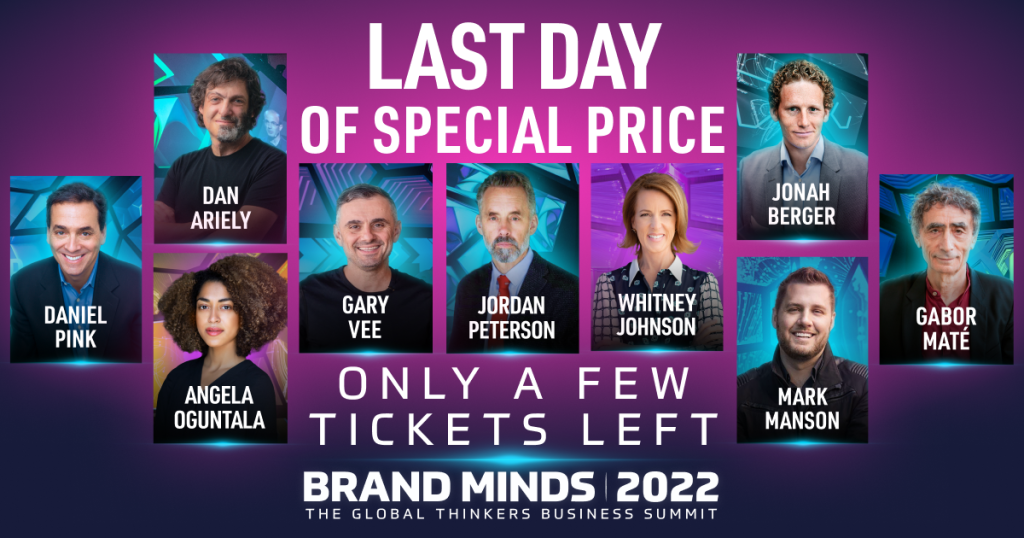 6 reasons why you should join BRAND MINDS:
Meet world-famous business thinkers
Experience the team-building of the year
Network with top leaders in your industry
Reconnect with all your partners in a memorable business event
Boost your professional brand with the BRAND MINDS certificate
Benefit from an A-to-Z business education on:
Business Scaleup & Strategy
Sales Strategy
Viral Marketing
Team Leadership
Team Performance
Stress Management
Business Innovation
Personal Growth
Understanding the consumer's mind
THE BEST GLOBAL BUSINESS THINKERS
will be rocking the stage at BRAND MINDS 2022
Registration starts on June 17th, at 7:00 AM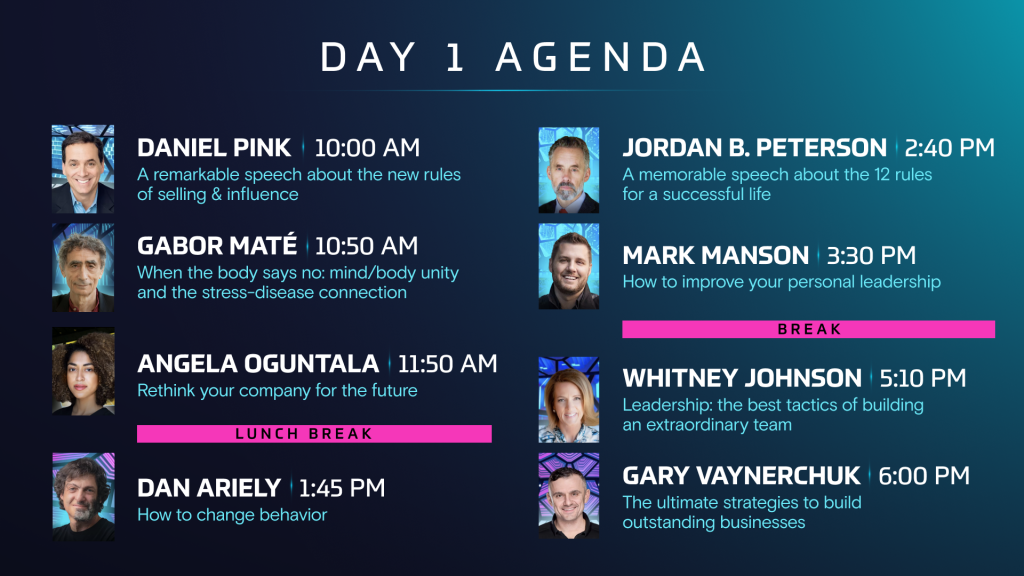 DAY 2 ACCESS is only available for Business & First Class Ticket Holders.
If your ticket is not covering DAY 2, you can UPGRADE it here.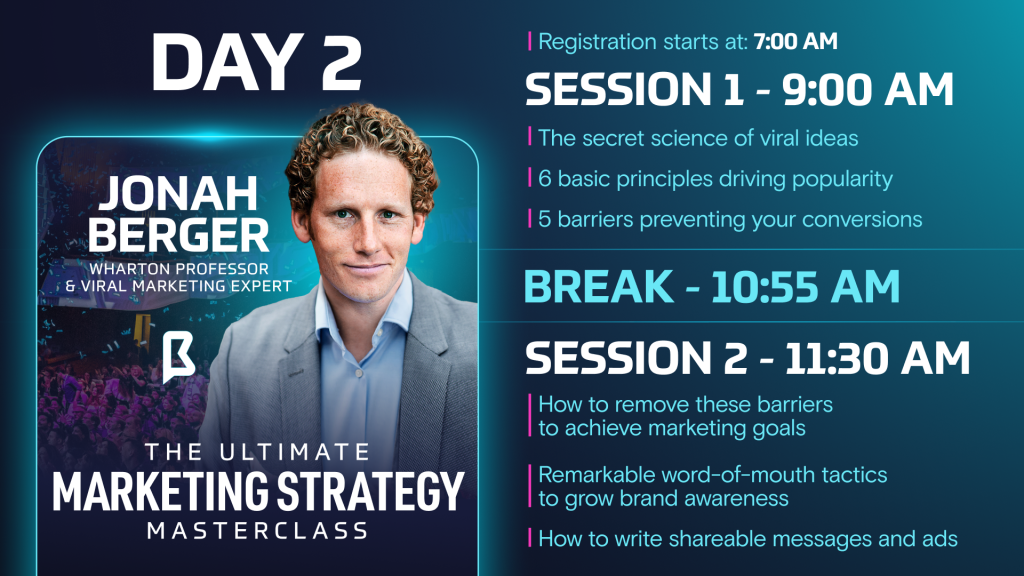 Are you one of the following professionals?
Then BRAND MINDS is for you!
1.Business Developers looking to deliver more value to clients by leveraging human behaviour trends;
2. Organizational Leaders looking to reduce work-related stress and improve professional efficiency;
3. Entrepreneurs, Top executives and CEOs looking for verified lessons on business scale-up & strategy;
4. Coaches, Trainers and Psychologists looking for outstanding personal growth tactics;
5. Human Resources Managers looking to discover talent growth opportunities for employees;
6. Sales Specialists and Negotiation Experts looking for new techniques to close more sales;
7. IT leaders and Tech Experts looking to gain a competitive advantage through innovation;
8. Marketing, Branding and Advertising Experts looking to achieve business goals by creating viral marketing campaigns;
9. Team Leaders looking to understand the challenges impacting their leadership.
Learn with your team how to build a winning strategy for your company at
BRAND MINDS 2022!
21 Leadership lessons from Jeff Bezos, Robert Iger and Whitney Johnson
ROBERT IGER, former Disney CEO – 9 leadership lessons
Robert (Bob) Iger is the foreman Chairman and CEO of The Walt Disney Company, one of the world's largest and most admired media and entertainment companies.
Since becoming CEO in 2005, he oversaw the acquisitions of Pixar (2006), Marvel (2009), Lucasfilm (2012) and 21st Century Fox (2019).
In 2016 Disney expanded its international footprint by opening its first theme park and resort in Mainland China, Shanghai Disney Resort.
He also took the company to the next level using technology by creating an ambitious direct-to-consumer strategy that features the company's various streaming services, including Disney+, which debuts on November 12.
His book, The Ride of a Lifetime: Lessons learned from 15 years as CEO of The Walt Disney Company launched on September 23.
Here are 9 leadership lessons that he shared in a LinkedIn article where he tells the story of the Lucasfilm acquisition and the making of the first Disney produced Star Wars film.
9 leadership lessons from Bob Iger:
Talk to your team members to make sure everyone is on the same page and fully understand the stakes;
Share the burden of what it means to be responsible with your team members;
Communicate to your team members that you are their partner and not just a CEO putting pressure on them to deliver results;
Be a resource and a collaborator, make them feel that they could call you at any moment to discuss any problem they might wrestling with;
Remind your team that you believe in them and that there are no better minds to run your company's projects;
If you can't make the deadline, it's ok. Don't rush to deliver your project on time even if this means taking a short-term hit to your bottom line. Sacrificing quality is never an option;
Decide wisely when it's worth engaging in any public discourse and when it's not;
When you run negotiations, let your partners know clearly about where you stand while allowing yourself to show empathy if the situation calls for it;
A successful deal is a deal where you build trust with your partners and suppliers.
You have to try to recognize that when the stakes of a project are very high, there's not much to be gained from putting additional pressure on the people working on it.

Robert Iger
JEFF BEZOS, former Amazon CEO – 6 leadership lessons
Amazon founder Jeff Bezos stepped down as the company's CEO in 2021. He founded the eCommerce retailer 27 years ago in a garage when it "was only an idea" and people were asking him "What's the internet?".
Leveraging the power of the internet and thanks to his vision of what makes a successful company, today Amazon is the world's largest online retailer of consumer products and a leader in the cloud computing segment.
According to Statista, in 2021, the online retail platform Amazon reported a net income of $33.36 billion, up 56% from a $21.3 billion net income in the previous year.
Leadership lessons from Jeff Bezos:
Move quickly to solidify and extend your current position
In 1997, with big tech companies like Microsoft and AOL expressing interest in online commerce, Bezos saw a window of opportunity."Our goal is to move quickly to solidify and extend our current position while we begin to pursue online commerce opportunities in other areas. We see substantial opportunity in the large markets we are targeting", he writes in his 1997 shareholder letter. I remind you that, at the time, Amazon was still selling books.
Set out to delight your customers
Jeff believes complaining customers are a company's most valuable resource for growth. They reveal blind spots that employees or managers could not otherwise identify giving the business the opportunity to improve and develop. Amazon's focus on customer obsession is one of its underlining factors for success.
Make bold investment decisions
At the heart of Amazon's investments is the customer. Every investment that Amazon makes is to further improve customer satisfaction and experience by developing systems, infrastructure and service.
Your employees must think like an owner
Jeff acknowledged early on that hiring the right people was paramount if Amazon was to be successful and achieve its objectives. "Setting the bar high in our approach to hiring has been, and will continue to be, the single most important element of Amazon.com's success."The retailer behemoth compensates its employees in Amazon stock than cash because becoming stockholders changes their mindset.
Embrace external trends
Businesses that adapt to the latest technological trends and customer behaviour changes evolve and survive. Businesses that resist change, don't survive. His advice to every company founder is to acknowledge powerful external trends like AI and machine learning and embrace them quickly.
Make high-quality decisions fast
Large organizations like Amazon have many things going for them with one downside: they are slow at making decisions. Jeff didn't allow this to happen to Amazon.He created a system of making high-quality decisions fast which relies entirely on the Day 1 mindset. Day 1 companies are startups, nimble and agile, bursting with vitality. Day 2 companies are already heading for the end. Amazon is a Day 1 company.
WHITNEY JOHNSON, CEO of Disruption Advisors – 6 leadership lessons
Whitney Johnson is a world-leading expert on developing high-growth teams and one of the leading business thinkers in the world as per Thinkers50.
With +20 years of research, consulting & coaching, Whitney Johnson helps leaders to acquire the necessary skills for leading teams with confidence and a strategic approach.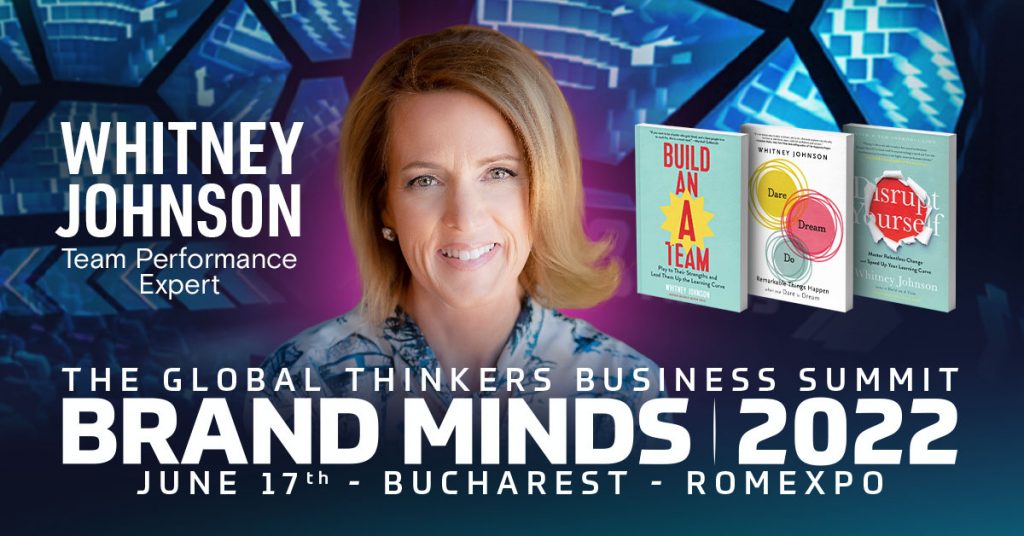 Leadership lessons from Whitney Johnson:
1.Take your business to the next level by putting the power of disruptive innovation to work.
"When you are driven by discovery, you take a step forward, gather feedback and adapt."
2. Change your business strategy as often as necessary.
"70% of all successful new businesses end up with a strategy other than the one they initially pursued."
3. Hire leaders whose higher goals align with the goals and objectives of your business.
"Before hiring anyone in your team, check to see if their why intersects with the why of the organization."
4. Always be looking to develop the talent in your business. 
"If you develop talent, there is absolutely no condition in which your company actually loses."
5. Employees are motivated by more than pay raises, bonuses and other extrinsic rewards.
"When we are no longer getting an emotional reward from our career, we may actually end up doing our job poorly."
6. Encourage your employees to disrupt themselves.
"Make disruption safe. Make it routine. Make it a human resources strategy."
We are thrilled to have Whitney Johnson on the stage at BRAND MINDS 2022, where she'll deliver a speech about The best tactics for building an extraordinary team.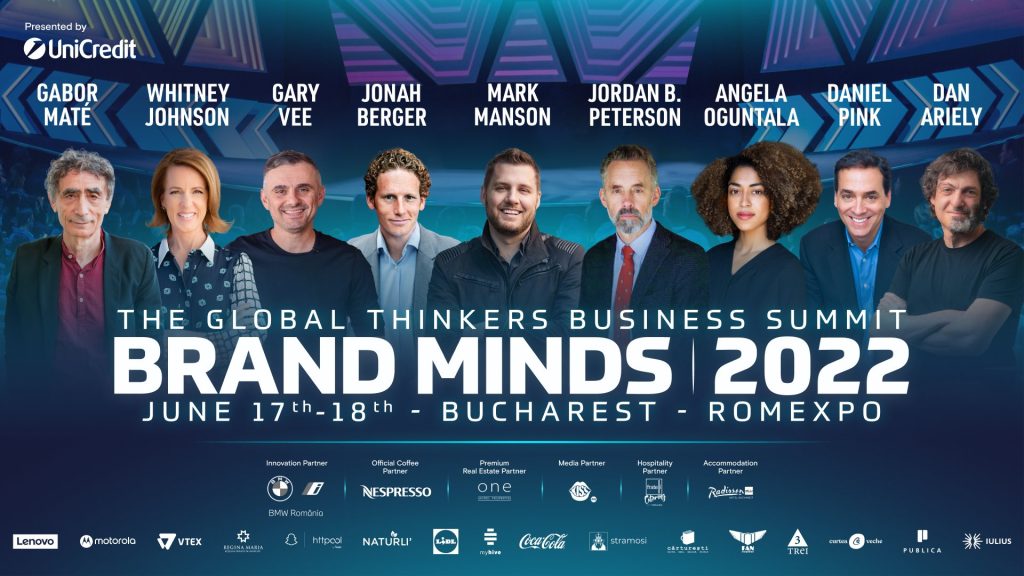 Real-time translation with Google glasses, Cannes XR Awards and other news in AR/VR
Google AR glasses break the language barrier
There are over 7000 spoken languages in the world today. And more than 70 million deaf people worldwide.
How can technology help them connect to one another?
There have been notable developments like Google Translate or smart earbuds.
Starting this year, we have a new device developed by Google which leverages the power of AR: the Google AR glasses.
The glasses are a prototype but given their high level of usability, my guess is it won't be long before they go into production.
Imagen, unprecedented photorealism
The Brain Team at Google Research has developed Imagen, a text-to-image diffusion model with an unprecedented degree of photorealism and a deep level of language understanding.
Imagen builds on the power of large transformer language models in understanding text and hinges on the strength of diffusion models in high-fidelity image generation.
Look at the image above, specifically the image descriptions. This is Imagen: the program received each text and transformed it into an image.
They look so real, that you can easily imagine they were created by a living breathing graphic designer!
Cannes XR Awards announced the 2022 winners
This year, Cannes XR received nearly 200 VR projects worldwide, with a wide range of genres, including 360 live-action, animation, interactive art, documentary, and narrative games.
Among them, 18 finalists stood out and competed for the two awards: Best VR Story and Best VR Interactive Experience.
Glimpse VR took the award for Best VR Interactive Experience
Glimpse VR is a breakup story with a high degree of emotional expression, exceptional design, and superb technical achievements.
The Best VR Story Award went to The Soloist VR
This is the story of Alex Honnold from the Oscar-winning documentary feature film Free Solo. In this work, the audience will follow the footsteps of Alex Honnold and witness the extreme climbing journey in human history.
The project uses the latest VR panoramic shooting technology to restore the uncanny quality of nature.
Firefighters train in AR to combat wildfires
According to experts, wildfires are getting bigger and more destructive costing people their health, their homes and their lives. Climate change is one of the reasons driving this dangerous trend.
Having an overview of the wildfire and training firefighters to respond to the situation quickly is paramount.
And now firefighters have a new state-of-the-art tool to help them train and manage urgent situations:
Magic Leap supports first responders. Here's #MagicLeap2 in action, harnessing #AR to transform firefighter training to combat wildfires. pic.twitter.com/qg8aQ1CHKU

— Magic Leap (@magicleap) May 24, 2022
Looking to prepare your business for the future?

Jamiroquai enters The Sandbox, building fantasy worlds in VR and the global economic impact of the Metaverse
Jamiroquai x The Sandbox
The Sandbox is partnering with Jamiroquai, the seminal jazz-funk band led by Jay Kay, to bring the group's free-spirited essence to Web3.
Known for the global smash, "Virtual Insanity", and a string of hit albums and worldwide tours, the Grammy-winning band has sold more than 27 million albums worldwide. Its third album, Travelling Without Moving, received a Guinness World Record as the best-selling funk album in history.
Jamiroquai has joined other legendary musical artists including Snoop Dogg and Deadmau5.
Read more in the official company statement.
Shores of Loci, building fantasy worlds in VR
The Shores of Loci is a single-player narrative puzzle game that can only be experienced in VR.
With compelling characters, beautiful cinematic scenes and surreal worlds, the Shores of Loci will transport users to other dimensions to create visions larger than life.
The game was created by Mike Teevee, a female-run production company reinvented. The team has done creative work for famous global brands including Adidas, Nina Ricci, Lego, Jimmy Choo, Heineken, KLM and CNN.
Shores of Loci is their first VR title, the culmination of decades of storytelling craft, love, and passion, translated into an immersive and interactive world.
AR use-case

: illustrating the power of natural phenomena on The Weather Channel

The Weather Channel makes amazingly realistic broadcasts with AR technology!
Weather Broadcast AR with Unreal Engine. #gigadgets #weather #channel #ar #unrealengine #vr #theweatherchannel #tech #sustainableliving #broadcast #amazing #cool pic.twitter.com/Bn3BXfuaSC

— GiGadgets (@gigadgets_) May 19, 2022
Turning text into images with
DALL-E

– a new form of storytelling

DALL-E is an artificial intelligence program that creates images from textual descriptions.

The 12-billion-parameter neural network takes a text caption and generates images to match it while understanding and rendering concepts of space, time, and logic. Read more about DALL-E.

Here is AI and edtech creator Zack using DALL-E to create a new form of storytelling.

DALL-E can bring fantasy novels to life 💭

Each paragraph can be used to generate a unique set of vivid imagery on the fly#dalle pic.twitter.com/sywgJ1Y6C6

— zack (@wenquai) May 19, 2022
The Potential Global Economic Impact of the Metaverse could reach
$3.01 trillion in 2031
Authors and economic analysis experts Lau Christensen and Alex Robinson published a new report on the Metaverse and its potential global economic impact.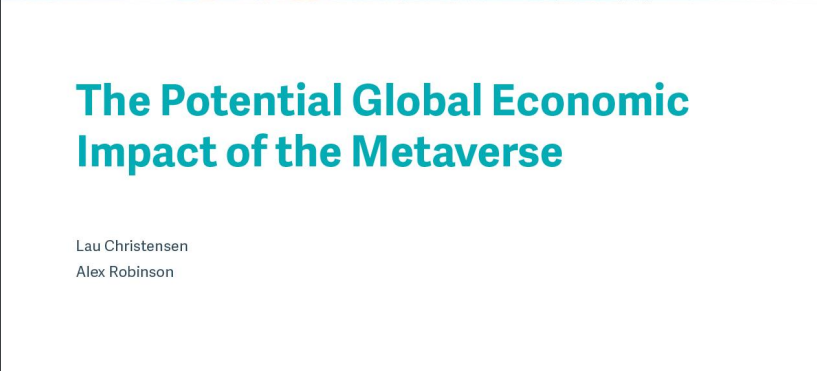 Key insights and excerpts from the report:
1.What is the Metaverse? The Metaverse is a set of interconnected digital spaces, including immersive XR experiences that combine the digital & IRL worlds, in which people can move between different spaces & experiences and interact & collaborate with other people who are not in the same physical space.
2. The early components of the metaverse are already in exhibit: AR, VR, mixed reality, blockchain & NFTs. They are the backbone of the metaverse and its offerings.
3. Estimating the economic impact of the metaverse presents substantial challenges. It is impossible to predict all of the areas in which metaverse tech will be used, the extent and timing of their adoption & the innovations that will be developed that build upon the metaverse.
4. The authors have drawn their conclusions from the deployment and innovation impact of mobile technology to estimate the potential impact of the metaverse.
5. While mobile devices untied the Internet from desktop computers, the metaverse is expected to further break down location barriers & transform a wide range of industries by enabling more seamless and immersive experiences.
6. If the metaverse were to be adopted and grow in a similar way as mobile technology, then we would expect it to be associated with a 2.8% contribution to global GDP after 10 years.
7. The model used by the authors implies that if metaverse adoption began today, it would have a contribution to the global GDP of $3.01 trillion (measured in 2015 U.S. dollars) in 2031.
8. Near-term impact estimates: between $800 billion to $2 trillion over the next few years (gaming, social media, eCommerce, and live entertainment).
9. Long-term estimates range from approximately $3 trillion to over $80 trillion.
10. The vision of the future seamless interoperability of the metaverse is very different from what we have now. Today, the digital world remains incompatible.
11. What is seamless interoperability?
Andrew Chow, a journalist for Time Magazine explains:
"Instead of having separate Facebook and Twitter accounts in which everything you post is owned by those corporations, you will be able to own your digital personhood and all of your ideas and digital belongings wherever you go."
12. In addition to collaboration & tech advances on a massive scale, the metaverse is going to require elevated user experience, sophisticated telecoms infrastructure, and human-machine interfaces. Some are well advanced already, while others still need to be created and developed.
13. An anticipated benefit of the metaverse is the creation of new markets and broader economic & social impacts. The form and shape of the metaverse will materialize slowly at first, and only after a critical mass of adoption is achieved, will its full potential begin to take shape.
14. Challenges and opportunities for metaverse adoption from technology expert and venture capitalist Matthew Ball: concurrency infrastructure, the adoption of standards and protocols, and the on-ramp experience.
Concurrency infrastructure refers to the technology that will support the simultaneous presence of millions of users in a shared synchronous experience.
Standards & Protocols will also be needed to realize the level of interoperability envisioned for the metaverse. One company/a handful of companies will not own or be the metaverse; individual companies' products will be destinations in the metaverse or support the metaverse.
The on-ramp experience requires critical-mass adoption of the metaverse by creators. Unless the metaverse has something exciting to offer both creators and users, it may be challenging to achieve widespread adoption of the metaverse.
Other factors: country- or regional-specific challenges in the form of governing bodies' policy or regulatory objectives.
Conclusions:
The impacts of the metaverse are likely to be felt differently in different sectors of the economy, in
different regions, and for different people. If the metaverse is successful, it will likely displace some existing tech & industries.
With successful development & deployment of infrastructure and other technologies, policies supporting widespread & equitable distribution, and creative innovations, the metaverse can be expected to have substantial beneficial economic impacts around the world.
The article header image source: Shores of Loci
Looking to upgrade your business and prepare for the future?

Mark Manson is the surprise speaker at BRAND MINDS
The BRAND MINDS team

is excited to announce a new speaker: Bestselling Author & Entrepreneur Mark Manson.
Read more about Mark Manson, his bestselling books and his anti-self-help self-help philosophy.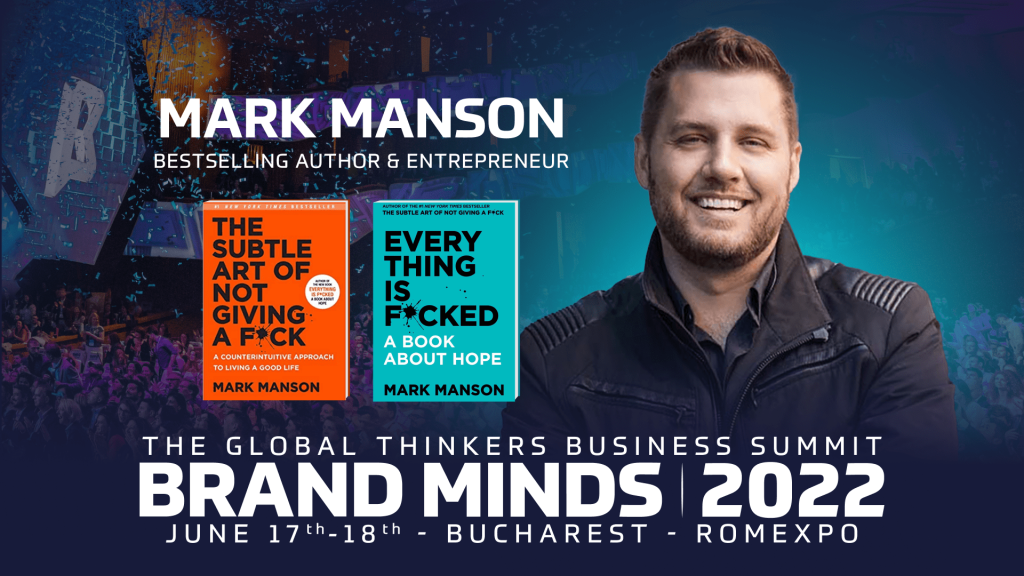 A life-changing decision shaped Mark's future
The 24-year-old bright-eyed man steps into his cubicle at a large, prestigious bank in Boston. He had just graduated Magna cum Laude from the School of Management at Boston University, with a BA in International Business. He was lucky to get a job in finance fresh out of school. "It's a promising start to a promising career in business or on Wall Street", he muses looking out his cubicle over to his office colleagues. Some are typing enthusiastically completely caught up in work, while others look like if given a chance, they would rush out the door never to return. Soon enough, he would find himself searching for a good reason to show up at work every day. He couldn't find any. "This is not what I want to do with the rest of my life", he tells himself. Six weeks later, he handed in his resignation.
The young man's name is Mark Manson, and this is the moment that shaped his future.
Intellect is great. Work ethic is great. Ability to adapt is definitely necessary. But you also need the emotional drive to push you to achieve your dreams.

Mark Manson
Author of three #1 New York Times bestselling books
Will (2021), by Will Smith and Mark Manson
"Will" is Mark's latest book and an instant #1 New York Times bestseller.
He wrote it in collaboration with Hollywood star Will Smith about his life story. This memoir is the product of a profound journey of self-knowledge, a reckoning with all that your will can get you and all that it can leave behind. It's the story of how one exceptional man mastered his own emotions, written in a way that can help everyone else do the same.
Oprah Winfrey said the book is "The best memoir I've ever read".
For his amazing storytelling, Mark was awarded the NAACP Image Award for Outstanding Literary Achievement.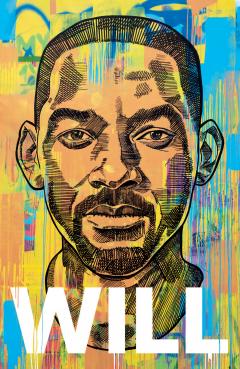 The subtle art of not giving a f*ck (2016)
Mark's first book, The subtle art of not giving a f*ck is a massive international bestseller. It is "the self-help book for people who hate self-help books".
What makes it so powerful?
Because it questioned our conventional wisdom on what makes us happy.
As Mark says in the book's description, "it's all about self-improvement not through avoiding problems or always being happy, but rather through engaging and improving upon problems and learning to accept the occasional unhappiness."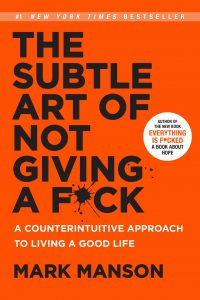 Life is not about getting rid of problems, it's about finding better problems. It's not about avoiding failure, it's about getting better at failure. It's not about knowing everything, but becoming more comfortable in not knowing anything.

Mark Manson
Once the word-of-mouth kicked in, the book took off in a matter of months and was included in the New York Times Bestsellers list at #1 selling over 10 million copies worldwide to date.
The book has been translated into 30 languages and reached #1 in fourteen different countries. At the time of this article, The subtle art of not giving a f*ck is on New York Times's Top 10 Bestsellers List and it's been sitting there for 249 weeks.
Resilience, happiness and freedom come from knowing what to care about–and most importantly, what not to care about. This is a masterful, philosophical and practical book that will give readers the wisdom to be able to do just that.

Ryan Holiday, New York Times bestselling author of The Obstacle is the Way and Ego is the Enemy
Everything is f*cked (2020)
Questioning our assumptions on what makes life worth living, Everything is f*cked sold millions of copies worldwide while becoming the #1 bestseller in 13 different countries.
He looks at our relationships with money, entertainment and the internet, and how too much of a good thing can psychologically eat us alive. He openly defies our definitions of faith, happiness, freedom—and even of hope itself.
Mark Manson has succeeded in explaining a crazy world to an entire generation by invoking hard science, moral philosophy, and gobs of hilarious wit. This book is guaranteed to make you laugh, question your beliefs, and (hopefully) change your life.

Nir Eyal, bestselling author of Hooked and Indistractable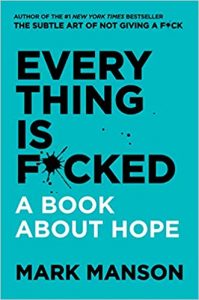 15 million people read his site every year
Mark Manson is not an overnight success. He wanted to become a writer and worked for his goal for twelve years.
His writing flows effortlessly off the page because it is the result of continuous style crafting, looking to strike a balance between stories, psychological insights and irreverent jokes.
I like to say that I've declared a new sub-genre of personal development based on solid science, pragmatic applications, and a bit of old fashioned "go fuck yourself" wisdom. I sometimes think of it as Negative Self-Help—an approach to personal growth that's not based on what feels good, but rather on what feels bad. Because getting good at feeling bad is what allows us to feel good.

Mark Manson
After a few years of going broke several times, moving in with his mother and working 10-16 hours a day, his online businesses finally took off. He starts earning a full-time steady income while travelling the world as a digital nomad at 25.
Seven years later he had been to 60 countries, from Ukraine to China and India, Germany and Portugal and learned to speak three languages.
During his travelling years, he lived life to the fullest, experiencing emotional highs and lows.
In 2009, he started blogging as a way to promote his business and soon, the blog took off and became very successful.
Happiness is like being cool: the harder you try the less it's going to happen. So stop trying. Start living.

Mark Manson
His counterintuitive approach to living a good life and his blunt to-the-point writing style make a powerful combination which earned him a large readership.
Over the years, his blog MarkManson.net became one of the largest personal growth websites in the world with more than 15 million monthly readers and 500.000 newsletter subscribers.
20,000 people have taken his online courses at The Subtle Art School
Launched in 2022, The Subtle Art School is the collection of knowledge drawn by Mark from nearly 15 years of experience helping people lead better lives. The school helps attendants to focus on exploring what makes a fulfilling and meaningful life.
Join the 

BRAND MINDS 2022

and watch Mark Manson speak about How to improve your personal leadership!

Prof Dr Enrico Molinari – The adoption of AI is driven by people and their emotional involvement
Prof. Dr Enrico Molinari

is a recognized influencer in new technologies with extended expertise in digital innovation & transformation of the banking and financial sector.

Given his high-technical profile, he is called upon by top organizations and global companies to give his contribution as a digital transformation leader and global expert.

As the Innovation Manager at the Italian Chamber of Commerce System, Prof Molinari is leading the adoption of emerging disruptive technologies in organizations in the public sector.

Many international independent authorities and organizations have ranked Prof Molinari as a top certified global influencer in GovTech*, Fintech, Finserv, Insurtech, PropTech**, ESG***, AI, Marketing Innovation and Business Technology for Digital Transformation.

He is also a respected university professor in economics & fintech, marketing innovation, digital transformation & company culture and business technologies.

In the interview below, Prof Molinari shared with us his insights on the connection between business success and Artificial Intelligence, what companies should do to become innovation-driven and how leadership should approach the digital transformation of the business.
IS ARTIFICIAL INTELLIGENCE A REQUIREMENT FOR BUSINESSES LOOKING TO BECOME SUCCESSFUL?
AI is the core of the decision‐making processes of successful organizations and represents for companies a disruptive opportunity for growth, optimization of operations and in‐depth diversification as it was the opening of a website in the 2000s or a customer‐oriented eCommerce platform during the last 10 years.
The real challenge today is to transfer the culture of the data value inside the company's DNA through a decision‐making process that is shared between CIO and staff.
Our role today is to transform a technology like AI into a new continent, a new economic superpower available to all.
WHAT SEGMENTS OF THE BUSINESS BENEFIT FROM AI THE MOST?
I often say that AI has an open roadmap and a democratic business plan reshaped every day by businesses, citizens and the Public Administration to respond to the ever‐changing reality.
The COVID‐19 pandemic is proof of how history always teaches that great opportunities and the future of society arise from great crises.
AI in Digital Health is potentially the most interesting for our future and the pandemic has made its contribution even more evident during the first waves in healthcare.
But AI will make a difference too in the Agri‐Food (#AgriTech) sector to optimize, certify and distribute food, avoiding waste and overproduction, in #FinTech to make access to finserv resources all over the world and in the #ESG linked to new infrastructures to reduce polluting emissions, thus enhancing the circular economy to more effectively prevent natural disasters (#ClimateChange).
Let's not forget sectors such as tourism (#TravelTech) and heritage (#EdTech) for the conservation of cultural and landscape assets, as well as their enhancement through virtual visits to tourist destinations.
Another important sector is the Public Administration (#OpenPA & #GovTech). Here AI can implement the integration and interoperability of public databases to offer better services.
Regarding #SmartCities, AI can improve the safety (#CyberSecurity) and well‐being of citizens through traffic and lighting management, optimization of public transport, and monitoring of the state of bridges, buildings and buildings.
Finally, as an Italian, I'll promise we work all together for AI to introduce the process and product innovations in the artisan manufacturing sector, with the goal to increase the international competitiveness of the prestigious Made in Italy label.
BECOMING INNOVATIVE IS CHALLENGING FOR BUSINESSES. ARE ANY PARTICULAR STRUCTURES OR PROCESSES NECESSARY FOR BUSINESSES TO BECOME INNOVATION‐DRIVEN?
Investing in business process innovation thanks to emerging technology is one of the key factors for reshaping the vision of the post‐pandemic period, but it's an even more strategic investment in the hard and soft skills of People.
The hard skills include the job‐related knowledge and abilities that employees need to perform their job duties effectively thanks to AI acceleration. They are joined by soft skills like personal qualities and together they help people achieve solid company goals in the Next New and to recognize themselves as the leader in their workplace. It's a real mindset change in the real world.
HOW SHOULD LEADERSHIP APPROACH THE AI‐DRIVEN TRANSFORMATION OF BUSINESS?
The "Digital Transformation" immediately makes us think of technology. But the adoption of AI is driven by people and their emotional involvement.
Organizations are successful when they support employees to improve their knowledge, to feel part of a project and inside a collaboration roadmap between human beings and technology, AI and computing power.
In addition to this, organizations must reduce bureaucracy and the decision‐centric business units, stimulating teams on decision‐making processes and setting up pilot digital innovation hubs & groups using remote working platforms.
By implementing all these changes, organizations will transform AI technology into a Natural Leadership Intelligence.
At a glance, the AI‐driven transformation of business is people, not technology.
FOR LEGACY BUSINESSES, INNOVATION HAS BEEN CHALLENGING. WHAT ABOUT BUSINESSES LAUNCHING TODAY: ARE THEY BUILDING THEIR FOUNDATION AROUND INNOVATION FROM DAY ONE?
According to Accenture, 84% of CEOs of the global businesses cross-market and industry will not be able to achieve growth goals without using and scaling Artificial Intelligence.
This scenario also strengthens the vision of executives of businesses launching today as responsible for choosing innovation to create value in their startups through the organization's management.
Applying AI across all business units as well as giving access to its growth opportunities reshapes the growing business model and increases productivity.
The fundamental question is: how to do it?
Adopting AI is definitely not enough because to make entirely new results possible tomorrow, you need to begin scaling it today. The Big Data analysis, the automation and the push of the Cloud to access the related data will make the difference in empowering people and processes.
NAME ONE DIGITAL TOOL YOU USE DAILY THAT HAS IMPROVED YOUR LIFE IMMENSELY
I'm proud and honoured to see and work every day with the most innovative and revolutionary technologies of the century, many of which are not yet known on the market.
Only 5 years ago we could not have imagined the daily digital transformation impact on our simplest life habits, both at work and in private life. From paying renewable energy via blockchain bills to the delivery of COVID‐19 vaccines by drones, the new role of fintech & digital payments to decentralize our finance, buy online or benefit from applied AI to digital health, we see a Copernican revolution around us.
But the most important technology I use every day is Humans. It is easy to connect objects online today, but the qualitative leap is #ConnectingPeople and sharing different experiences and emotional intelligence.
WHAT IS THE MOST INTERESTING THING IN FINTECH RIGHT NOW?
2021 was a year of record growth and investment in the fintech sector worldwide which recorded 5,600 VC, Private Equity and M&A transactions for $210 billion, according to a McKinsey & Company report.
At the same time, KPMG highlights the in‐depth growth of the blockchain and cryptocurrency, hot topics in the financial sector.
In my opinion, already in 2022, we will have to focus attention on the Digital Payments segment that will seduce the market with the Buy Now, Pay Later ‐ a financial service for pushing to buy the products available on e‐commerce in instalments.
This service encourages the conversion rate of the average shopping cart of customers. Buy Now, Pay Later has an increased safety level thanks to the structured use of AI‐Cybersec Crime platforms against fraud and financial crimes, risk management, analysis of suspicious transactions related to tax evasion and monitoring of money laundering flows resulting from the explosion of Crypto Art through NFTs.
WHAT BOOK ON TECH OR BUSINESS ARE YOU READING NOW?
On my desk, at the office, I have "Selected Economic Essays" by Luigi Einaudi, a senior Italian economist and a reputed researcher at Princeton, Cambridge and Institut de Sciences Politiques. The book is Prof Einaudi's outstanding contribution to global economics.
On my desk at home, I have "The Hydrogen Economy" by Prof. Jeremy Rifkin I had the honour of knowing. It is a book published twenty years ago, but very actual in terms of geopolitics and the transition from fossil fuels to renewables.
And then I'm writing one too! Let's keep in touch for spoilers about! (to be continued …)
WHAT DO YOU DO TO FIND INSPIRATION?
Inspiration is all around me because Innovation and the Future are all around us.
I draw inspiration from people. From my university students who never stop to amaze me, from my colleagues both in the corporate and in the Public Administration and from friends such as Jim, Danielle, Theo, Spiros, Mario, Riccardo, Glen, Tony, Nicolas.
I am inspired by the things that work as well as those that don't work. And from my wife Barbara, the best part of me, my constant balance and my permanent centre of gravity.
————————————————————————————————————————–
*GovTech = Government and Technology; government approach to public sector modernization. GovTech emphasizes three aspects of public sector modernization: citizen-centric public services that are universally accessible, a whole-of-government approach to digital government transformation, and simple, efficient and transparent government systems (definition source)
**PropTech = Property and Technology; the use of information technology (IT) to help individuals and companies research, buy, sell and manage real estate (definition source)
***ESG = Environmental, Social and Governance; Environmental, social, and governance (ESG) criteria are a set of standards for a company's operations that socially conscious investors use to screen potential investments (definition source).
Meta's VR green garden, playing music & painting in VR and more from Lenovo and Snapchat
Meta's green garden in VR
Meta is going further with its metaverse plan, investing billions of dollars (10 billion to be exact) into technology advancements, specifically hardware.
According to new reports, Meta is planning to release four virtual reality headsets by 2024. These headsets, sources say, have high-resolution image quality that's clear enough for reading text so that you can type emails or code within the VR environment.
Building in the metaverse continues and here's a sample of the kind of experiences Meta is preparing for us.
Intersectional environmentalist @Leahtommi and visual artist Vartika Jangid got together and imagined what a community garden could look like in the metaverse — and one thing's for sure — going green is always in style. pic.twitter.com/XstJxuoE8y

— Meta (@Meta) May 5, 2022
Soft knitted robotic fingers from MIT CSAIL
Scientists from MIT's Computer Science and Artificial Intelligence Laboratory (CSAIL) have designed a robotic wearable comprised of soft pneumatic actuators*. Motion is powered by compressed air and the actuators are knitted with conductive yarn for sensing, allowing the actuators to "feel" what they touch.
The wearable is a critical step forward in a variety of applications such as assistive wearables, robotics, and rehabilitative technologies.
Soft robotic banana fingers, brought to you via autonomous knitting: https://t.co/7iENSugX4G pic.twitter.com/cNhrBRnzNl

— MIT CSAIL (@MIT_CSAIL) May 4, 2022
*Actuator is a device fitted on a robot which causes parts of the robot to move: wheels turning, arms rotating, fingers gripping etc.
Google acquires AR Microdisplay Hardware startup Raxium
Raxium is a five-year-old startup pioneering pixel technology with record-setting innovation. According to the company, the MicroLed technology that they are developing enables a new class of smaller and more powerful display products, ranging from augmented and virtual reality micro-displays to life-size panel-based light field arrays. And what they are building is 5x more efficient than anything available right now on the market.
Google announced the acquisition on May 4, saying that "Raxium's technical expertise in this area will play a key role as we continue to invest in our hardware efforts." It looks like Google is growing into a strong competitor for Meta.
Snapchat is crafting stories in AR
Augmented Reality is not just for fantasy animals or engaging games. The social platform with the most advanced AR features is Snapchat. In 2019, the company announced it would invest $1 billion in AR content and developments. Recently Snapchat rolled out a series of AR features focused on enabling purchases in-app for brands and creators.
Another use for AR is storytelling. Snapchat partnered with The Los Angeles County Museum of Art to explore monuments and murals, representation, and history. In the clip below, you can see The River Once Ran, a Lens created by artist Judy Baca and Lens creator Holliday Horton.
Artist @judybaca and Lens Creator @HollidayHorton built The River Once Ran as part of @LACMA × @Snapchat: Monumental Perspectives Collection II. The Lens activates layers of history, recovering stories of diverse communities and exploring the consequences of taming the LA River. pic.twitter.com/L4Y8axmW8I

— Snap AR (@SnapAR) April 20, 2022
Lenovo won 3 Webby Awards for its innovative AR campaign, MLKonMLK
There are 955 streets that bear Martin Luther King Jr's name and Lenovo transformed all of them into an immersive experience to celebrate black history. The company partnered with the DuSable Museum of African American History and created the MLKonMLK AR campaign, an immersive educational experience that brings Martin Luther King Jr.'s "I Have a Dream" speech to every single MLK street using augmented reality.
Congratulations, @Lenovo for winning 3 Webby Awards with the creative & innovative MLKonMLK #AR campaign! via @TheWebbyAwards https://t.co/tjS9hW8Nx6
How it was made: https://t.co/R8wjF9Gt9Y #AugmentedReality pic.twitter.com/pZ6Ix0AKlZ

— BRAND MINDS (@brand_minds) May 3, 2022
Do you have a musical ear? Now you can play music in VR!
Making music is now easier with VirtuosoVR, the VR musical sandbox. Started in 2020 as a hobby project by Jonatan Crafoord, audio director on Angry Birds, LittleBigPlanet, and Minecraft, VirtuosoVR was released on Meta Quest, Rift and Steam VR in March 2022.
Which instrument in Virtuoso is your favorite and why?👀🤩🎶

Let us know in a comment below what's your pick between Board, Oorgan, wHarp, Wavemin, Empads or Clustr!✨🥁🎹#vr #music #steamvr #quest2 #makingmusic #dj #virtuosovr pic.twitter.com/i96M8IP4ri

— VirtuosoVR (@VrVirtuoso) April 25, 2022
Discover your inner painter with Vermillion VR
We've seen VR use cases in entertainment, education, healthcare etc. Here's another rather surprising use case for VR: painting, may it be as a hobby or for professional painters.
Vermillion is a VR oil-painting simulator created by Thomas van den Berge, a VR/AR developer. Vermillion started as an after-hours project during the first lockdown of 2020, where Thomas discovered the joy of painting through building a prototype.
Looking to upgrade your business and prepare for the future?

BMW's awarded metaverse, Adidas launching NFTs and more top news in tech
BMW won a Webby Award for its Metaverse
We are proud to announce that BMW, BRAND MINDS event's Innovation Partner has been recognized at the 2022 Webby Awards for Joytopia, the company's Metaverse!
Congratulations to BMW for winning the 2022 Webby Award for Technology Virtual & Remote with Joytopia, BMW's metaverse!
Joytopia is the world where BMW thinks out loud about the future: https://t.co/vNmXeeWtkI@BMW @bmwromania @TheWebbyAwards pic.twitter.com/MCNtjB3HeZ

— BRAND MINDS (@brand_minds) April 28, 2022
Pixy, your friendly flying camera produced by Snapchat
Pixy, the pocket-sized, free-flying camera is Snapchat's newest video and audio recording device.
It can float, orbit, and follow wherever you lead, without a controller or any set-up.
In Snapchat, shoppers can try on outfits using AR
Snapchat is offering consumers new places to shop using AR, both on and off Snapchat.
Through this technology, shoppers can try on even more outfits more easily, from the comfort of their own home, simply by taking a full-body selfie.
Adidas is bringing customers into the ozworld
The iconic footwear brand Adidas is inviting customers to follow them into its Metaverse at ozworld.adidas.com.
Here, customers can claim NFTs to get exclusive merch and unlock unique digital experiences.
Hey Into the Metaverse NFT holders,

It's time to move into phase 2, claim your exclusive physical ITM merch at https://t.co/m70gU99NQA.
1/6 pic.twitter.com/7RLDQ0rS2b

— adidas Originals (@adidasoriginals) April 28, 2022
Bored Ape Yacht Club is going mainstream with a movie trilogy
Coinbase will produce a series of animated short films called The Degen Trilogy featuring the apes in the Bored Ape Yacht Club.
"Bored Ape owners are invited to submit their apes for consideration as characters in the trilogy, along with made-up character descriptions that will be reviewed by an actual Hollywood casting director", said Coindesk.
The trilogy will tie in to the launch of Coinbase's NFT marketplace and will premiere at NFT.NYC in June.
CORPUS, the 5-story AR installation
CORPUS was developed by artist Nancy Baker Cahill, Creative Director at 4th Wall, a free, augmented reality (AR) public art platform exploring resistance and inclusive creative expression.
"My belief is that future life will involve embracing interconnected embodied sources of intelligence- microbial, artificial, and carbon-based", says Nancy Baker Cahill about CORPUS, the 5-story AR installation.
It's definitely amazing to look at!
Anyone who works in AR knows the potential and limitations of the medium. I am so proud of what we were able to achieve with CORPUS, a 5 story, anchored AR intervention in the historic Bradbury Building for @berggruenInst's WWLB symposium. @anakin78z you and SED are ⭐️ pic.twitter.com/0EVT4va3Qi

— Nancy Baker Cahill (@4thWallApp) April 23, 2022
Looking to upgrade your business and prepare for the future?

Top 10 smart cities in the world
What is a "smart city"? A "smart city" is an urban setting that applies technology to enhance the benefits and diminish the shortcomings of urbanisation for its citizens.
Here are the Top 10 smart cities in the world according to Smart City Observatory, an organization which produces the annual globally recognized Smart City Index report.
SINGAPORE
ZURICH
OSLO
TAIPEI CITY
LAUSANNE
HELSINKI
COPENHAGEN
GENEVA
AUCKLAND
BILBAO
Let's see how each city is working toward sustainability!
SINGAPORE

SUPPORTS DECARBONISATION
Set to achieve net-zero emissions
To achieve the new net-zero ambition, Singapore will raise the current carbon tax of S$5 per tonne to S$25 per tonne in 2024-2025, and S$45 per tonne in 2026-2027, with a view to reaching S$50 to S$80 per tonne by 2030 (source).
Developing a services ecosystem to support decarbonisation
The Republic is scaling up its efforts to develop an international carbon trading marketplace and a services ecosystem to support decarbonisation.
The carbon exchange will be a digital platform for buyers and suppliers to trade large volumes of credits. It will cater primarily to large-scale buyers, including multinational corporations and institutional investors, and will provide the market with price transparency (source).
Sustainability: squeezing value from waste
Around $220 million is being pumped into national research initiatives focusing on sustainability, in areas such as water technologies and projects that can squeeze value from waste.
Almost one-third, or $80 million, will go to research projects that look at how resources can be recovered from Singapore's key waste streams – plastics, electronic waste and food (source).
ZURICH

, VOTED THE MOST PEDESTRIAN-FRIENDLY CITY
Smart building management systems
Since 2015, the Green City demonstration project has been showing that smart building management systems are now a reality, with 13 buildings being run entirely on renewable energy of which 70% is produced on-site.
Voted the most "pedestrian-friendly city"
Zurich's smart city project places great emphasis on mobility by making public transport more attractive to users through its application "Zürimobil", which provides real-time traffic information as well as walking and cycling alternatives.
Online platform for residents
"Mein Konto", the city's e-administration platform. The platform provides residents with online access to information, events, administrative formalities, and more.
OSLO

PLANS TO BAN GAS CAR SALES IN 2025

Oslo provides inhabitants with free charging with renewable energy at all Level 2 charge points.
Becoming a fossil-free city by 2030
Connectivity to nature is a central Norwegian value that underlies Oslo's aspiration to be a green capital and its objective to become a fossil-free city by 2030.
All public transport will be electrified by 2028
In recent years, there have been more people in Oslo travelling by public transport than by car. The goal is an accessible, green and cost-effective infrastructure. Reduced emissions are the overarching objective, with a view to both climate concerns and the health and wellbeing of the public.
Norway plans to ban gas car sales in 2025
According to an analysis printed by the Norwegian Automobile Federation's magazine, Motor, the downward trend in sales for gas cars has been so consistent and steep that the last new gas car sale in Norway could happen in April 2022 (source).
TAIPEI CITY

USES SMART ILLUMINATION
Narrowing the gap between rural and urban
Through the use of big data analysis, service integration, various real-time Apps and other applications, the goal of a smart and one government is gradually reached and the gap between urban and rural was narrowed via the incorporation of technology. (source)
Building the smart city through the Smart City Wheel framework
The Wheel constitutes six categories: smart government, smart mobility, smart economy, smart environment, smart living and smart people. Each of the categories covers different indicators to examine a smart city.
Smart street illumination
To lead the environment smarter, the smart illumination of LED street lights has been used and the cost-saving on electronic bills makes the project penniless.
LAUSANNE

IS BUILDING ECO-NEIGHBOURHOODS
Improving the quality of life, conserving resources and providing services more efficiently are the primary goals of Lausanne as a smart city.
Success factors for advancing the Smart City movement in Switzerland are stronger networking and data platforms.
Building eco-neighbourhoods
The city is building two large eco-neighbourhoods in the north and south of the city which are expected to have nearly 20,000 residents by 2022.
M2, Switzerland's first fully automatic metro
The metro line connects the south of the city to the north in 18 minutes. This main urban line is linked to the city's bus network and the national rail system.
HELSINKI

TO BECOME CARBON-NEUTRAL BY 2035
One of the most functional cities in the world
Helsinki is a sum of many factors: availability of open data, early adoption of digital developments, commitment and cooperation between the whole ecosystem from citizens to companies and government (source).
The city motivates its inhabitants to consume less, build sustainably and achieve ambitious climate goals.
Becoming carbon-neutral by 2035
An open tool has been devised to track progress towards this goal. The tool gives information about the subcategories of traffic, construction, the use of buildings, consumption, procurement, sharing and circular economy initiatives, and the set of so-called "smart & clean" actions (source).
OVER 1 MILLION JOURNEYS ARE TAKEN BY BIKE IN
COPENHAGEN

EVERY DAY
Aims to become the world's first carbon-neutral capital by 2025
Copenhagen's aim to become carbon neutral by 2025 has spurred the development of a new intelligent traffic systems framework for the very near future. The framework builds on Copenhagen's Climate Plan 2025, and one of its goals is to ensure that 75 per cent of all trips within the city should be taken by bike, public transport, or on foot (source).
Free access to public data sources
A new government programme provides free access to public data sources with the aim to drive smart city innovation.
Over 1 million journeys are taken by bike in Copenhagen every day
Continuous efforts are being made to provide better conditions for cyclists—for example, maintaining road surfaces, creating dedicated cycle paths, providing bike parking, and integrating bicycles into multimodal solutions (source).
Their main smart feature involves varying the luminosity that they produce. The lampposts detect the arrival of a cyclist and react by increasing the intensity of the light, before decreasing it as the cyclist moves away. So far, the scheme has produced a 76 per cent saving in the bill for public lighting (source).
GENEVA

's INHABITANTS RECYCLE 39% OF THEIR WASTE
Thanks to its energy policy, Geneva is designed to be 100% renewable by 2050
The city implements tangible actions when building or renovating buildings within its territory in order to reduce dependency on fossil fuels and to increase the share of solar and geothermal energy.
In 2015, road traffic was the main source of emissions of fine particles in Geneva. The city has implemented solutions to support mobility while protecting the inhabitants from disturbances resulting from traffic.
The inhabitants of Geneva recycle 39% of their waste
Since 2016, the City has distributed 60,000 green bins and rolls of biodegradable bags to its inhabitants intended for organic kitchen waste with a view to promoting compost.
AUCKLAND

IS THE WORLD'S SPONGIEST CITY
The term "sponge city" was first coined in 2013 by Professor Kongjian Yu of Peking University to describe cities that work with nature to absorb rainwater – instead of using concrete to channel it away.
According to engineering consultancy Arup, Auckland is the spongiest city in the world with a high percentage of green space and permeable local soil (source).
World's most liveable city per the 2021 Global Liveability Index by the Economist Intelligence Unit (EIU)
The ranking classifies 140 cities across five categories including stability, healthcare, culture and environment, education, and infrastructure (source).
43,000 streetlights converted to LED by Auckland Transport, saving NZ$36 million over 20 years (source).
BILBAO

IS AN INTERNATIONAL BENCHMARK IN URBAN TRANSFORMATION
Reduced pollution for citizens
The city established a maximum speed of 30km/h on all streets in the city, making it the first city in the world with more than 300,000 inhabitants to adopt this measure. As a result, the city has managed to reduce pollution, providing a safer and healthier space for its citizens, and has managed to reduce traffic accidents by around 28 per cent (source).
The ONE brand that comes to mind when thinking real estate (P)
What does green living mean to you?
Is it a modern building surrounded by green areas? Or perhaps a smart home that allows you to efficiently manage everything, from energy to surroundings?
Actually, for One United Properties, it means even more.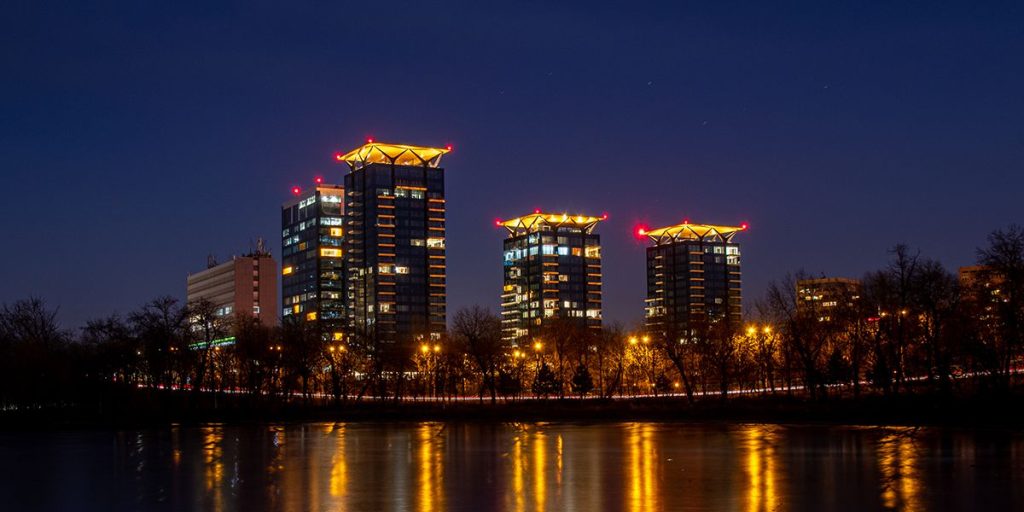 Sustainability in real estate is no longer just an aspiration, but a practice that generates modern, efficient, and healthy buildings for those who live and work in them. A credo that the company has focused on from its very beginning.
One United Properties is the leading green developer of residential, mixed-use and office real estate in Romania, with a strong commitment to delivering green-certified homes and offices and reshaping the modern lifestyle.
One United Properties is one of the pioneers of the mixed-use development concept in Romania, with a significant opportunity to prevent urban sprawl. They believe in conscious urban planning, which can increase the density of cities, preventing further expansion in suburbs that encourage traffic, congestion and, consequently, pollution.
Urban regeneration is also part of their vision of real estate, and it actually means the reconfiguration of an abandoned place in the city and its transformation into a modern, sustainable, and lively community.
Such landmark developments are One Floreasca City, integrating residential, office and commercial components in one location – the former Ford factory, One Herăstrău Towers, built on the place of an abandoned and demolished building, or One Cotroceni Park, the largest urban regeneration project in Romania, adding value to the entire Cotroceni district.
By building mixed-use developments and applying urban regeneration with full social infrastructure, green areas, shops and restaurants, roads, sidewalks, and services, One United Properties helps create healthier communities and reduce the carbon footprint.
The residents have at their disposal commercial spaces, and recreational placesș they can walk, cycle, or quickly access public transport. At the same time, Bucharest is gaining new public spaces, because they are open to anyone.
The company is listed on the Main Market of the Bucharest Stock Exchange, with the symbol ONE and its shares are included in the FTSE Russell Global All-Cap index, which follows the most liquid shares in the world.