How Amazon, Nike and UiPath drive innovation
Innovation is at the core of Amazon, UiPath and Nike. Curious to know how these global companies drive innovation? Keep reading!
Amazon – Innovating by focusing on customer needs like no other company in the world
On December 15, 2020, Amazon announced that Twitter has selected AWS to provide global cloud infrastructure to deliver Twitter timelines.
A day before, Amazon launched Alexa's new Live Translation feature. This feature allows individuals speaking in two different languages to converse with each other, with Alexa acting as an interpreter and translating both sides of the conversation.
Earlier this month, on December 8, 2020, Amazon Web Services (AWS) and the BMW Group announced a comprehensive strategic collaboration to further accelerate the automaker's pace of innovation by placing data and analytics at the center of its decision-making.
These are just a few of the innovations that Amazon releases on a monthly basis. Amazon began focusing on technology innovations in the late 1990s.
The company's first major breakthrough was its recommendation algorithm, also named recommendation engine.
In 2003, Amazon published a research paper which described a new way of filtering, the Item-to-item Collaborative Filtering.
"At Amazon.com, we use recommendation algorithms to personalize the online store for each customer. The store radically changes based on customer interests, showing programming titles to a software engineer and baby toys to a new mother", was said in the paper.
Today, Amazon's machine learning-powered recommendation engine drives 35% of its sales according to a McKinsey report.
An online bookstore initially, Amazon has become rapidly aware of the necessity of becoming a tech company.
In 2019, the research and development expenses of Amazon were around $36 billion compared to $16.9 billion of Microsoft.
Amazon's investment supports the company to achieve its vision of becoming "Earth's most customer-centric company."
Here is a list of the most important innovations developed by Amazon:
Amazon Go
Amazon Go is a chain of convenience stores in the United States, operated by Amazon. The stores are partially automated, with customers able to purchase products without being checked out by a cashier or using a self-checkout station. There are currently 27 Amazon Go stores.
Amazon fulfillment centers
In every fulfilment centre, computer vision systems analyze images to help Amazon staff keep track of everything. Based on data, AI solves a large combinatorial optimization problem and decides which orders to pick at the same time in order to get them in the same box. This way the system minimizes the distance the transport pods have to travel. AI optimization makes these decisions in real-time and with information that is constantly changing.
Amazon Prime Now
Amazon Prime Now is an app which allows users to order tens of thousands of products to their homes with 1-hour delivery and FREE 2-hour delivery.
Amazon Prime Air
Amazon Prime Air is a service that will deliver packages up to five pounds in 30 minutes or less using small drones.
AWS – Amazon Web Services (AWS) is the world's most comprehensive and broadly adopted cloud platform, offering over 175 fully featured services from data centers globally. The platform is used by individuals, companies, and governments, on a metered pay-as-you-go basis.
Alexa
Alexa is a virtual assistant AI technology developed by Amazon in 2014 and first used in the Amazon Echo smart speakers.
Kindle
Kindle is a series of e-readers which enable users to browse, buy, download, and read e-books, newspapers, magazines and other digital media. The device was launched in 2007.
Style Snap
StyleSnap is the latest Amazon AI-powered feature which supports fashion-focused shoppers.
Show and Tell
Show and Tell allows the blind to identify grocery items by holding each item to the Echo Show camera and ask, "Alexa, what am I holding?". The smart speaker identifies the item through advanced computer vision and machine learning technologies for object recognition.
UiPath – The path to innovation is paved with humility
UiPath is the world's leading Robotic Process Automation vendor.
For the second consecutive year, UiPath has been placed highest in the Leaders' quadrant for ability to execute by Gartner.
In July 2020, UiPath became the first European Cloud Decacorn with $10.2Bn valuation in a new funding round of $225M.
At UiPath, innovation comes from actively listening to and engaging with the company's customers. "Solving real-world problems using artificial intelligence (AI)—and pairing AI with RPA—motivates every individual at UiPath."
The company gathers feedback from many touchpoints, including preview programs, its customer advisory board, their 400k+ user community, meetups, and conferences.
UiPath's purpose is to accelerate human achievement. The company's core values are speed, immersion, boldness and humility.
UiPath top management believes that if their people are not happy, they have failed no matter how successful the company is. That's why being a successful leader at UiPath means exercising humility and practising active listening. The employee who is provided with psychological safety is more likely to focus on achieving the company's business goals.
Nike – Innovation through knowledge and insights
Nike is no longer just an athletic shoe manufacturer, it's a technology company.
The brand's mission is to expand human potential. And to achieve that, Nike creates new products through game-changing innovations.
Most innovations come from the brand's own lab, the Nike Sport Research Lab which the company set up in 1980. The lab focuses on biomechanics, physiology, sensory/perception and data science.
Over the course of thirty years, Nike's lab, employing more than 40 researchers has grown into a world-class research facility. Its function is to provide knowledge and insights and turn data into innovative products for athletes.
The Nike Flywire support system, Lunarlite foam cushioning, Hyperdunk basketball shoe are among the most famous.
The latest innovation is Nike Fit, a foot-scanning solution designed to find every person's best fit. Nike Fit uses a proprietary combination of computer vision, data science, machine learning, artificial intelligence and recommendation algorithms to find your right fit.
A report from 2017 estimated that Nike has spent "~$2.5 billion on research and development in the last five years."
Read BUSINESS reSOURCES: a PESTEL analysis of Nike
Join the Conversation
We'd love to hear what you have to say.
Get in touch with us on our LinkedIn Page, Facebook Page, Twitter or TikTok.
Amazon's new machines pack boxes up to 5x faster than humans
Amazon is trialling technology in its warehouses that can package orders five times faster than humans.
Check the video to find out!
Join the Conversation
We'd love to hear what you have to say.
Get in touch with us on Facebook Group and Twitter.
The Health and Wellness Industry Is Now Worth $4.2 trillion
The industry has been growing with 12.8% between 2015 and 2017 and represents 5.3% of global economic output.
The Health and Wellness industry encompasses all activities which promote physical and mental wellbeing: from yoga to healthy eating, personal care and beauty, nutrition and weight-loss, meditation, spa retreats, workplace wellness and wellness tourism.
Once upon a time, our contact with wellness was occasional: we went to the gym or got a massage. But this is changing fast: a wellness mindset is starting to permeate the global consumer consciousness, affecting people's daily decision-making – whether food purchases, a focus on mental wellness and reducing stress, incorporating movement into daily life, environmental consciousness, or their yearning for connection and happiness. Wellness, for more people, is evolving from rarely to daily, from episodic to essential, from a luxury to a dominant lifestyle value. And that profound shift is driving powerful growth.

Katherine Johnston, senior research fellow, GWI
Read more: The Health and Fitness Industry Is Estimated To Reach $100 Billion in 2019
What is driving the growth of the health and wellness industry?
Here are 4 factors driving the growth of the Health and Wellness industry:
1. The clean eating trend – free-from and organic foods
Consumers are increasingly focused on living longer and healthier. Healthy living starts with healthy eating.
The consumer's preferences have shifted towards eating more natural, free from additives or preservatives, organic food. Today eating clean means eating a diet made of gluten-free, dairy-free, non-refined carbs, sugar-free food.
Millions of people worldwide are suffering from the celiac disease which drives the demand for gluten-free/wheat free food market.
The global gluten-free retail market is estimated to grow to $12.5billion by 2024 at a rate of 9.5% from 2017.
According to Statista, Italy is the leading gluten-free and probiotics market in Europe.
2. Wearable devices and virtual assistants usher in the personalization of health and wellness
Demand has increased for all kinds of health-focused wearables: smartwatches, health and fitness trackers, heart rate monitors, apps which support the emotional and mental health of users and virtual assistants.
Learn more: This App Supports Your Employee's Emotional Wellness
A 2018 Pricewaterhouse Coopers (PwC) report has found that almost half (49%) the people in the United States own a wearable device.
Health conscious consumers expect their wearable devices to help them live longer (70%), maintain a healthy weight (63%) and pay less in insurance premium (62%).
Wearables Market is expected to grow to $27 Billion by 2022.
3. Wellness tourism is growing
The wellness travel market is worth $639 billion and has been growing at a rate of 6.5% from 2015-2017. The growth rate for tourism overall is 3.2% so wellness travelling is growing twice as faster.
Wellness trips account for 17% of total tourism expenditures. Wellness seekers travel to Asia-Pacific, Latin America-Caribbean, Middle East-North Africa, and Sub-Saharan Africa to get in shape and return home relaxed and ready to go.
Over the past five years, Asia is the #1 destination of wellness travellers, attracting both trips and revenues.
In the last two years, trips to Asia grew by 33% to 258 million annually. China and India rank #1 and #2 for growth worldwide, adding over 12 million and 17 million wellness trips respectively from 2015-2017.
4. Amazon – the consumers' preferred channel for nutritional supplements and skincare
The 2018 Beauty, Health & Wellness Survey conducted by LEK highlights the latest trends and offers insights into consumer interest in nutritional supplements and skincare.
Here are the survey's findings:
Average consumer spend – more than $100 per month — totalling $1,300 a year on nutritional supplements such as vitamins, minerals, herbal and sports nutrition products, and skincare products such as creams, lotions and sunscreens;
Gen Xers and boomers spend on nutritional supplements, while millennials spend on skincare;
Personalization is trending also with nutritional supplements and skincare – 39% of Millennials and 36% of Gen Xers are highly interested in receiving personalized programs; these programs consist of selecting nutritional supplements tailored to their individual health needs or a custom skin care program augmented by a beauty box delivery each month;
Amazon has established itself as the No. 1 preferred channel for nutritional supplements and No. 2 preferred channel for skincare.
If you enjoyed my article and would like to discover information on other growing industries, I invite you to read the previous materials on pet-food, gaming and health & fitness.
Join the Conversation
We'd love to hear what you have to say.
Get in touch with us on Facebook Group and Twitter.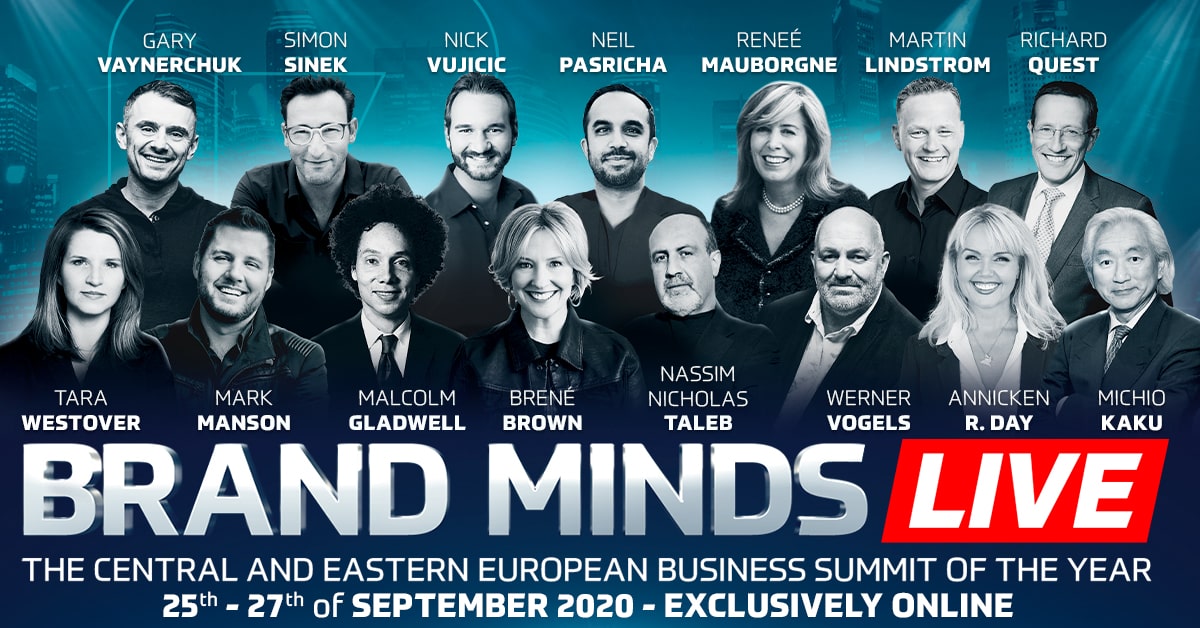 The Downfall of Toys R Us – Don't Blame Amazon!
The present article is part of the Failure Stories Series. Read the previous failure stories about Nokia and Kodak.
Well, it's not entirely true: Amazon had a hand in the downfall of Toys R Us, but it was one of many reasons the giant toy retailer fell to the ground.
Founded in April 1948 by Charles Lazarus, an American entrepreneur, Toys R Us became the most known and successful international toy retailer. At its peak, Toy R Us was considered a category killer. In 2018, seventy years later, the giant company filed for bankruptcy and closed its stores worldwide.
How could a company of international success, a Goliath of toy retail be reduced to ashes?
Let's find out!
Here are
6 reasons

for the downfall of

Toys R Us:
1. Failure to adapt and innovate
Amidst the rising tides of e-commerce, the business world going global and games converting to online, Toys R Us failed to adjust and adapt.
When times were changing fast, the big company stayed pretty much the same. When big is synonymous to slow or little to no change, being big is a disadvantage in the business environment.
Toys R Us failed to keep up with the changes the business world was going through.
The company also lost its momentum because it didn't stay ahead of the technology, unlike its competitors which were embracing technology and innovation to adapt to the changing preferences and buying habits of the new generations.
The bottom line: the stores made no sustainable efforts to present themselves in a more engaging and attractive way.
2. Competing on price alone
When Toys R Us lost the competition in technology and innovation, it began competing on price alone. Shooting for the lowest price is never the best solution in the long run because there will always be a cheaper alternative.
Toys R Us was no competition for giant e-commerce retailers like Amazon, Walmart and Target.
3. T
he nefarious Amazon Deal
In 2000, Toys R Us entered a 10-year partnership with Amazon to be Amazon's exclusive seller of toys. The partnership stipulated that Toys R Us pays Amazon $50 million a year plus a percentage of sales.
The joint toy store was successful which prompted Amazon to begin expanding its toy category. The giant e-commerce company also included Toys R Us competitors.
Toys R Us ultimately sued Amazon and won, allowing the chain to terminate the deal. But the money won in court could not make up for the years it had lost in developing its own online presence and e-commerce strategy.
When Toys R Us finally had an e-commerce site, it was too late to make any difference and it was ridden with technical errors which frustrated customers.
4. Failure to embrace community in the age of e-commerce and social media
E-commerce has risen on the shoulders of social media and community. Building a community and attracting brand love, loyalty and trust is at the core of successful brands. By connecting with their customers' story and supporting them to achieve their goals, brands are driving long-term revenues.
Barbie is one such brand. With their latest campaign #CloseTheDreamGap and leveraging the power of YouTube, Barbie is looking to empower and inspire girls (and not only girls: her vlogs strike a chord with grown-up women and men). And it's doing a great job so far.
5. From The Ultimate Experience to No Experience
Opened in 2001, the international flagship store in New York Times Square was the main attraction for kids of all ages. The store included various themed zones such as an amusement arcade, Barbie (with a life-size dreamhouse), electronics, Jurassic Park (with an animatronic T-Rex), Lego, Wonka, and the signature indoor Ferris wheel. It was the ultimate toy retail experience which drew thousands of tourists for over a decade. The store closed in 2015.
In an attempt to limit expenses, the Toys R Us management cut costs. Only they cut them in the wrong places such as its business, employees and retail stores. The company let go of its knowledgeable staff, the remaining employees were struggling with expanding workloads. With no maintenance or cleaning services, Toys R Us stores choked in their own dust and succumbed to inventory surplus.
Retail happens at the store level. Toys R Us was giving their customers reasons to avoid shopping in their stores when they should have done exactly the opposite.
6. Management myopia
Toys R Us management was suffering from management myopia. They were still believing Toys R Us was the centre of the toy industry and nothing bad could happen to the company. It's the same mindset that contributed to the downfall of other giants like Nokia and Kodak.
Management myopia sets in when employees hide the facts and figures from the upper management in an attempt to protect themselves from being laid off. Trust goes both ways and when it is lost, it has the power to shut businesses down.
In the case of Toys R Us, store employees manipulated customer surveys which served as an important performance metric to the retailer's home office.
When employees begin lying, it's a sign things are not going in the right direction.
Retailers today, especially in any kind of fashion or trend segment, have to progress. They have to morph, they have to modify. They have to represent the changes in the marketplace and their customers' behaviour. Toys R Us has never been able to wrap their arms around the changes necessary, and this is the inevitable outcome."

Mark A. Cohen, director of retail studies at Columbia University's Graduate School of Business, a former retail executive
Join the Conversation
We'd love to hear what you have to say.
Get in touch with us on Facebook Group and Twitter.
—————————————————————————————————————————————–
sources:
eu.usatoday.com/story/money/2018/03/18/toys-r-us-bankruptcy-liquidation/436176002/
ezdia.com/toys-r-us-failed-here-are-the-main-reasons-why/
theglobeandmail.com/report-on-business/rob-commentary/how-to-fail-at-retail-the-toys-r-us-guide/article38294069/
capitalism.com/toys-r-us-failed-brand-lesson
retaildive.com/news/inside-the-20-year-decline-of-toys-r-us/526364/
knowledge.wharton.upenn.edu/article/the-demise-of-toys-r-us/
Biggest Tech Acquisitions of 2018: Apple, Amazon, Google, Microsoft
The future in technology is built by these top 4 tech giants: Apple, Amazon, Google and Microsoft. These companies take leaps by developing new products and maintaining a steady flow of innovations.
But when they wish to meet business goals which are time and resource consuming, they sometimes turn to acquisitions.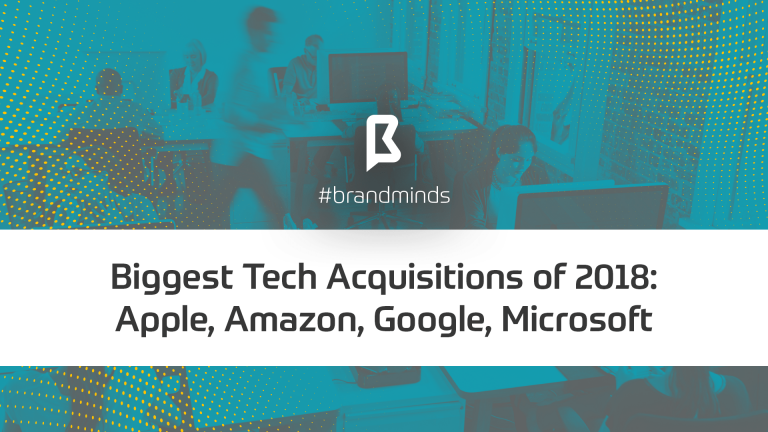 Here are the acquisitions made by these tech giants in 2018: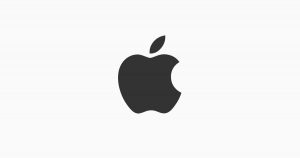 Apple current market valuation – $915b
Platoon is a talent-scouting and development startup that provides artist development as well as video, audio, and marketing services to singers and bands. Apple acquired Platoon in 2018 in a move to integrate even further with the music industry.
Another company that Apple acquired in 2018 is Silk Labs, a machine learning company using on-device AI to empower businesses to build the next generation of intelligent connected devices. This acquisition shows Apple's desire to double down and speed up development of the next-generation AI-powered Apple products.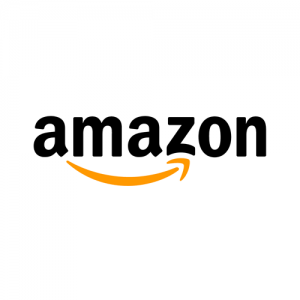 Amazon's current market valuation – $828B.
In 2018, Amazon acquired Ring, an outdoor home security which provides homeowners with smart doorbells with cameras for $1B. Following this acquisition, Amazon sets a foothold on the smart-home market, extending its services at the same time.
PillPack is a full-service pharmacy that sorts medication by the dose and delivers it to your door. Sources said Walmart was in the process of acquiring PillPack when Amazon swooped in and sealed the deal for $1B. Is it a surprising move? Not to Amazon! The platform's combination of pharmacy experience and technology focus is what attracted Amazon to close the deal. With this acquisition Amazon sets out to enter the healthcare industry.

Google's current market valuation – $781B.
Education is one of Google's areas of focus alongside economic opportunity, inclusion, crisis response and impact challenge. Google Classroom is Google's tool to make teaching more productive, collaborative and meaningful. The acquisition of Workbench, a comprehensive platform for project-based learning supports Google Classroom to achieve its goals.
It is estimated that India operates around 14,000 trains on a daily basis across the country so the popularity of the Where is my train app is understandable. The app helps commuters track arrivals and departures as well as buying seats and it claims 10 million registered users. Google acquired Where is my train in 2018 after the big tech company reportedly beat Xiaomi, the Chinese smartphone maker to the deal. This acquisition shows Google's interest in tapping the million user market in India.
DORA, short for DevOps Research and Assessment is a digital transformation research company which collaborated with Google Cloud in the past. The acquisition of DORA was a natural step for Google towards achieving its purpose of catering to the developer and the open community.
We are excited for DORA to join the Google Cloud family to help strengthen our data-driven approach to understanding what makes developers and operators productive and happy.

Melody Meckfessel, vice president of engineering for Google Cloud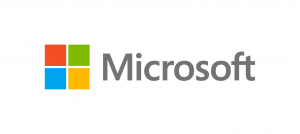 Microsoft's current market valuation – $771B.
We're mobilizing to pursue our extensive opportunity in a 100-plus-billion gaming market. This means broadening our approach to how we think about gaming end to end, about starting with games and how they're creating and distributed, and how they're played and viewed.

Satya Nadella
Beginning with 2017, the gaming industry became world's favorite form of entertainment with $116B revenues, jumping ahead more traditional mediums such as TV, movies and music.
In 2018 Microsoft acquired a total of 15 companies, out of which seven were games developer studios: PlayFab, Compulsion Games, Undead Labs, Playground Games, Ninja Theory, inXile Entertainment and Obsidian Entertainment. We can definitely say that Microsoft's interests are turning towards the gaming industry.
In a post published in January 2018 on the Microsoft blog, Kareem Choudhry – Corporate Vice President, Gaming Cloud expressed Microsoft's goal of becoming the top player in the gaming industry:
Over 1 billion people play games, fueling a thriving industry whose ecosystem is evolving and growing quickly. Many industries are moving to the intelligent cloud, and this trend is true in gaming as well. This means an increasing number of developers are looking to create connected games for mobile, PC and console devices that have a significant emphasis on post-launch operations.
Given the acquisitions that followed throughout 2018, I'd say the giant tech company is on the right track.
Here are other directions Microsoft is developing through its latest acquisitions: conversational AI, video-based social learning, machine learning for autonomous systems and bot development.
Join the Conversation
We'd love to hear what you have to say.
Get in touch with us on Facebook and Twitter.
---
sources: 
appleinsider.com/articles/18/12/07/apple-acquires-ar-startup-platoon-with-focus-on-new-emerging-artists
crn.com/news/cloud/google-cloud-buys-digital-transformation-devops-research-firm-dora
gamecrate.com/statistically-video-games-are-now-most-popular-and-profitable-form-entertainment/20087
techcrunch.com/2018/12/10/where-is-my-train-its-with-google-now/
techcrunch.com/2018/11/21/apple-silk-labs/
Top 5 Best Christmas Ads of 2018
It's that time of the year again – it's Christmas Ads time!
Christmas is a great source of revenue for retailers, growing 18% year on year according to Salesforce.
Customers begin shopping for Christmas presents earlier every year (some say as early as September) so brands need to keep up and meet their customers' needs.
It's not yet December and the big brands have already released their Christmas Ads.
Here is our Top 5 best Christmas Ads of 2018:
1. John Lewis & Partners Christmas Ad 2018 Featuring Elton John
The John Lewis Christmas Ad has become one of the most anticipated videos in the advertising industry.
In the last years, the UK retailer has delivered ads packing an emotional punch:
#ManOntheMoon – 2015, over 30 million views
#BusterTheBoxer – 2016, almost 28 million views
#MozTheMonster – 2017, over 10 million views
The 2018 John Lewis Christmas Ad was published on November 14 and it already reached almost 10 million views in just seven days.
It is quickly becoming one of the best Christmas Ads ever and has the right ingredients for it: it tells Elton John's story.
Enjoy!
Main takeaway: Support your audience into finding their life's purpose.
2. Iceland's Banned TV Christmas Advert… Say hello to Rang-tan
Probably the most controversial Christmas Ad of 2018 is Iceland's banned TV Ad – Say hello to Rang-tan, narrated by actress Emma Thompson.
This ad's story is interesting and it attracted a lot of media coverage. The ad is not actually a Christmas ad. It was created by Greenpeace a few months back and was bought by Iceland, one of UK's supermarket chains. The video draws attention to the killing of orangutans in Borneo due to deforestation for palm oil production.
The ad wasn't banned because of its message but being created by a company of political nature – Greenpeace, it broke UK's "no political ads on TV" rule.
With this ad, Iceland joins the ranks of environmentally conscious brands asking their customers to buy responsibly sourced products.
Main takeaway: Show your audience the values you stand by as a brand; in Iceland's case – environmental consciousness.
3. IKEA – Lift
Not everyone can spend their Christmas night dancing at fancy parties or sipping champagne with friends and families.
But don't let that take away your Christmas joy – Christmas home decorations are going to help you get in the Christmas mood!
Ikea | Lift | Augusto Zapiola from Mercurio Cinematografica on Vimeo.
Main takeaway: Celebrate Christmas wherever you are with whomever you are.
4. Official Heathrow 2018 Christmas Advert – The Heathrow Bears Return #HeathrowBears
In 2016, Heathrow Airport introduced their first Christmas ad featuring two endearing characters – the Heathrow Bears, Doris and Edward.
The 2016 and 2017 Christmas Ads showed their life's journey – how they met and started a family. This year, the ad shows them as an elderly couple.
Prepare to shed a few tears:
Main takeaway: When Christmas is the perfect occasion to reunite with your family.
5. Amazon – Can you feel it
Amazon's singing boxes return as the main characters of the 2018 Christmas Ad.
Although the ad follows the same narrative as last year's, showing the brown boxes singing a song while being shipped from the warehouse to the happy client – it's different.
The video has energy, rhythm and good vibes and it is all thanks to the music. The brown boxes are singing a cover of The Jackson5's wonderful song Can you feel it. The Millennials may not be familiar with this song because it was released in 1981 but the MTV Generation are going to dance to it upon hearing the first beats.
There's something about this Jackson5 song that is so uplifting! Many of the people watching the Amazon ad went back on YouTube to watch the original Jackson5 video. I know because I did exactly the same!
So can you feel it?
Main takeaway: Leverage your audience's nostalgia through music.
What is the retail trend of 2018-2019?
What comes after E-commerce and M-commerce?
How is the consumers' retail behaviour changing?
Here is what lies ahead for retail commerce – A-Commerce.
The "a" in a-commerce stands for Automated.
Automated commerce

is the latest trend identified by TrendWatching in consumer retail behaviour.
What is Automated Commerce?
AI and machine learning technology have been changing our lives and our society for the past few years.
From voice-activated personal assistants like Siri which gives us directions and sends emails on our behalf to Google's Duplex which takes it one step further and actually talks over the phone to book hair salon appointments or restaurant reservation, digital assistants set out to make our lives easier.  
AI has brought change to various domains such as car making, customer experience, education and healthcare, and even influence our emotional well being by becoming our digital companion (Read about Replika, your digital companion).
A-commerce is the result of AI and automation having a powerful impact on consumer behaviour.
Why is A-commerce a trend?
A-commerce is a trend
because in 2018, shoppers with more important things to do – and that's all of them – will embrace the outsourcing of certain retail experiences to algorithms and smart devices. That means the automation of hunting, negotiating, purchasing, delivery arrangements and more." (TrendWatching)
Here are 3 illustrations of A-commerce:
Finery
Do you enjoy organising your wardrobe?
Don't feel bad, no one does, unless you're Sheldon of the Big Bang Theory.
Do you constantly ask yourself in the morning What should I wear?! looking helpless at the pile of clothes on your bed?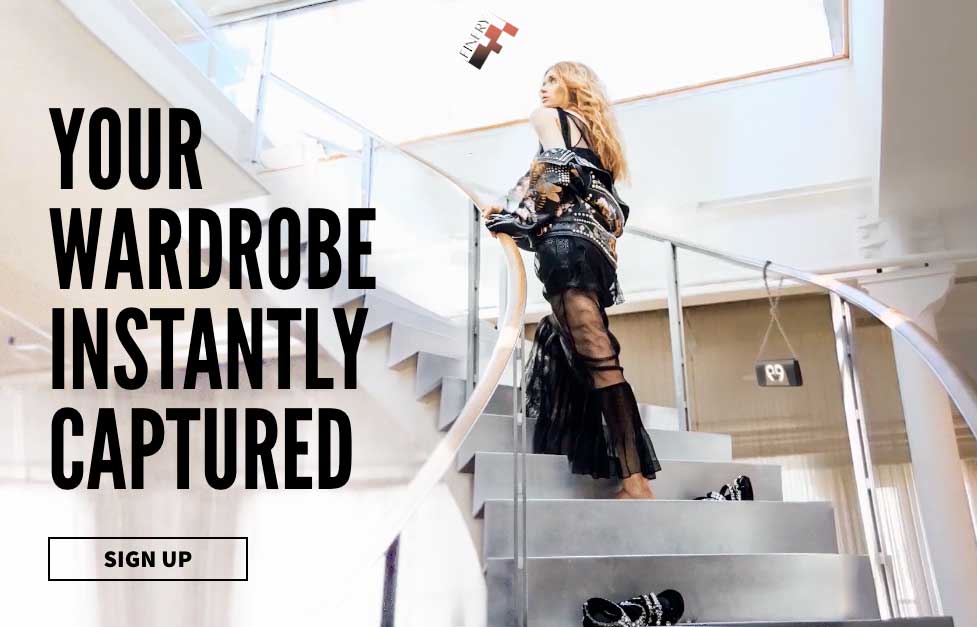 image source: finery.com
Finery allows women to outsource much of their fashion retail making it the perfect solution for every woman's wardrobe related problems.
This is what Finery does:
helps you catalog your wardrobe and rediscover clothes you haven't worn in years

brings your closets online and help you pick and style your outfit for the day

helps you track and style your clothes

lets you know when something you want to buy goes on sale

styles every item for maximum usage

connects your email, accesses your shopping receipts and helps you build out your wardrobe
WeSwap
Do you need to go on holiday or take a short trip abroad?
WeSwap takes care of your travel money.
image source: metro.co.uk
What is WeSwap?
WeSwap is the world's first peer-to-peer travel money platform.
Instead of going to banks or exchange bureaus for currency exchange, WeSwap allows users to swap currency with other travellers.
Here are the main benefits of using WeSwap:
it helps travellers round the world get a better deal on their travel money

it helps users avoid losing money in foreign ATM transaction fees

based on the platform's insights, the app offers guides on how much money travellers can spend in various cities around the world
WeSwap was voted the Best Travel Money Provider in 2018 British Bank Awards by UK consumers.
Amazon's recommendation engine
The latest statistics say that 92% of consumers trust recommendations from people they know.
If consumers buy products and services based on what their friends and family recommend them, why wouldn't they buy following recommendations from an A.I.-powered engine which is objective and data-based?
The numbers that Amazon report hold this hypothesis to be true:
sales increase of 29%, from $9.9 billion to $12.83 billion

35% of Amazon.com's revenue is generated by its recommendation engine, both on-site and off-site
Product recommendation based on algorithm helps Amazon harness the power of personalized marketing and it is a real success!
Top 6 tech leaders in 2018
We are inspired by their vision and leadership styles.
Some of them set out to change the world.
Others changed the company's core values to usher in a new era of evolution and development.
Here is our top 6 tech leaders in 2018:
Tim Cook, CEO of Apple

– "We give back in job creation"
photo: politico.com
In 2011, after Jobs resigned, Cook was named the new CEO of Apple.
His leadership focuses on people, strategy, and execution.
He also states that a company should have values because a company is a collection of people.
Asked about what Apple gives back to society, Tim replied:
We give back through our work in the environment, in running the company on renewable energy. We give back in job creation.
Under Tim Cook, Apple has the same focus on standout hardware and design as it had under Jobs. But Cook is making his mark by highlighting the importance of social efforts: LGBT rights, philanthropy, corporate diversity, renewable energy and improving manufacturing conditions abroad.
Apple market value 2018: $910 billion (source: money.cnn.com)
Sundar Pichai, CEO of Google

– "Let others succeed"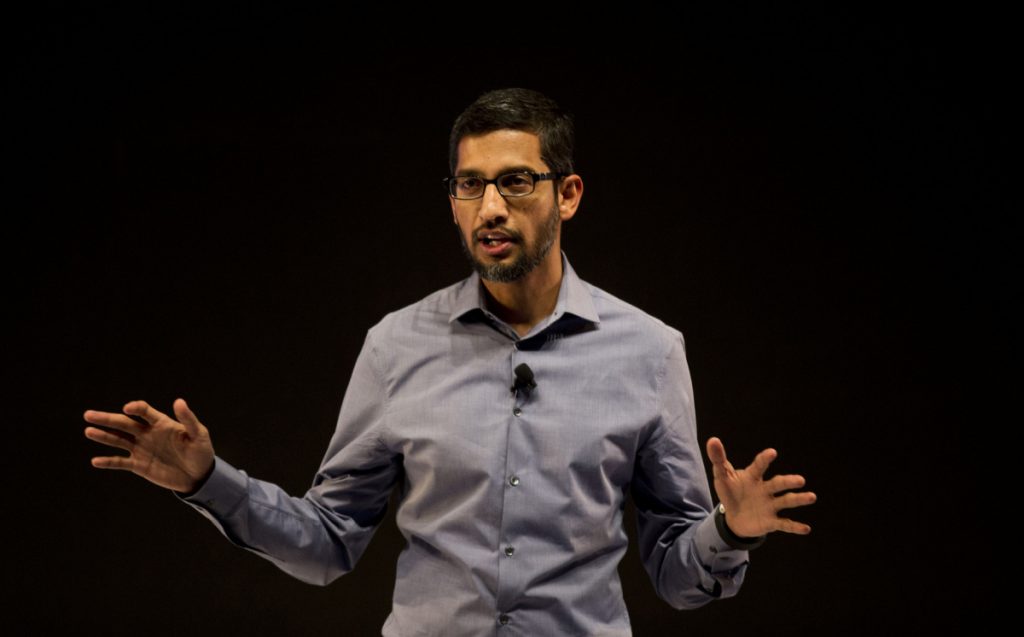 photo: fictional4.rssing.com
Sundar Pichai was appointed CEO of Google in 2015, following Larry Page, the co-founder and former CEO of Google.
Sundar joined Google in 2004 and was involved with developing a series of client software products including Google Chrome, Google Drive, Gmail, Google Maps and Android.
In Sundar's opinion leadership is
less about trying to be successful (yourself), and more about making sure you have good people and your work is to remove that barrier, remove roadblocks for them so that they can be successful in what they do.
He focuses on building Google as a collaborative culture company and is a much-loved leader by his employees.
Google market value 2018: $762.5 billion (source: cnbc.com)
Jeff Bezos, founder and CEO of Amazon

– "Get Big Fast"
photo: inc.com
Jeff Bezos is the founder and CEO of Amazon, the world's largest online shopping retailer. He founded his company in 1994, in his garage and named it after the Amazon River and because it started with A, the first letter of the alphabet.
Although Amazon was originally an online bookstore, Bezos had always planned to expand to other products.
To push Amazon forward, Bezos developed the mantra "Get Big Fast", which spoke to the company's need to scale its operations and establish market dominance.
Bezos is known to enforce a 2-pizza rule, which means the meetings must be small enough where two pizzas can feed everyone in the boardroom.
Amazon market value 2018: $702.46 billion (source: fortune.com)
Satya Nadella, CEO of Microsoft

– "The C in CEO stands for Culture"
photo: cnbc.com
In 2014, Satya Nadella became the current CEO of Microsoft, following Bill Gates and Steve Ballmer.
The most important change that Satya brought to Microsoft was shifting the company's culture. He says that his job as CEO is to create a culture that focuses on listening, learning, and harnessing individual passions and talents. Satya also placed employer empowerment at the core of Microsoft's culture.
Nadella is the author of Hit Refresh:The quest to rediscover Microsoft's soul and imagine a better future for everyone. In his book, he explores his life, his career in Microsoft and how he believes technology will shape the future.
In the years since Satya became CEO, Microsoft stock have risen more than 130% achieving an all-time high.
Microsoft market value 2018: $699.22 billion (source: fortune.com)
Jack Ma, founder and CEO of Alibaba

– "Customers first, employees second, and shareholders third"
photo: byrslf.co
A former English teacher, Jack learned about the internet in 1995 and realized early on that the internet had something great to offer. After a few business fails, Jack founded Alibaba, a China-based business-to-business marketplace site in 1999. Soon Alibaba became a multinational technology conglomerate and one of the most valuable technology companies in the world.
Jack Ma is an enlightened leader.
One of his goals is to improve the lives of employees who grow with the company, by offering them Alibaba stock options. He believes in the empowerment of the young by enriching their culture and education.
His focus is
to make sustainable money while being responsible to the society and improving the world.
Alibaba market value: $500 billion (source: technode.com)
Mark Zuckerberg, founder and CEO of Facebook

– "Making the world more open and connected"
photo: wired.com
Mark Zuckerberg launched Facebook in 2004, from his dormitory room at Harvard University.
He says Facebook's mission is
to give people the power to build community and bring the world closer together.
There are 7.6 billion people in the world (as of March 2018, according to worldometers.com) and Facebook reported that 2.13 billion are monthly active Facebook users! Although controversial, Facebook is too big to ignore.
Mark is a transformational leader.
He motivates employees through his passion for online communication and his constant pursuit to improve and innovate. He provides employees an opportunity to share in the success and views making mistakes as an opportunity for growth within the company.
Facebook market value 2018 (following Cambridge Analytica scandal): $476.83 billion (source: techcrunch.com)
If you liked the article, share it with your friends!
Google. Amazon. Microsoft – who will win the Cloud war?
We live in the most competitive times possible, especially in the technology and online markets, with knowledge and advances added daily. Cloud computing is the delivery of on-demand computing services — from applications to storage and processing power — typically over the internet and on a pay-as-you-go basis.
Instead of owning their own computing infrastructure or data centers, companies can rent access to anything from applications to storage from a cloud service provider. One benefit of using cloud computing services is that firms can avoid the upfront cost and complexity of owning and maintaining their own IT infrastructure, and instead simply pay for what they use, when they use it. And that, while providers of cloud computing services can benefit from significant economies of scale by delivering the same services to a wide range of customers.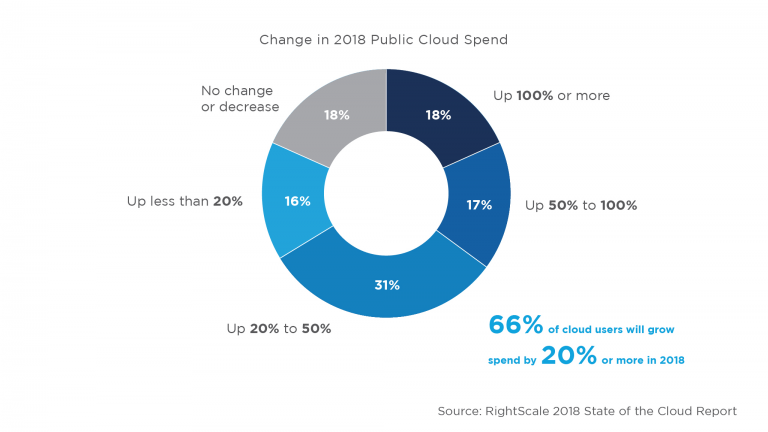 source: RightScale
In January 2018, RightScale conducted its annual State of the Cloud Survey. The survey questioned technical professionals across a broad cross-section of organizations about their adoption of cloud infrastructure. The 997 respondents range from technical executives to managers and practitioners and represent organizations of varying sizes among many industries. Respondents represent companies across the cloud spectrum, including both users (19 percent) and non-users (81 percent) of RightScale solutions. Their answers provide a comprehensive perspective on the state of the cloud.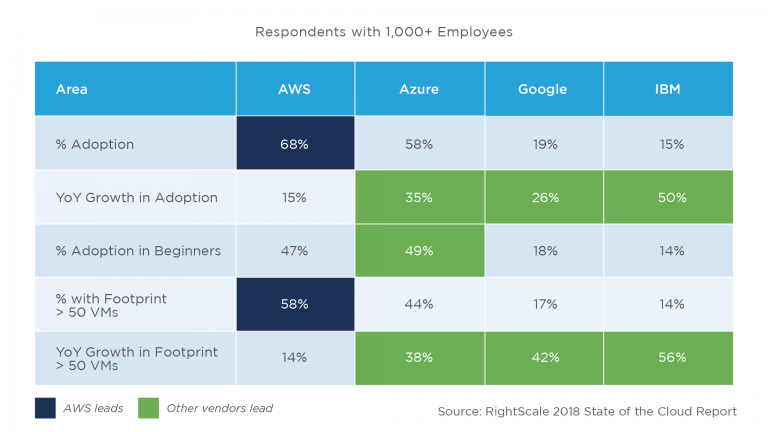 The full report can be downloaded here.
Android Spywares become more and more dangerous
Kaspersky Lab spotted a new spyware, named Skygofree, and called it one of the most powerful espionage tools for Android the company has ever seen. It has been active since 2014, and once installed, it can secretly take pictures, record videos, and seize data from your phone. According to PC Mag, although "WhatsApp is built with end-to-end encryption, the spyware can still lift messages from the app. It does so by exploiting Android's Accessibility Services to read the content displayed over the messaging service. Another never-before-seen feature is the spyware's ability to eavesdrop on the victim when the device enters certain locations".
As,unfortunately, everybody knows, Android devices are easier targets for viruses and spywares than the Apple devices, therefore one must pay a lot of attention when having one, especially when playing an important role in a company or having compromising pictures or videos on your mobile phone, even the situation is improving.
According to Wired, in an annual report on the security of the world's 1.4 billion Android devices released by Google in March 2017,  less malware winds up in its Google Play store, devices are better encrypted, and more hackers than ever report Android bugs to Google in exchange for so-called "bug bounties." But Google has also released solid data for the first time on Android's most serious security problem: the challenge of getting dozens of manufacturers and hundreds of carriers around the world to cooperate on regularly patching Android phones and tablets. "On that point, the company argues that a 50 percent annual patching rate beats where it's been in the past—but it's still not remotely good enough," adds Wired.
Still, in Jury 2017, Amazon was suspending sales of Blu phones for including preloaded spyware, again. "Blu, a Miami-based budget Android phone company, has been suspended from selling on Amazon after cybersecurity experts detailed how software preloaded onto its devices collects sensitive user data and sends it overseas, according to CNET. Kryptowire, a Virginia-based security firm, said last week during the BlackHat security conference in Las Vegas that spying software from Chinese company Shanghai Adups Technology was still present on certain Blu handsets. The software leaves users vulnerable to remote takeovers and having their text messages and call logs recorded, as well as other forms of discrete data collection," wrote The Verge.
And the story does not end here. As digitaltrends.com points out, an investigation conducted by mobile security researchers at Trustlook in December found that  43 manufacturers, including brands such as Lenovo and Gionee, contained similar spyware. According to the firm's report, the software collects serial numbers, software version numbers, operator information, and texting and call data from infected phones; the company found traces in All Win Tech smartphones in Taiwan, Archos devices in France, DEXP phones in Russia, and Prestigio hardware in the Czech Republic.
If you want to make sure you have a problem or not with a spy app, you can try verifying by using Anti Spy or Anti Spy Mobile Free. Both of them are pretty good.
More about Android viruses, how to stay away away from them and remove them,you can read here.