Smartify – Change the way you experience art
Art and technology – an odd association at first glance.
Is it possible to use tech to enhance the way we experience art?
Let's find out!
Join the Conversation
We'd love to hear what you have to say.
Get in touch with us on Facebook Group and Twitter.
This App Supports Your Employee's Emotional Wellness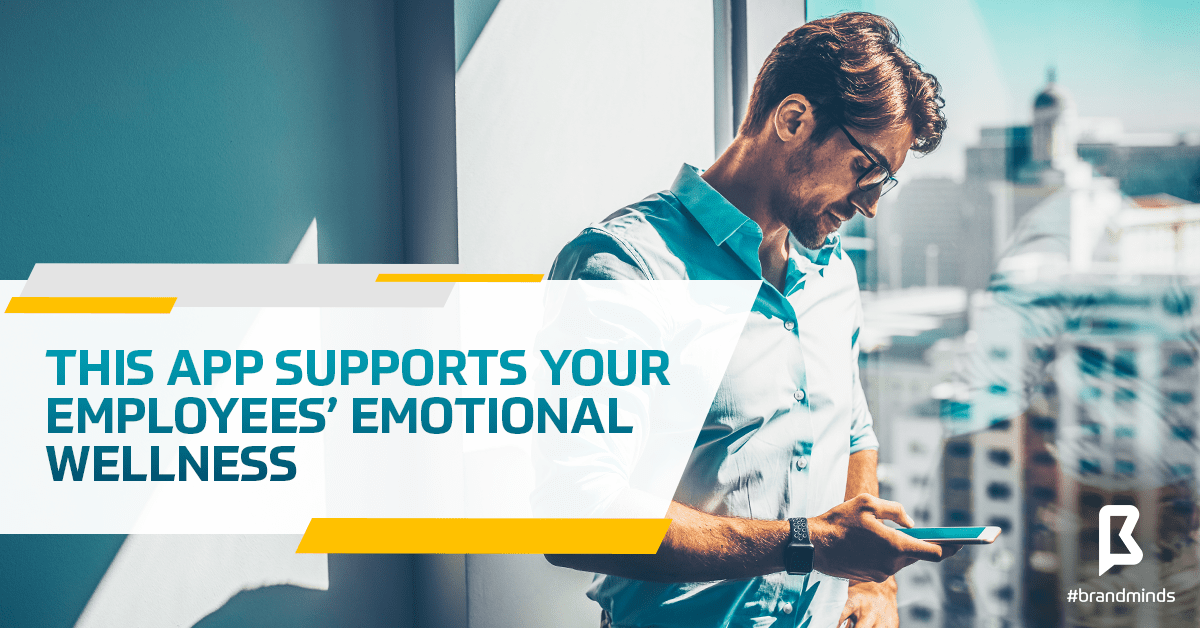 Is your employees' emotional wellness a topic of interest in your organisation? Read on to learn of an app which supports the emotional wellness of your employees.
According to the World Health Organization, mental disorders affect one in four people.
Experts estimate around 450 million people currently suffer from such conditions, placing mental disorders among the leading causes of ill-health and disability worldwide.
People suffering from mental disorders are difficult to diagnose and treat because of the negative perceptions about mental illnesses or mental conditions: stigma, shame, discrimination.
While various studies have found mobile phones can have a negative impact on our physical and mental health, we can also find ways to use them to our benefit.
Our mobiles phones act as our windows into the world. But just as our mobile phones provide us with the latest political news, fashion trends or cake recipes, they also provide us with important insights into our emotional health.

A world where mental health is never an obstacle.
The team behind Ginger built the app on this very idea: that our interactions with our mobile phones can be turned into data which could supply an accurate and update emotional profile.

What is Ginger.io?
Ginger.io is an app which offers professional coaching services to support employees' emotional wellness.
Mission
At the moment of need, we provide stigma-free access to high-quality coaches, clinicians and content. We're coupling data science and virtual care to reinvent how the world gets mental health support.
About Ginger.io:
It is a behavioural analytics platform which turns mobile data into health insights;
The app is available to individuals whose employer or health plan offers Ginger as a benefit;
It offers emotional-health coaching and therapy via chat, teletherapy and telepsychiatry via video;
Ginger members can chat directly with a coach within the app at any time of day, 365 days a year;
Ginger coaches are licensed therapists and certified psychologists; their expertise is focused on stress reduction, motivation, and human behaviour;
With the help of the app's coaches, members identify distorted thoughts, change problematic behaviours, tolerate painful emotions, successfully manage effects.
Benefits:
On-demand 24/7 emotional support: Ginger members have immediate access to video sessions with therapists and psychiatrists;
AI technology: AI technology helps the app's clinical team reach out at times that are most helpful;
Higher engaging rates than EAPs (Employee Assistance Programme): 8-30% employees engage with the app while EAPs see only 0-3% engagement rates at the same companies;
Treatments: emotional-health coaching, mindfulness, cognitive behavioural therapy, and talk therapy;
Alerts: the app provides alerts when user behaviour deviates from the norm.
Join the Conversation
We'd love to hear what you have to say.
Get in touch with us on Facebook Group and Twitter.
TikTok – The App Everybody Talks About Right Now
TikTok – The app everybody talks about right now
Have you tried Tik Tok – the app teens around the globe seem to love?
The platform ranked No. 4 most downloaded app for all of 2018.
Check out the video:
Alex Govoreanu: Exploring Games with Questo

Questo is a real-world exploration game, offering mission-like tours which anyone can play.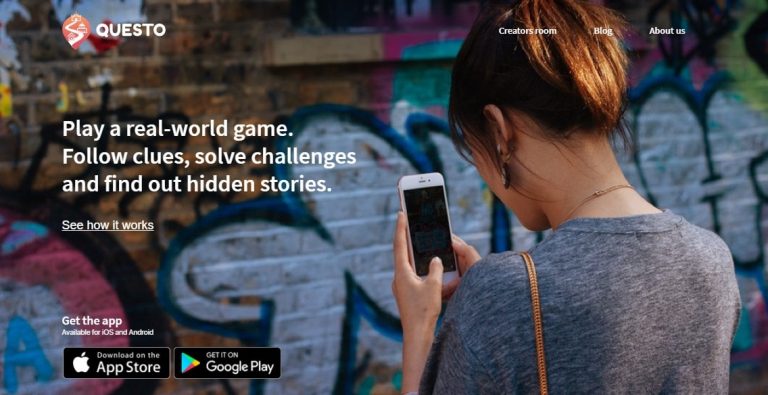 With names like Expose the spies of Rotterdam, The Angels and Demons of Rome or The Haunted Vienna, the app's quests promise an exciting and thrilling experience to its players. Judging by the latest stats, the app's experiences live up to the players' expectations:
+60k downloads;
+35.000 players;
+100.000 km walked;
+100 quests in 35 cities from 7 countries.
Founded in early 2017 by a team of four Romanian entrepreneurs, Questo won the Best Travel App at the 2017 eTravel Awards and in March 2018 won a grant from Booking.com's Booster Labs in Tel Aviv.
I was interested to know more about Questo so I talked to Alex Govoreanu, co-founder and Chief Play Officer.
1. What is the story behind QUESTO? How did it all start?
The first spark came when one of us accidentally discovered the best pizza in Rome. Away from the overcrowded, touristic parts of the city stood this little place where a family-owned restaurant prepared amazing food. The owners also had very insightful and funny stories about the area, which they joyfully shared with their clients.
This triggered a sense of mission for us, to discover all these incredible places in every city, which only insiders knew about.
About a year later, it transformed into a gamified way of discovering every city: the Questo app. We blended the joy of exploring new places with the excitement offered by a real-world game, all wrapped in storytelling.
By following clues and solving challenges, puzzles and riddles, you can now game your way around a new place, while finding out the spiciest stories it has to offer. You will discover both popular and lesser-known places and unknown stories about your city or any other one.
Questo – How it works from Alex Govoreanu on Vimeo.
2. The latest consumer behaviour trend shows that brands focusing on their social impact earn their consumers' love and loyalty. What can you tell us about QUESTO's social impact?
Redistribution of tourism income
We have many ways in which we create social impact, with one that is built into our very core.
What we do is take people around the most interesting parts of the city, and, for us, this means the players will most of the times end up in lesser-travelled areas of the city, the ones where tourists don't usually tend to visit. This helps in redistributing the income coming from tourism. Along the way, we recommend small, less fortunate local businesses located away from the touristic focal points, which can greatly benefit from this.
Less overcrowding
Also, this makes a dent in the overcrowding issue as well. We were recently awarded by Booking.com for these very reasons.
Calls-to-donation
One other social impactful action we take is to add local causes and charities into our exploration paths. When you pass by a local patrimony house in need of renovating, we place a call-to-donation into the app. If you pass by a centre supporting any kind of people in need, we place a call-to-donation/volunteering. We also have plans to launch entire quests (what we call our trails) focused on social causes, with contributions going to NGOs.
3. What strategies do you implement to grow QUESTO?
Right now we are focusing on expanding across Europe, with plans to have several quests in the most popular cities by the end of the year.
To do this, we are actively looking for creators who can create quests of their own. These are either players who enjoyed a quest so much that they want to build one too or just writers and enthusiasts who enjoy storytelling mixed with real-world gaming. They are rewarded with a commission for each sold quest.
---
Join the Conversation
We'd love to hear what you have to say.
Get in touch with us on Facebook Group and Twitter.
The story of a 1.5 Billion User App Built by this World-Changer
This is the story of how one poverty-stricken immigrant built an app used today by 1.5 billion people worldwide.
The man is perched on the keypad typing briskly; from time to time he pauses for three seconds to check each paragraph.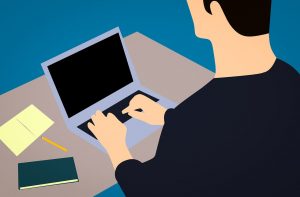 It's a cold February morning, but he doesn't mind the snow falling outside his window. He is writing an article on his company's blog letting the audience know about the latest milestone he and his team achieved. After pushing the publish button, he leans back on his seat, his face beaming with the satisfaction of achieving his dreams. He takes a moment to ponder the befuddling journey he had started out years ago.
He remembers how eight years earlier, he was discussing his idea he had for a new smartphone app with some friends meeting over pizza and drinks. They encouraged him to put his idea into practise so on his birthday that year he set up his company in California, USA. He was unemployed at the time so in the months following he hardly remembers doing anything else but endless hours of back-end coding to get his app running.
As any app in early developing stages, his platform kept crushing or getting stuck. He had almost given up when his long-time friend and university colleague told him to stay the course and keep working on it.
"You'd be an idiot to quit now," he said. "Give it a few more months."
His app received a surprising help from the smartphone developer and he made the most of it. He also updated it to meet the needs of its early users. The 2.0 update brought an unexpected increase of 250,000 active users. He looked at the user growth spike in amazement. His app was definitely promising to turn into a full-fledged success. His supporting friend shared his confidence and invested $250,000 in his developing app. He came on board the company as the cofounder.
The man stands up, walks to his window and watches the snow fall. He smiles briefly while comparing the warm winters in California with the especially hard winters he lived through in his birth country.
He spent his childhood in a communist-ruled country going to school in -20 C winter days. Using the bathroom meant strolling to the parking lot because the school didn't have inside facilities. As he told his friends, he didn't have to read the 1984 novel because he experienced it first hand.
When the political environment took a turn for the worse and it was increasingly dangerous for their family, they migrated to USA when he was only 16. He moved to freedom together with his mother and grandmother, his father vowing to join them later. Unfortunately, his father fell ill and five years later he died, breaking his promise to his family.
In the USA, his family lived on the brink of poverty. They survived mostly on food stamps while he worked as a cleaner in a grocery store supporting his mother's income as a babysitter. His mother was soon diagnosed with cancer and passed away within a few years. He recalls the day of her funeral and lets out a deep sigh. His eyes look out the window with sadness. Years of hurt and sorrow ensued. However he managed to find the inner-strength needed to push through the grief and make a life for himself.
He learned English and became interested in programming. That's the moment that changed his life. He didn't have a computer until he was 19 and yet he taught himself programming by studying manuals he was buying from the local bookstore. His new-found passion for programming led him to enrol in university.
I want to do one thing and do it well.

Jan Koum via forbes.com
The man in my story is Jan Koum, founder of WhatsApp.
WhatsApp was launched in 2009 and as of 2018 there are 1,5 billion people using the app on a daily basis making it the no 1 messaging app in the world. According to analysts, the giant messaging app is currently worth $50 billion.
And it all started … when education happened. 
Jan Koum is a world-changer. The next one could be YOU!
This Year take one step closer to the future you want for yourself (or for your beloved ones) and invest in education!
Get your ticket for BRAND MINDS 2019 and meet the most renowned world-changers of the moment!
This is the second article in our Success Stories Series. Read the first story here:
The $8 Billion Company built by this World-Changer
---
sources: 
https://www.forbes.com/sites/parmyolson/2014/02/19/exclusive-inside-story-how-jan-koum-built-whatsapp-into-facebooks-new-19-billion-baby/#3abe39422fa1
https://www.eyerys.com/articles/people/memories-rags-riches-jan-koum
https://www.wired.co.uk/article/whats-app-owner-founder-jan-koum-facebook
This App Helps you Choose your Clothes According to your Musical Taste
Would you let an app choose your clothes depending on your musical taste?
Let's find out!
Fashion and music – two expressions of one's individuality. The music we are listening to is speaking to the world about who we are, it has the power to accompany our mood or change it. The clothes we wear speak about us before we even say a word. They influence our self-esteem and others' first impression of us.
Music influencing fashion (and vice versa) is a significant aspect of our culture: creativity flows naturally from music stages to fashion runways and back.
The years of rock-n-roll music have translated into blue jeans fashion styles. You could spot a punker a mile away: mohawk hairstyle and black-leather jackets. And we could go on and on. There is a plethora of books studying this cultural phenomenon of music and fashion influencing each other. By the way, choose which band were you listening to in the 90s, Metallica or Depeche Mode, and I'll tell you what clothes you were wearing!
Although it's nice to go down memory lane, this article is not about music and fashion history.
Fashion + Music + AI = Happy Customers
One start-up founder believed in music's power to help men choose better and more appropriate attires for various occasions. The man's name is Julian Eison and the app is called FITS.
What is FITS?
FITS is an app, which suggests clothing for men based on their music preference.
How does FITS work?
The user logs into his Spotify account, allowing the app to access his listening data. He is then prompted to take a lifestyle quiz, which provides Julian's company, Eison Triple Thread with important information such as the type of work and the industry of his client.
Once all the information is received, the app's algorithm sifts through user's Spotify data and pairs music genres and favourite artists with styles. The user then looks through these suggested outfits, giving his feedback with likes and dislikes. Finally, he's served up Eison Triple Thread pieces that Eison says will properly reflect his personality as well as personal style. And because all the company's menswear is made to measure, user can further customize each product, like choosing colour pairings or materials.
FITS is different than the e commerce recommendation engines
We are all accustomed to the recommendations we receive when we purchase items from an e commerce store. But according to his interview with Racked.com, Julian says FITS is not just another recommendation engine.
FITS is a more advanced way to recommend things to shoppers than by just saying, 'Hey, someone bought this five minutes ago, you should too!' The innovative app is able to add some nuance to the process, because the algorithm makes more fine-tuned recommendations the more it's interacted with.

Julian Eison
We write emails with the help of AI, we let chatbots talk to our business customers and instruct virtual assistants to conduct medical interviews, why not follow music-based fashion recommendations made by AI?
Nvidia – Blurring the Lines Between Virtual Reality and Real Life
Blurring the lines between real life and virtual reality has never seem so close and possible. Nvidia combines its Virtual Reality Holodeck application with Self Driving Cars, in order for a human to be able to take over a vehicle remotely, in the event of a problem.
According to TechCrunch, the driver was sitting on the stage of the convention center wearing an HTC Vive and seated in a cockpit-like car with a steering wheel. Using Nvidia's Holodeck software, a car was loaded. Then, a video feed appeared showing a Ford Fusion behind the convention center. The driver in VR had seemingly complete control over the vehicle and managed to drive it, live but slowly, around a private lot. He navigated around a van, drove a few hundred feet and parked the car. The car was empty the whole time.
Inside the simulation, users could grab the car's steering wheel, or watch it explode into its component parts. According to VentureBeat, the Holodeck will be available more widely as a demo in September.
Moreover, according to enterprisetech.com, Nvidia revealed how it's planning to use virtual reality technology to accelerate the testing of autonomous vehicles. The new offering, called Drive Constellation, could dramatically improve the capability to test certain driving conditions, such as snow or blinding light, that can be hard to get in the real world.
Nvidia will use Drive Constellation offering to scale up the testing of the algorithms that autonomous vehicles use to make decisions. The solution, which is expected to be available in the third quarter, will combine two main products.
The first component in Drive Constellation will be the company's Nvidia Drive Sim software, which simulates the data emitted from sensors used in an autonomous vehicle (AV), including visual cameras, thermal cameras, radar, and LIDAR. The second component will be Nvidia Drive Pegasus, the GPU-powered computer that actually processes the AV's sensor data in real time.
Together, the components will allow Nvidia customers, such as Google and Uber, to significantly ramp up the number of miles driven in cyberspace before putting the AV on the road for a real-world test.
Can an app cure your mobile addiction?
In March, thousands of people in the United States and internationally put away their phones for 24 hours to commemorate National Day of Unplugging, "a 24 hour global respite from technology".  But is it too little, too late?
Data shows without any doubt that the population is getting more and more addictive about using the smartphone all the time,for many people the first thing done in the morning after waking up being picking up their smartphones and checking the latest news on their favorite social media channels and apps.
At the moment there are already over 3.5 billion mobile internet users in the world, which represents almost half of the total population. The global share of mobile devices in online activity is 52.64%. It is estimated that every day we spend almost 3.5 hours using the Internet through mobile devices. In 2018 this time will be further extended. According to App Annie, more than 3.5 million applications are currently available on Google Play, while Apple App Store has over 2 million. According to Statista data, both stores last year recorded 197 billion downloads, and by 2021 this number will increase to over 350 billion. Analyzing the statistics, one can conclude that the generally known 80/20 rule also works in the case of mobile. 80% of the time we spend in this channel using 20% of mobile applications installed on the phone. The average user has 5 favorite applications. It is worth noting that the first most frequently downloaded application is active for 45% of the time, and the fifth one is only for 4%.
Deloitte surveyed 4,150 British adults in 2017 about their mobile habits, 38% said they thought they were using their smartphone too much. Among 16- to 24-year-olds, that rose to more than half.  More than half (53%) of 16-75-year-olds in the UK use their smartphones while walking – the equivalent of around 22 million people – according to the latest research from Deloitte. For younger consumers aged 16-24, the proportion rises to 74%. Worryingly, more than 4.5 million people (11% of respondents) also admit to using their smartphones while crossing the road. This proportion almost doubles for 16-24-year-olds (21%).
Most people can relate to 'smartphone zombies', either through being one or bumping into one. But this is just one indication of just how infatuated we are with these devices, for better or worse. While we may be glued to our smartphones, it is important to acknowledge that these devices are also, increasingly, the glue that is binding society together, and will soon become the primary way to communicate, interact and transact with customers and fellow citizens, said Paul Lee, head of research for technology, media and telecoms at Deloitte.
Deloitte's research shows that the UK's continued love of smartphones continues to affect almost every aspect of daily life, including night-time. Among 16-19-year-olds, two-thirds (66%) check their phones in the middle of the night, double that of all UK respondents (33%). More than a quarter of 'screenagers' (26%) actively respond to messages they receive after falling asleep at night. More than a third (34%) of respondents look at their smartphones within five minutes of waking, and over half (55%) do so within a quarter of an hour. At the end of the day, more than three-quarters (79%) check their smartphones within the last hour before going to sleep.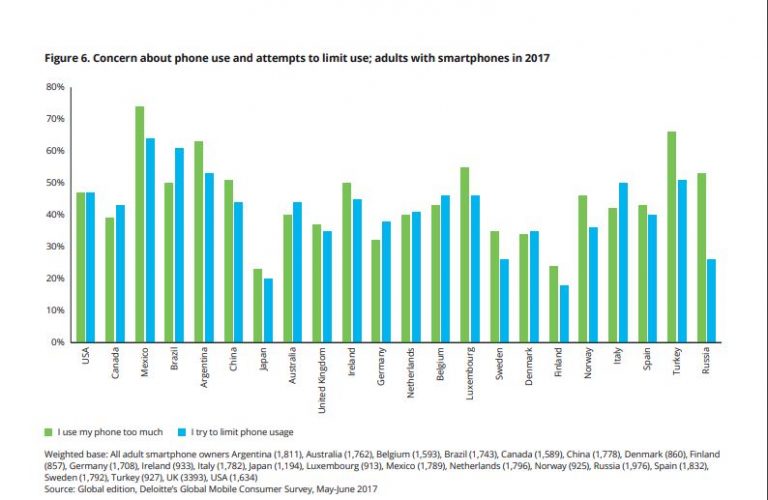 source: Deloitte
At the same time, according to another Deloitte study, 47 percent of U.S. smartphone owners have made an effort to limit their phone use in the past. The most popular ways of trying to turn off are keeping the phone out of sight in a pocket and turning notifications off. The attraction for social media platforms remains hard to resist however: only 30 percent of smartphone owners have succeeded in reducing their phone time.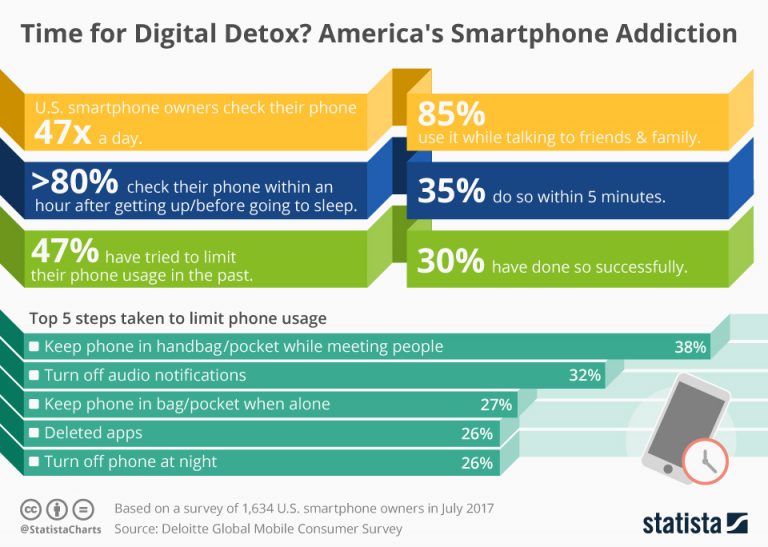 In this context, the new app called Siempo wants to "un-addict" you from your smartphone and its numerous attention-stealing apps. Siempo's interface removes distractions and prevents you from getting sidetracked. The app also promises that you will get interruptions only when you want them, as it will batch all notifications to arrive at any interval or time of day that you desire.
"Siempo also leverages a number of design techniques to distance you from your distractions, including by unbranding app icons and turning them to greyscale. Plus, the launcher organizes apps into a tiered menu system where distracting apps are further away on a third page, and the location of those apps is randomized upon each visit to prevent unconscious opens and usage," wrote TechCrunch.
Other apps that say they will help reducing the smartphone usage:
How much do you think you use your phone every day? 1 hour? 3 hours? Mute keeps you posted on: your daily screen time and pickups; the frequency you check your phone; and how long you can resist it's pull! .
Moment sets daily limits on your usage and will even try to force you off the device with a barrage of notifications if you choose that option.
It locks you out of your favorite apps until you have completed your exercise goal. This means that instead of stalking someone's Instagram, you'll be greeted by a screen telling you how many more steps you have to take before you can even open the Instagram app.
It's a personalized behavior change program designed to help you think about how you use your phone, and how it affects your life.  It's designed to help you to see the opportunities to put down your phone and to look up at the world around you.
This is a handy app for iOS users which inhibits you from accessing apps for an allocated period of time, allowing you to enjoy your meal. Users can set a timer, put down their phone, and "make dinner the place to be tech-free" for 15 minutes, 30 minutes, or 1 hour.
Aimed at students, Hold tracks how much time they spend not using their phone, and converts that into points to be redeemed for real-world rewards.
This app has a different approach: starting the app plants a virtual tree, which grows for as long as you don't quit the app, but dies if you exit. Moreover, Forest team partners with a real-tree-planting organization, Trees for the Future, to plant real trees on the earth.
The app promises to reduce your smartphone overuse with the help of a personalized Al coach (i.e., a sympathetic bot called 'O'), and forces users to confront the amount of time they're spending on their phones. Simply enter your number at the "Get Started" prompt on the site and a download link will be sent to your device.
Gmail's Makeover And How It Can Influence Your Working Habbits
Google gave Gmail a big refresh that will change the way you interact with it and help you even more than before. As first reported by The Verge, the upgrade was revealed in a message from Google to administrators of G Suite accounts. The message stated that the changes would be coming to consumer Gmail accounts, as well as G Suite accounts.
The redesigned Gmail web interface is focused on quick productivity actions. Google is introducing features such as attachments chips, hover actions, and hover cards to make the static inbox experience more interactive without the need for multiple clicks. Google is also surfacing several labs features that were previously hidden in Settings > Labs, like canned responses, the ability to create multiple inboxes, and a preview pane to customize your preferences for different inboxes.
According to Fox News, Gmail is getting deeper G Suite interactions to directly create and edit Google Calendar invites, send notes to Google Keep, and manage to-do items in Tasks. "Google is also releasing new Tasks mobile apps for Android and iOS for adding and editing tasks from your smartphone to manage in Calendar and Gmail. The Tasks app is available today in the iOS App Store and Google Play Store.  Aside from the new-look web app and Tasks mobile apps, Google also announced new security features, including Gmail confidential mode, and expanded AI capabilities like smart replies and notification priority settings," added Fox News.
Here are some of the main changes and how they will impact you
Smart Replies and Smart Filtering
New AI-powered features in Gmail, like Nudging, Smart Reply and high-priority notifications, can now help you spend more time on work that matters. With Nudging, Gmail will proactively remind you to follow up or respond to messages, making sure you don't drop the ball.
Smart Reply offers pre-set, one-line replies for any email. The replies are not just standard answers, but customized according to each email, due to machine learning, that suggest responses to you, in order to help you save time. Moreover, two new features promise efficiency improvements through smart filtering. Notifications for high-priority messages help you focus on your most important work. From now on, Gmail will pay attention to frequent newsletters and suggest you give them the boot by unsubscribing if you stop opening them.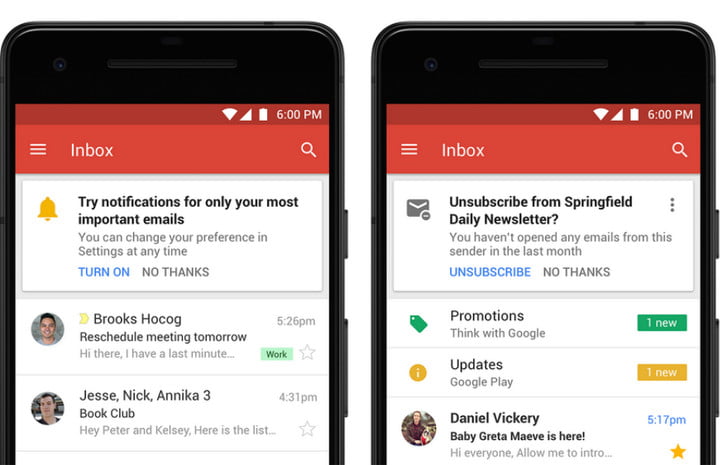 Protection from risky emails 
Built-in Information Rights Management (IRM) controls also allow you to remove the option to forward, copy, download or print messages. This helps reduce the risk of confidential information being accidentally shared with the wrong people. Confidential mode will begin to roll out to consumer Gmail users and a limited number of G Suite customers in the coming weeks (broader rollout following).
Moreover, the redesigned security warnings within Gmail are simpler to understand and give a clear call to action to employees. These bigger, bolder warnings will help you be even more informed when it comes to potentially risky email.
"When you compose sensitive email you can remove options to forward, copy, download, or print the messages. The option to protect your outgoing email with two-factor authentication — the recipient needs to log into their own email and click to receive an unlock code via SMS text to read the message you sent could help you sleep better at night if you later discover their email account was hacked," wrote Digital Trends.
Icons for Action Buttons
In the old Gmail interface, you'll find the action buttons in the inbox along with a text label. In the new interface, Google has turned these action buttons into icons — you can't read any text labels anymore. Also, this new icon menu has got two additional actions for quick access: Mark as read/unread and Snooze.
New Sidebar
It shows icons of other Google services like Calendar, Keep and Tasks. Tapping any icon expands the sidebar allowing you to quickly access your calendar entries, notes or tasks synced to your Google account. Any changes you do in these apps is synced back to the cloud and is instantly accessible on your other devices. You can also access third-party Gmail add-ons from the same side panel.
New native offline capabilities in Gmail on the web can help you work without interruption when you can't find Wi-Fi. Search, write, respond, delete, or archive up to 90 days of messages, just as you would working online, but offline.
You can use Tasks to create tasks and subtasks, and even add due dates with notifications to help you stay on track. And because Tasks closely integrates with G Suite, you can simply drag and drop an email from Gmail into Tasks to create a to-do. Tasks with due dates can also appear in your Calendar. You can download the new Tasks mobile apps from the Google Play Store or  iOS App Store today.
Different Display Modes
According to Economic Times, Google has added three view modes: default, comfortable and compact. Default view is ideal for large screens where you can open the preview of attachment in an email right from the inbox. This means you don't need to open the email itself. Comfortable view is great for laptop users – it has large text which is easy to read sans the preview option of the default view. Compact view is the same as before.
Using WhatsApp for business – the new important trend?
WhatsApp has become one of the most popular messaging apps in the world, with 1 billion daily users. Besides being a phenomenon in the people's private lives, the app is taking control in the work side of the story, businessmen and women using it more and more in their everyday business activities.
A reality that is seen also by the app's owners that are getting ready to start capitalizing more on its success. According to Tech Crunch, WhatsApp is gearing up to finally monetize its messaging app by charging large enterprise businesses for tools to better communicate with customers. WhatsApp will also offer a free app to small-to-medium sized businesses, though it hasn't outlined the specific functionality of the app. The enterprise solution will allow global companies "to provide customers with useful notifications like flight times, delivery confirmations, and other updates".
Moreover, recently, WhatsApp began testing verified accounts for businesses. "Conversations with businesses are encrypted and they can be blocked. Interestingly, if a business isn't already in your phone number contacts, its name will appear as whatever they register themselves as instead of their number. This could allow WhatsApp to create a business search engine with optional sponsored results, or let businesses cold-message people, possibly for a fee," wrote Josh Constine for Tech Crunch. More on the subject one can read here.
As the interest towards the app's use for business is constantly growing, we are offering you some tips on how to maximize the app's features on the professional life as well.
Look at its importance in Customer Communication

According to ProfitBooks, following up on WhatsApp instead of direct calling on the phone calls will help you get a 40% higher response rate. "No one appreciates phone calls from unknown numbers, but we are more likely to respond to personal messages. When we start using WhatsApp for customer communication, we noticed better response and engagement. This also gives an opportunity to be little informal. For example, you have sent a quotation to your potential customer but haven't heard from him, what do you do? You either call him or send a followup mail using formal language. Instead of doing this, if you just send a short message on WhatsApp asking about the status, you might get a quick response,"writes the website.

2. A great tool for Marketing, Promotion and Customer Support

WhatsApp could be a great tool for customer support simple because of its wider reach. Your customers would always prefer to send you a message over WhatsApp rather than calling a helpdesk number or talking to a robot.

Moreover, WhatsApp can prove to be a very strong marketing tool. It is a good one-to-one platform for direct communication, making it easy to send and receive any type of content (images, audio files, short video clips, etc), really fast, to users all over the world. Unlike SMS or Email, there are less restriction on the format and delivery chances are higher.

This doesn't mean that you should spam your customers with WhatsApp messages. Ideally you should use WhatsApp to connect with existing loyal customers rather than trying to reach new users.

3. A place for using your creativity

Technology and digital are helping businesses become more creative, offering them the possibility to innovate and surprise their target on a regular basis. WhatsApp, like any fresh and hot app, makes sure it gives its users the chance to grow their business in a cost effective manner, all one has to do is be up to date with its technical features and try and see things from a different perspective. One can get inspired from here.

4. Great for Market Surveys

Whatsapp is a great interactive tool for getting real-time suggestions and feedback from your customers about your products and services, through brief and concise questions relating to the areas of your business or service you need information on.

5. Amazing for Internal Communications purposes

One of the greatest things about WhatApp is that is easy to use and understood by all types of target, almost everyone uses it. At the same time, as pointed out by vanguardngr.com, you don't need to explicitly ask your employees or team members to check the app, because chances are they're already hooked to it. "You can form WhatsApp group for different teams in your business, for example you can form a WhatsApp group for the Business Strategy team, another for the Sales and Development team etc. Your team can share ideas, instant messages, images, audio files, video clips and other media among themselves in a quick and fun way. You also don't need to be too afraid of the information shared on the these groups getting out, because Whatsapp messages are protected with an end-to-end encryption that not only makes it one of the safest messaging apps in existence, but also adequately protects your data from leaks," adds vanguardngr.com.

More pieces of information and ideas you can also read here.