Get a 20% tickets discount to the next BRAND MINDS
World changers, the moment you've been waiting for has finally arrived!
The upcoming BRAND MINDS presents an amazing opportunity:
a 20% ticket discount

.

There are only 100 discount code uses available so hurry up and find out the code here.

1st speaker and the event's date to be announced on
July 12th

on

www.brandminds.ro

Subscribe to the 20% discount campaign on www.brandminds.ro to be the first to find out!

Be ready to experience a memorable business conference about:
BRILLIANT PERSONAL & PROFESSIONAL GROWTH TACTICS
BUSINESS SCALE-UP IDEAS
PERFORMANT MARKETING & SALES STRATEGIES
THE LATEST LEADERSHIP INSIGHTS
PURE INSPIRATION AND PHENOMENAL THINKERS
UNIQUE NETWORKING OPPORTUNITIES
World-famous thinkers will speak at BRAND MINDS
BRAND MINDS is about business minds and bestselling authors coming together on the same stage to deliver the hottest trends and insights on leadership, entrepreneurship, marketing, sales, personal development and team performance.
7 benefits of attending BRAND MINDS:
LEARN FROM THE WORLD'S TOP 1%
To get ahead of the competition, you must learn from the world's best experts. BRAND MINDS is the gathering of world-famous business thinkers who share valuable insights.
BECOME AGILE
BRAND MINDS is where you learn how to turn every change into an opportunity for growth.
SKYROCKET YOUR MARKETING SKILLS
Become a successful marketer by acquiring and developing new skills. World-famous experts will teach you what works and what doesn't, in marketing.
UPGRADE YOUR SALES STRATEGY
It's time to upgrade your sales strategy by learning from top sales experts actionable tactics to leverage consumer behaviour.
GET SCALE-UP IDEAS
Every BRAND MINDS speaker delivers actionable scale-up ideas. Get inspired and apply the most appropriate ideas to scale up your company.
BUILD HIGH-PERFORMING TEAMS
Learn how to build high-performing teams by learning from outstanding leadership and management experts.
BE INSPIRED BY BRILLIANT BUSINESS IDEAS
It's your time to reach for the stars and BRAND MINDS is where your journey begins.
When opportunity knocks on your door, be prepared to answer it: get your 20% discount today!
For any questions or inquiries, please contact our Concierge Team at contact@brandminds.ro.
BRAND MINDS 2019: What You've Missed
BRAND MINDS 2019 has just ended and it was an amazing event!
Our 7th edition of BRAND MINDS filled Sala Palatului to capacity: 4200 people breathing in unison.
They were entrepreneurs, CEOs, middle managers, salespersons, trainers, marketers etc – World-Changers each and every one of them!
If you didn't attend our conference this year,
here's what you've missed:
One full-day of intensive business strategy training;
A live experience like you've never seen before;
Learning how to take your business to the next level;
Opportunity for high-level networking through the BRAND MINDS app;
Making new connections;
Laughs, good food and great energy on and off the stage;
A life-changing experience overall.
18 Insightful Takeaways from BRAND MINDS 2019
Each and every one of our speakers has delivered amazing keynotes pack-full with actionable insights, inspiration and tips & trick to advance your business, your career and personal development.
Here are a few of the most insightful takeaways from BRAND MINDS 2019:
ROBERT CIALDINI @ BRAND MINDS 2019
The Power of Persuasion
People want more of those things they can have less of;
If you mention a weakness in your speech, people will find you trustworthy;
Pre-suasion is the practice of getting people sympathetic to your message before they experience it.
GRANT CARDONE @ BRAND MINDS 2019
High Performance in Sales
Branding should come before advertising;
Wherever your attention goes is where your money goes;
People buy from people they know. Not people they trust.
DENISE JACOBS @ BRAND MINDS 2019
Banish Your Inner Critic: Transform Self-Talk To Elevate Performance
Our brains are actually one of the biggest untapped resources on the planet;
The inner critic is actually a protective mechanism;
Creativity feels a lot like magic, but it isn't.
HITENDRA WADHWA @ BRAND MINDS 2019
Inner Mastery. Outer Impact.
The more you operate from your inner core, the more you create the conditions for outer impact;
To be true to yourself, you should be able to freely express yourself: thoughts, feelings, values, personality, desire;
Commit yourself to a journey of continual learning and growth – to awaken to your true self.
GUY KAWASAKI @ BRAND MINDS 2019
The Art of Innovation
Great products and great people polarize people;
Changing your mind is a sign of strength and cleverness;
Innovation is a process. Not an event.
YUVAL NOAH HARARI @ BRAND MINDS 2019
The End of Homo Sapiens: When do humans cease being human?
Many people confuse the brain with the mind;
It's easier to manipulate a system than to understand it;
In the future, your mobile phone can be incorporated into your body with functions as analyzing your emotions, feelings, your state of the body. We will operate with 2 brains, your current one plus the bionic brain.
Goodbye BRAND MINDS 2019 – Hello BRAND MINDS 2020
For the past four editions, our conference has been sold out 3 months in advance leaving many people joining the waiting list in the hope that someone will not be able to attend the event and relinquish their ticket.
To make sure we meet the ever-growing demand for tickets to our conference, we changed the location and date of BRAND MINDS 2020.
BRAND MINDS 2020
Date: 4th of May
Location: Romexpo
Participants expected: +6000
BRAND MINDS 2020 – Confirmed Speakers
Malcolm Gladwell – World's Top Journalist
Martin Lindstrom – World's Top Marketing Expert
Michio Kaku – World's Top Scientist

More Guest Star Speakers to be announced soon!
In the following months, we will update our speakers' lineup so follow our social media accounts (Facebook, LinkedIn, YouTube, Instagram, Twitter) to be the first to know!
Join us in our mission of Uniting the Business World and enjoy a life-changing business experience!

BRAND MINDS 2020 – The Future Of Business
We are very excited and thrilled to announce
the 8th edition of BRAND MINDS:
BRAND MINDS 2020 – THE FUTURE OF BUSINESS!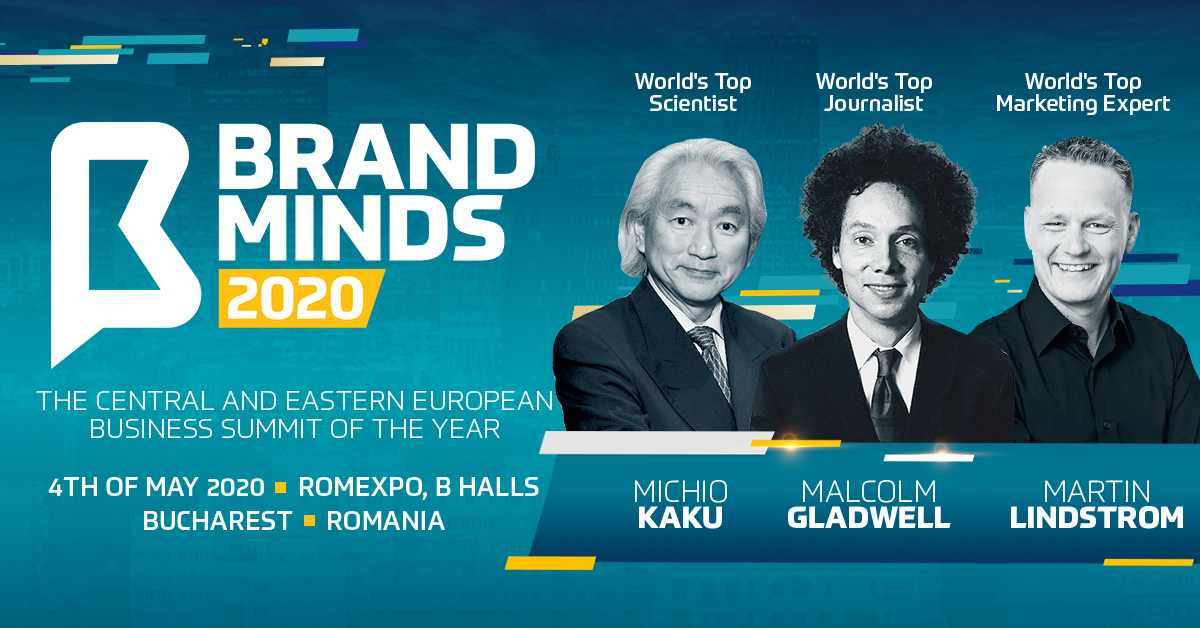 FROM 4000 TO 6000 PARTICIPANTS
The 2020 edition marks an important step: the transition from 4200 to over 6000 expected participants.
Our previous editions have generated growing interest which exceeded the number of available seats. For the past three editions, our conference has been sold out three months in advance leaving many people joining the waiting list in the hope that someone will not be able to attend the event and relinquish their ticket.
That is one reason we have decided to change the location and the date of BRAND MINDS 2020.
BRAND MINDS 2020
Date:
4th of May


Location:

Romexpo


Participants expected:

Over 6000

BRAND MINDS 2020 – THE SPEAKERS
With each new edition, we strive to bring to our audience only the best and the brightest of world-renowned professionals with proven accomplishments.
Here are three of the Global Thinkers that will rock the stage at BRAND MINDS 2020: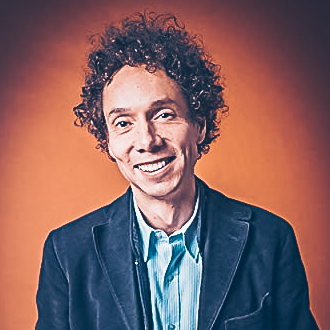 Malcolm Gladwell

– World's Top Journalist
Malcolm Gladwell is a renowned journalist who looks for unexpected connections to shed light on various topics on sociology, psychology, and social psychology;
He is the author of 5 international bestsellers: 'The Tipping Point: How Little Things Can Make a Big Difference' (2000), 'Blink: The Power of Thinking Without Thinking' (2005), 'Outliers: The Story of Success' (2008), 'What the Dog Saw: And Other Adventures' (2009), and 'David and Goliath: Underdogs, Misfits, and the Art of Battling Giants' (2013);
His theory, the 10,000-hour rule which he popularized through Outliers says that the key to success in any field is simply a matter of practising a specific task that can be accomplished with 20 hours of work a week for 10 years.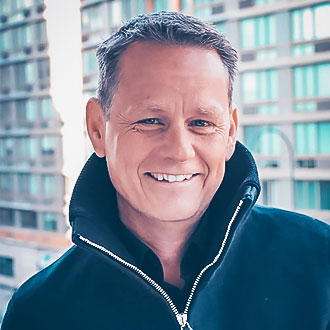 Martin Lindstrom

– World's Top Marketing Expert
Martin Lindstrom is one of the world's most respected consumer branding experts and a pioneer in the fields of consumer psychology, marketing, and neuro-marketing research;
He is the Best-Selling Author of internationally-acclaimed 'BrandWashed' and 'Buyology';
His latest book is called 'Small Data: The Tiny Clues That Uncover Huge Trends' and is The New York Times best-seller; in it, Martin shares his vast experience from working with brands in numerous countries and how it has helped him identify and find supporting data for global trends that most of us either guessed at or had no idea existed.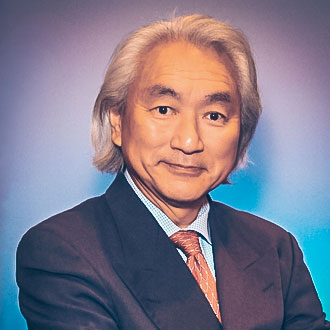 Michio Kaku

– World's Top Scientist
Michio Kaku is a theoretical physicist, famed futurist and popularizer of science;
He is the co-founder of String Field Theory, carrying on Einstein's quest to unite the four fundamental forces of nature into a single grand unified theory of everything;
He holds the Henry Semat Chair and Professorship in theoretical physics at the City College of New York (CUNY), where he has taught for over 25 years;
Michio Kaku is the author of 8 bestselling books; his latest book, 'The Future of Humanity-Our Destiny in The Univers', just hit the New York Times Bestseller list.
In the following months, we will update the speakers' lineup so follow our communication channels to be the first to know!
What should you expect by attending BRAND MINDS 2020?
Every edition is the result of a 12-month hard work. Starting with the selection of the best keynote speakers of the moment, to planning the entire logistics process, communication strategy and each detail that is meant to enhance the participant's experience – everything is designed in great detail to ensure you have the best conference experience yet.
BRAND MINDS 2020 – The Future of Business
BRAND MINDS 2020 is focused on business and its future because today businesses shape our culture and influence our communities.
They are at the forefront of technological development and innovation and have the power to change our world for the better.
Here's what global thinkers and previous speakers say about our conference: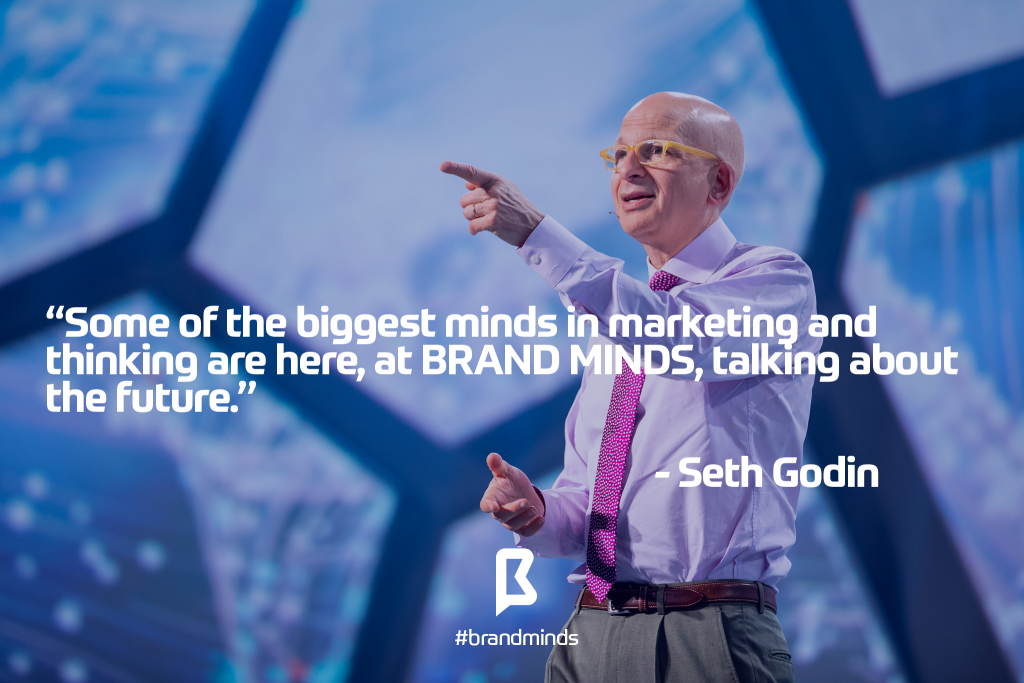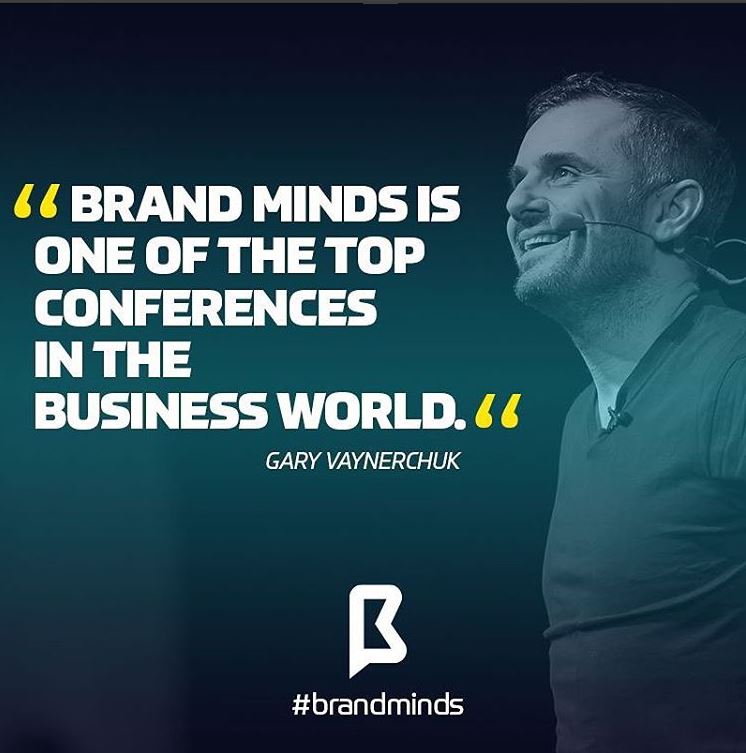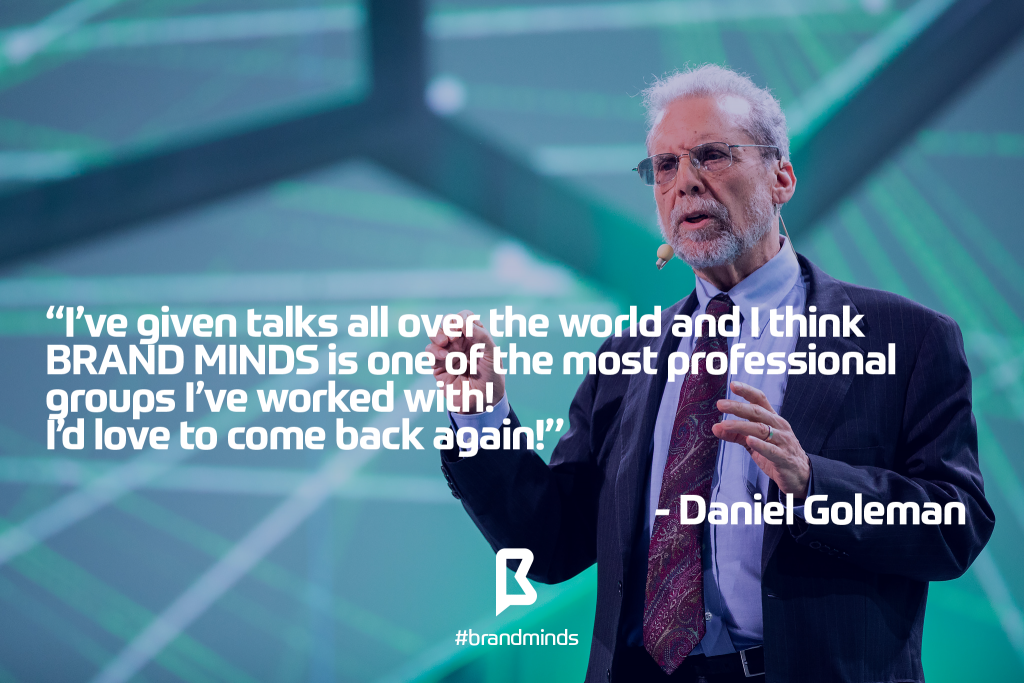 Join us in our mission of
Uniting the Business World
and
enjoy a
life-changing business experience!
BRAND MINDS – Here's What Attendees Say About Our Conference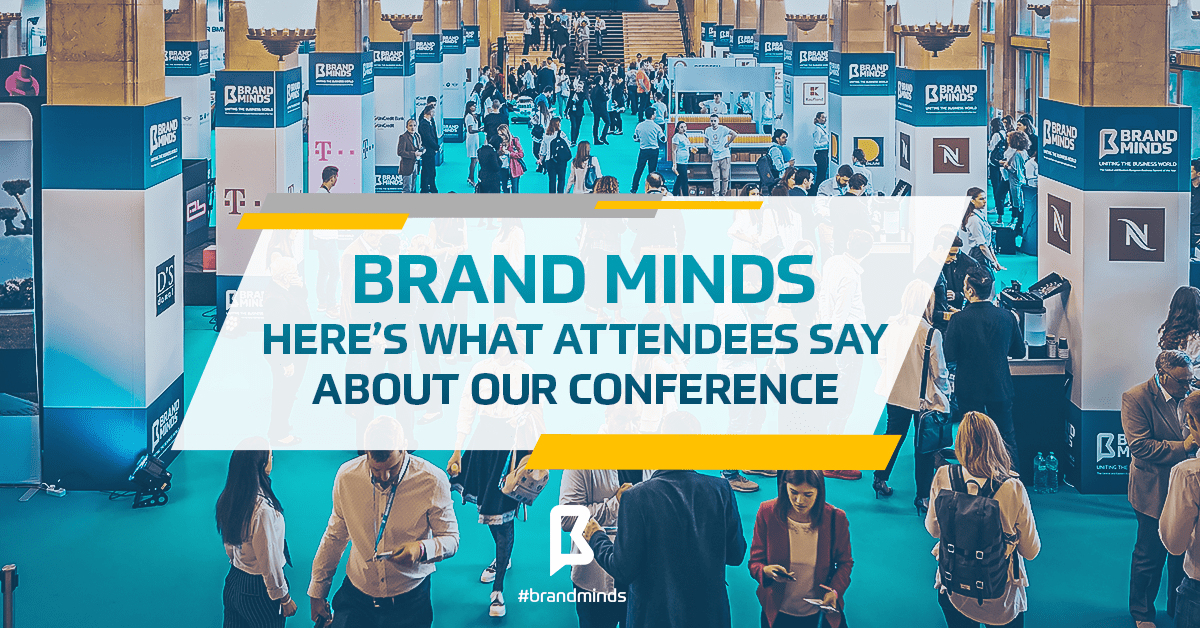 Organizing big events is a lot like delivering artistic performance: you're as good as your last.
After each BRAND MINDS edition, we look forward to receiving feedback and reviews from our attendees.
We are particularly looking for answers to these three essential questions which tell us if our event was successful:
Did the attendees find the content useful?
Did they enjoy the speakers?
Would they return for the next edition?
If attendees answer Yes to all of them, we can rest assured we did a good job at delivering a great conference and we can start preparing for the next edition. Coming up with ways to make the next event better and more impactful is a thought that is always on our minds.
Here are some of the reviews following the 2018 BRAND MINDS edition grouped in 4 categories:
1. Amazing speakers delivering great content
Bringing speakers who deliver relevant content is paramount to a successful event. The BRAND MINDS team is always looking for reputable speakers, carefully selecting those who provide relevant and fresh knowledge for our audience.
Providing good content to our attendees is one of our goals. But we don't settle for good – our audience deserves the best content available today.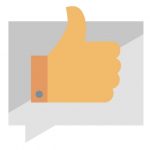 It was the best business conference I've attended in the past three years. Great, great content! 
Anthony (Ukraine)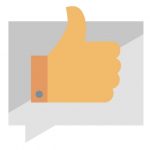 The speakers over-delivered. Period. I joined the 2017 edition as well and the content remains the spicy ingredient that keeps you focused on BRAND MINDS. 
Alexandra (Romania)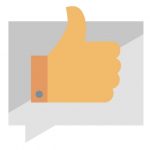 Great speakers, brilliant ideas and a lot of notes written. 
Laura (Romania)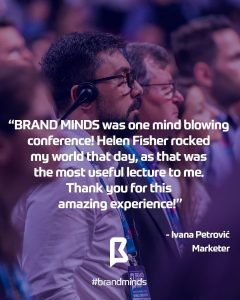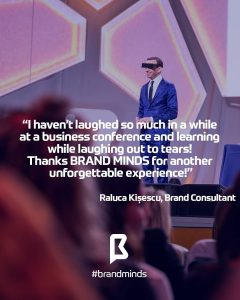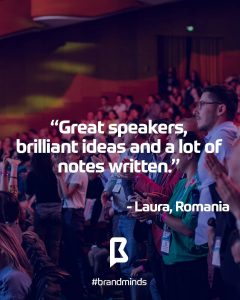 2. A Life-Changing Experience
Time is precious. No one has time to waste these days. Our attendees spend more than six hours with us – we take that very seriously.
Together with our event partners, we go to great lengths to make sure the audience attending our conference has the kind of experience that will be remembered.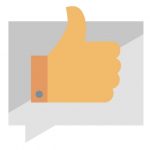 Speechless experience! I'm looking forward to 2019's edition.
Ida (Hungary)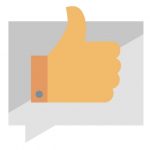 The energy and the overall vibe was amazing! BRAND MINDS is definitely a great opportunity for exclusive networking.
Anna (Bulgaria)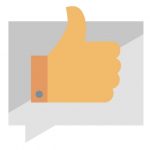 I encourage everyone to join BRAND MINDS next year, but if you can get the VIP experience, do it! Meeting the speakers in private is priceless!
Andreea (Romania)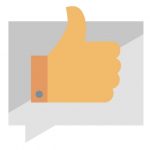 It was electrifying! A hall of 3000 people who gather for the same reason is the type of experience you don't get every day. It really gives you the feeling that you CAN change the world!
Nina (Bulgaria)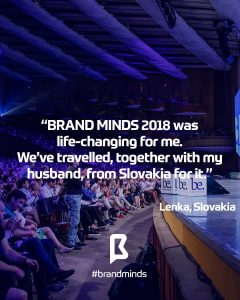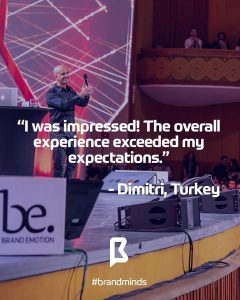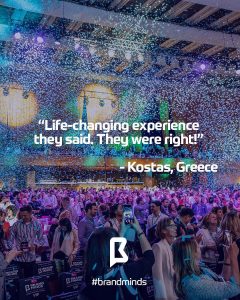 3. Looking forward to the next edition while raising the industry's standards
There's no greater satisfaction than receiving this particular reaction from our audience! When our attendees state they will join us for the next edition of BRAND MINDS, we feel proud and utterly happy.
Returning attendees is what every event organizer dreams of! It's a powerful feeling – one that motivates us to keep our audience's loyalty and exceed its expectations.
At each edition, we work hard to improve the BRAND MINDS experience for everyone in the audience. So when our attendees tell us our conference serves as the industry standard, we are humbled and we feel a greater responsibility to meet and exceed their expectations.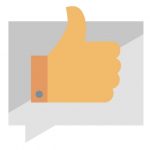 This is my 3rd year at BRAND MINDS and I still get surprised after each edition!
George (Romania)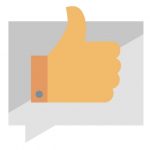 We're definitely coming back next year!
Martina Andelkovic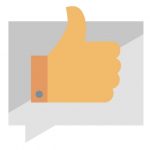 A room with some of the greatest masterminds of marketing & life, genius business pioneers and brilliant performers. On top of that, a vibrant experience that I wish to repeat.
Cosmin (Romania)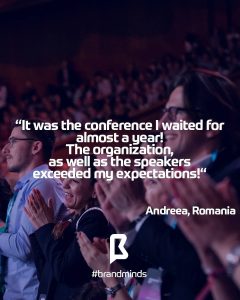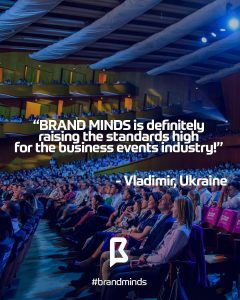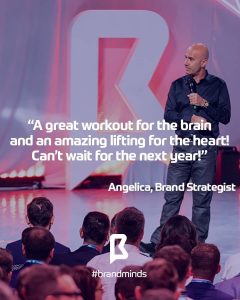 4. Inspirational, impactful and a great place for business networking
Great leaders lead through inspiration, personal example and mentorship.
We believe leadership is a skill anyone can master and BRAND MINDS is the perfect place to start learning.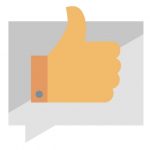 I left from BRAND MINDS with a large perspective and a clear vision for what I plan to achieve in the next 5 years.
Mykyta (Ukraine)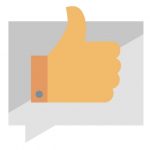 It was mind-blowing hearing the incredible speakers, realising what I can do to improve my business and life. All of that, plus the amazing organization resulted in a day I will never forget.
Matija, entrepreneur (Croatia)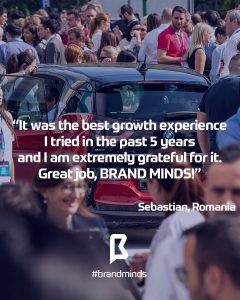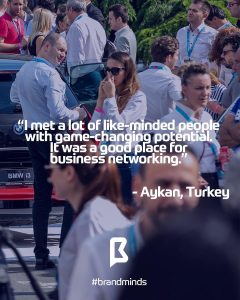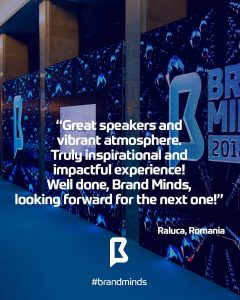 I hope this article helped you gain a wider perspective on our conference.
Looking forward to seeing you at BRAND MINDS!
Join the Conversation
We'd love to hear what you have to say.
Get in touch with us on Facebook Group and Twitter.
BRAND MINDS Conference – A Life-Changing Experience

Are you looking for a life-changing experience? Come to the BRAND MINDS Conference!
You might say
Oh, I am not going to believe you because you are biased. Everything about BRAND MINDS is amazing in your eyes.
You are totally correct! I am proud of our conference and I'm sure the rest of the BRAND MINDS team feels the same.
Our conference is the result of a 12-month hard work. Starting with the selection of the best keynote speakers of the moment, to planning the entire logistics process, communication strategy and each detail that is meant to enhance the participant's experience – everything is designed in great detail to ensure you have the best conference experience yet.
[bctt tweet="BRAND MINDS: Everything is designed in great detail to ensure you have the best conference experience yet." username="brand_minds"]
Here is why BRAND MINDS is a life-changing experience:
Growing With Each Edition
Our conference has been growing with each edition. The attendees have increased in number year after year: from 300 in 2015 to 3000 in 2018.
The 2019 BRAND MINDS conference will host over 4200 attendees.
We have a lot of surprises prepared for these amazing world-changers and we're looking forward to welcoming them.
Committed Partners
Our partners are leading companies in their respective fields and share our commitment to organize the best conference of the year.
They provide for BRAND MINDS attendees high-quality experiences in between speakers sessions, raising the bar with each edition.
Our conference wouldn't be the same without them!
Valuable Insights – No Fluff Content
Don't you hate it when you attend a conference and realize you could have found better use of your time? No valuable content, nothing you haven't heard before. It's so disappointing!
We receive positive feedback following every edition of BRAND MINDS. Many of the attendees share the same story: they tell us how they walk into the venue with high expectations and return home at the end of the event having their expectations met and even exceeded.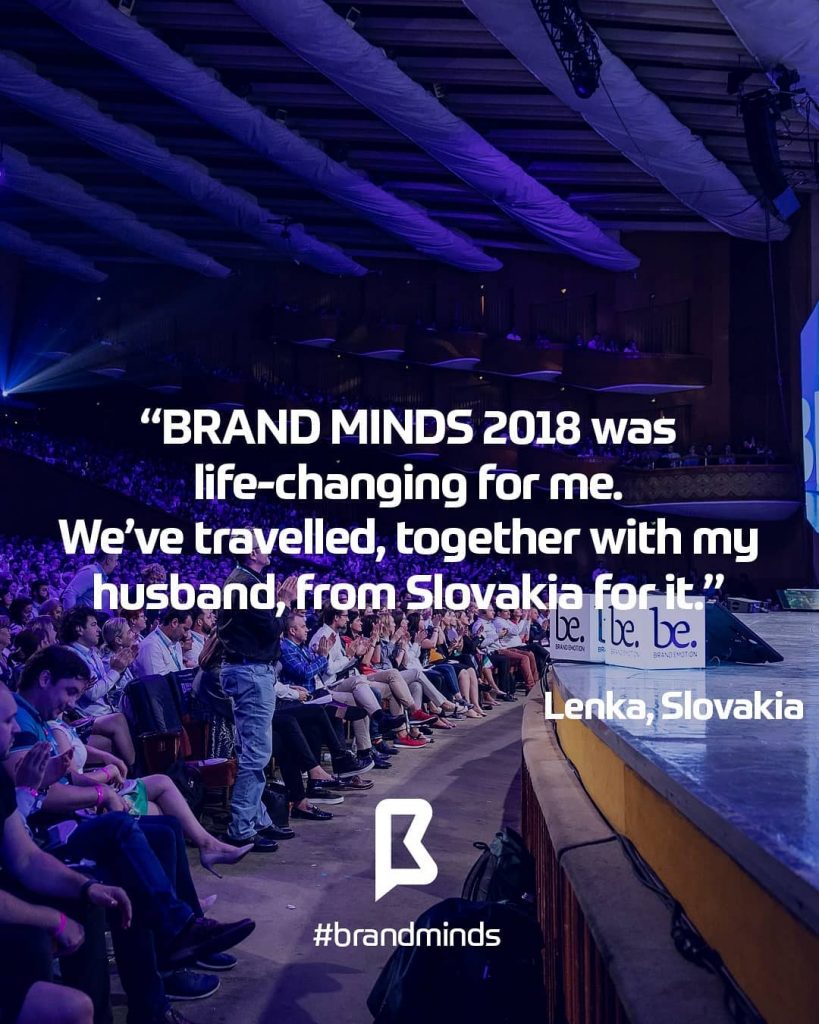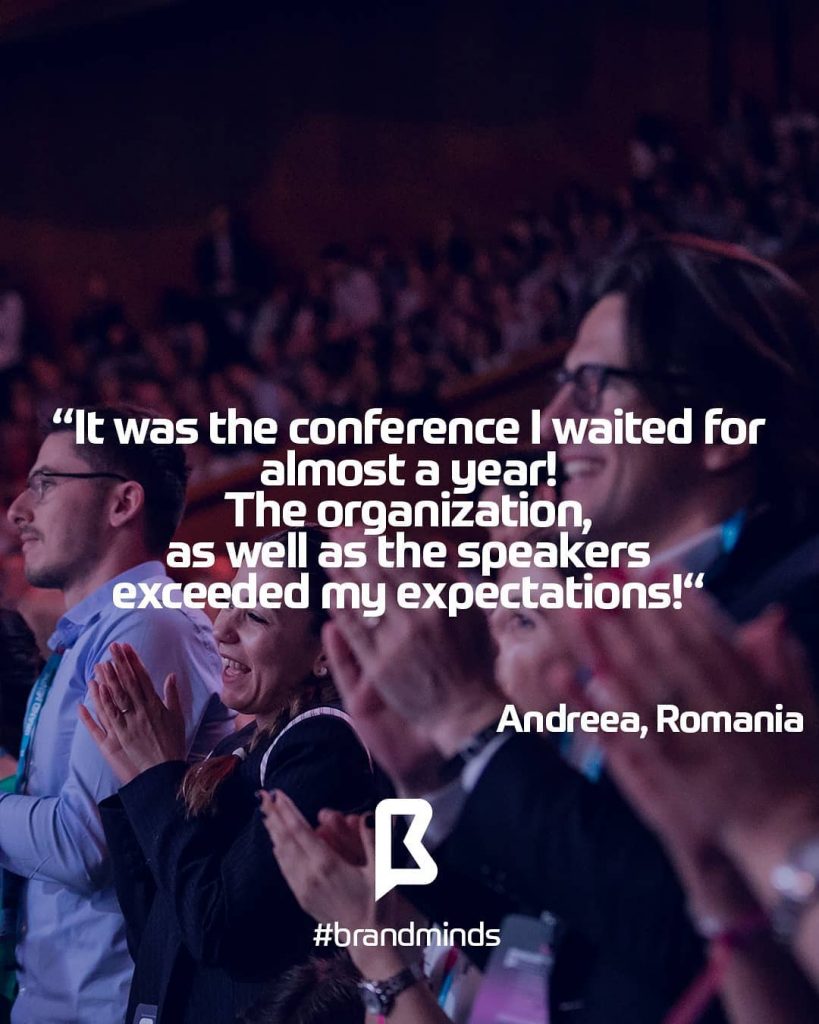 No fluff content at BRAND MINDS!
We are aiming for the most valuable content. At the end of the day, our attendees leave with actionable insights, latest trends and overall a life-enriching experience.
Life-Changing Experience
We're not saying this just to impress you.
Following the 2017 edition of BRAND MINDS, one of our attendees made a bold move: he closed his ongoing business at the time and started a new one which turned out to be highly successful. Later on, he told us he was able to switch gears and follow a different path thanks to the inspiration he had received while attending BRAND MINDS.
This is what BRAND MINDS is all about: changing lives for the better!
Relevant and Insightful Speakers
BRAND MINDS is a business-focused conference. Business is about entrepreneurship, leadership, vision, courage and life-long personal development.
Therefore we carefully select our speakers to make sure they all provide relevant knowledge into each facet of any entrepreneur's life.
Check the speakers of our 2019 edition and judge for yourself!
Fresh and Talented Speakers
We know all successful conferences rely on the star power of their speakers. But we are not like any other conferences. Inspiration lies in diversity and sometimes the less travelled road leads to a surprising discovery.
Yes, we strive to bring on stage widely-known speakers: Gary Vaynerchuk, Seth Godin, Grant Cardone, Brene Brown, Guy Kawasaki and so on.
But our work also consists of finding fresh and talented speakers who are just getting started. That was the case of our 2018 speaker – Shed Simove.
Many raised their eyebrows in disbelief because they didn't know who he was. Well, let me tell you – they certainly know him now!
Shed rocked the stage and made a lasting impression on everyone at the conference: attendees, camera crew members, volunteers and technical staff. He wasn't a risk, he was our ace in the sleeve.
Here is Raluca Kisescu, Brand Consultant talking about Shed's speech: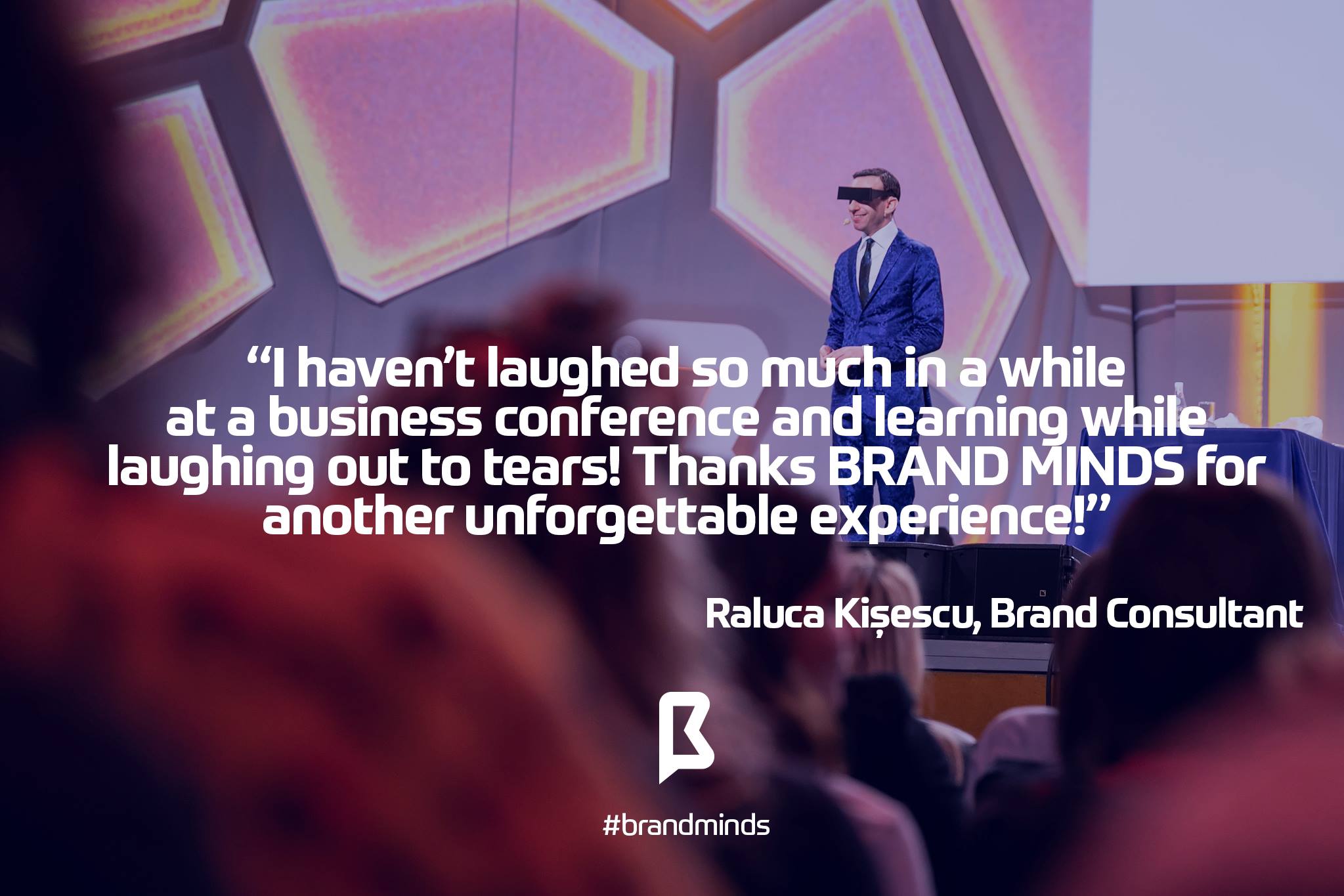 If any of our speakers are unknown to you, tell yourself this:
I don't know them but if they have been selected by the BRAND MINDS team to speak at their conference then they must be worth the spotlight and my time.
And last but not least:
The Live Experience Is The Best Experience
Reading Seth Godin's book is great, but nothing compares to seeing him live, on stage, delivering his speech. Sitting just a few steps away from him, you can feel his passion, laugh at his witty comments or think about his words deeply and purposefully.
It's an amazingly engaging experience that you just can't get anywhere else.
These are my arguments for BRAND MINDS being a life-changing experience.
But don't take my word for it.
Come to BRAND MINDS and see for yourself!
Join the Conversation
We'd love to hear what you have to say.
Get in touch with us on Facebook Group and Twitter.
What is Marketing About in 2019? Insights From 10 Marketing Professionals
One thing every marketer can never have too much of is information. Industry insights, customer data, sales trends, customer reviews etc – successful marketers are always searching for that one particular data or sets of data that will give them the opportunity to establish a connection with their customers' minds or hearts.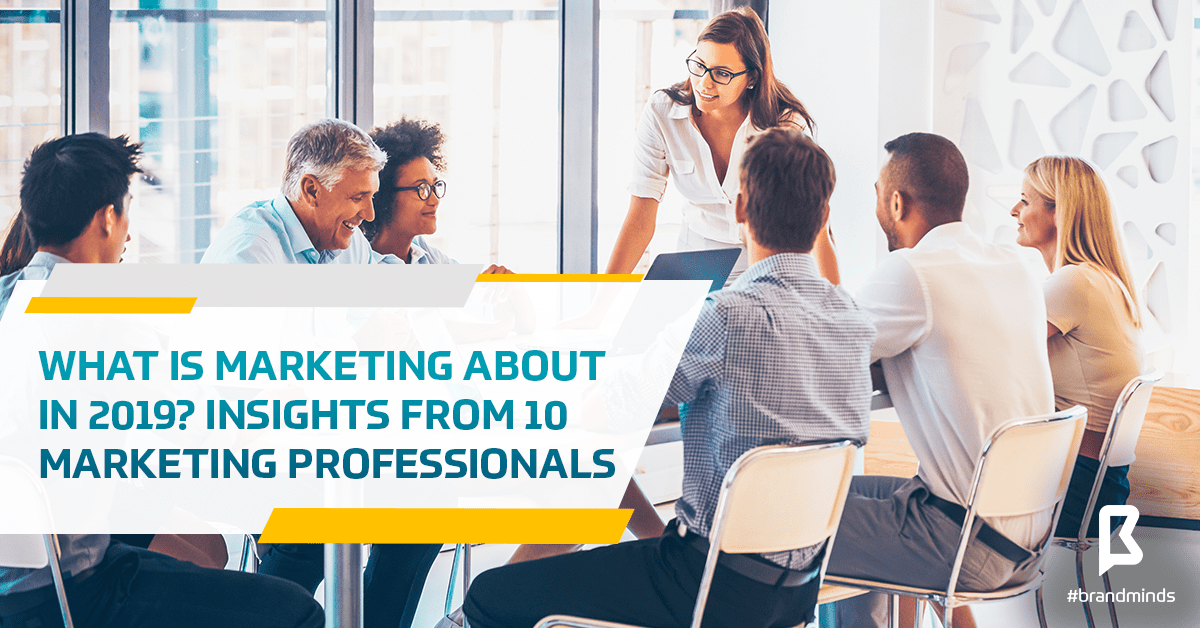 The best way to identify valuable trends and insights is by tapping into the knowledge of seasoned and savvy marketing professionals.
To this purpose, I invited 10 marketing professionals to share their insights. Together they have a combined experience of 140 years in the marketing trenches.
What is marketing about in 2019?
10 marketing professionals share their insights.
1. Nina Bratfalean – Marketing Manager, BMW Group
Triple E (EEE) and EWY. Engagement and Exclusive Experiences. Everything With You.
"Money can't buy" experiences and customers engagement; those will be the highlights of the year, together with "everything you need with you" because BMW will be connected with the life of every person who chose the brand. Choosing to drive a BMW will bring joy in every moment they will be spending with their BMW while also making each journey easier.
Starting with 2019 BMW will introduce the highly anticipated Connected Drive to Romania. Internationally, BMW is designing new mobility concepts. Everything will be direct, integrated and transparent, which is opposite to the moderation you are used to. From now on, you will hear us saying "no guts, no glory", you will also see that our communication will be more selective and interconnected with each and every step our customers take towards a completely digital CDJ (customer decision journey).
2. Andreas Elsner – Chief Officer, Residential Marketing and National Sales, Telekom Romania
Marketing in 2019 will entirely revolve around the customer.
Companies will have to produce more personalized marketing content and be able to offer customers amazing, unique experiences.
And this will be possible by getting to know the customers better.
It will be crucial for marketers to find out customers' communication preferences and deliver them creative, meaningful and valuable content.
Brands will no more be vendors, but trusted partners.
3. Calin Biris – Partner, Loopa Marketing Agency
Visual & audio content + Automation.
For a small to medium company, this year can be about investing in visual and audio content that will be used in a smart and integrated way with the other marketing channels like e-mail, messaging, social media and ads. For example, a start-up could become well known if it will create a podcast or a YouTube channel about its niche or domain that will get traction (many subscribers and listeners). But this is only the tip of the iceberg, or let's call it the cool part of marketing. For the start-up to get sales it will need to do advertising and have a good sales funnel, because content marketing it's a long-term investment.
If we are talking about big companies that already have a working sales funnel and marketing action plan, what will be cool to do more this year is looking for ways to use automation in Social Media or in an Inbound marketing strategy.
4. Tara Hunt – CEO, Truly Inc.
The year of the reckoning for advertising.
I'm calling 2019 the year of reckoning for advertising – especially the practice of social platform ads – because of the growing revelations around click fraud and the realization that the metrics the industry has long relied on (impressions, reach and even engagement) are pretty useless.
Many brands are going to continue to see a decline in real results, which will leave them wondering what to do next.
My hope is that this will open up the long overdue conversation around accountability and goals in marketing that leads to a resetting of what we measure and how we approach the practice.
And my dream outcome of this will be for brands and marketers to stop chasing millions and billions of impressions and get back to the core definition of marketing: connecting companies with customers through understanding the market, development of the right product, finding the right channels to distribute, and creating the right strategy.
5. Ann Handley – Digital Marketing and Content Expert
In 2019, the email newsletter will re-emerge as an important nurturing tool.
Companies will treat their email newsletter programs like the rare and precious flowers they are, in need of regular tending and attention. That means they will water newsletter audiences with a sprinkler, not a firehose.
"Hold up," you're thinking. "EMAIL? Is this 1999 or 2019? Isn't this the age of AI and Facebook Live and video?"
Here's why I believe in the power of email newsletters even more strongly today, in 2019:
1) An email newsletter is the only place where individuals—not algorithms—are in control. So what if marketing leaned into that inherently personal space?
2) Most companies today use their email newsletter as a distribution strategy. What if we focused not on the news but on the letter?
In January I relaunched my personal newsletter (annhandley.com/newsletter) as a way to talk directly to my audience. It's taught me a lot about what works and what doesn't in content and in marketing. Because I think the best email newsletters are also a kind of proxy for the best marketing in 2019, period.
6. Andrada Borda – Marketing Manager, BRAND MINDS & Digitalium
Less about mass audiences and more about niche targeting.
I believe that brands are starting to value the role their audiences play in the way they communicate on a deeper level. And when I say audiences, I mean the diverse and unique user profiles we are targeting because these days few things are about mass audiences and many are about niche targeting.
A brand's communication strategy that once was prepared for a collective audience will now be split in two, three or more individual approaches, depending on the profile types that consume the brand's product or service.
And that's where you find the real challenge: to find and create ways to communicate for different types of audiences while maintaining your brand archetype, personality and values.
How would you speak in their language while keeping yours?
7. Chris 'Kubby' Kubbernus – Chief Executive Officer & Founder, Kubb&co
Marketing in 2019 is really what it has always been about. Relevance.
How relevant is your brand and how relevant are your communications/content/marketing in today's culture. And that's not to say that you need to be famous.
But you need to be relevant to your customers, their needs and what's on their minds. And often this changes very fast, so being agile, understanding your customers and then being able to act on that is key.
8. Antoine Dupont – Co-owner & CEO, Katapult Marketing
2019 is the year where the control of the narrative has shifted from the marketer to the people.
The consumer has become increasingly vocal by how they engage and share their feelings about a company or a brand. More than half of the conversation about a brand is happening without the brand itself. Think about it for a minute. The brand used to have 100% control of the narrative about their brand. This is no longer the case.
To that end, brands and companies, now more than ever, need to nurture and respect the audience. They are sophisticated and expect to be treated with respect & dignity.
The brands that will win in 2019 will be the one who spends more time asking & listening rather than pitching & selling. Here is what people are saying: stop robocalling me, stop spamming me and stop funnelling me. Treat me like a HUMAN.
9. Nicole Yale – Global Account Director, Client Services – VaynerMedia
2019 is about bottom-up marketing at scale.
Digital can't be ignored- we'll see continued integration with other channels, but content marketing will also drive activity across touchpoints.
Marketers are realising the power of online data, near-instant access to consumer feedback, and the impact to be had in leveraging audience insights. It's bottom-up marketing at scale- test, learn, amplify- to create work that's more relevant and effective.
10. Ana Maria Bajan – Marketing Director, Caroli Foods Group
Marketing in 2019 will be FANTASTIC.
2019 will be: FANTASTIC
Fan for bringing added value in the life of the consumers;
Assurance for your brand – make sure your brand is the first who conquers the heart of the consumers;
Nurture your communication channels with personalized messages;
To be easy to access & easy to use;
Automation is the key to effective marketing;
Stay relevant to your consumers;
Target your consumers effectively and efficiently;
Ignite your brand/category/business with a purpose;
Communicate transparently and instantly if possible with your consumers.
—————————————————————————————————————————————–
Care to share your opinion? Join the Conversation!
We'd love to hear what you have to say.
Get in touch with us on Facebook Group and Twitter.
How Do We Dress To Impress?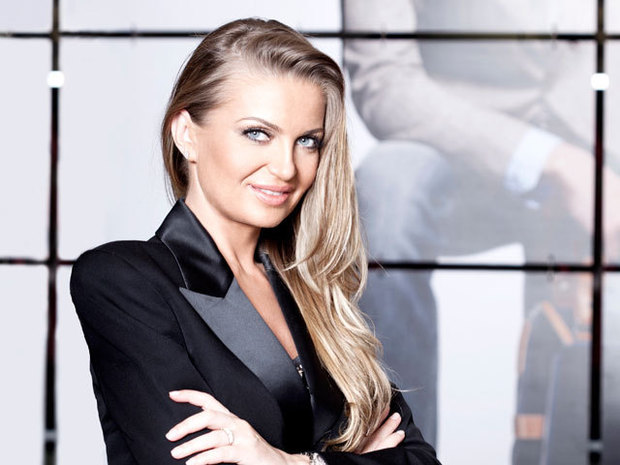 A positive, proactive and dynamic professional, Teodora Burz is definitely a strong reference in the fashion industry around the globe. She's experienced in both managing retail fashion-outlets and conceptual development/ production as well.
At only 41 she is the founder of one of the most popular clothing brand on a global scale, having lots of Hollywood icons wearing her clothes. But enough with presentations and let's get to the point and find out her story and inside tricks!
What made you take fashion seriously and make a career out of it?
T. B.: I've been passionate about fashion since my early age and it was always a part of me. I didn't have a plan to make a career of it, that was something that came out naturally.
Although, when I was 18, I had an internship in a shoe store. The owner told me he'd like to see me again in a couple of years since he felt that I was going to make a career of it.
I didn't quite understand at that time what he saw in me, but it's always going to remind me about the point where everything started.
How has your work evolved since you designed your own label?
T. B.: It has been, and still is, similar to an exam, actually. I'm testing daily all the experience I've accumulated in the past 20 years. At first, it was just a dream, but then it became an ambition and now it's an everyday challenge to make out of STYLAND the best Romanian Brand!
What is the biggest lesson that you have learned since you've started your company?
T. B.: I'm learning lessons every day, but the biggest ones I've learned before starting my brand and "I feel lucky for that so far.
#1: I believe that just a single, well-crafted jacket can change your complete look and entire state of mind. We all need a power jacket that has been reinterpreted and styled in our own personal way.

#2: Never underestimate the Power of the Great Suit.
   
How do we dress to impress? You are a businesswoman and a designer at the same time. How important is one's outfit when it comes to business?
T. B.: There is a saying "You don't get a second chance to make a first impression". There is a lot of truth in that. But making the first impression is not everything, it's important to have your own style all the time, a signature look that defines you as a person. You create it according to your job and the field you activate in.
What details do you pay attention to when you analyse a person's business outfit.
I don't analyse people's outfits. If I notice first the outfit, it means there is something wrong about it. I believe that your outfit should complete your personality, not overcoming it.
What outfits do you usually wear for business meetings?
For me, dressing up became very easy since I made my brand. I'm not over thinking it anymore. I usually suit-up pretty simply, going for a sharp look: a black or navy suit with a great cut and shape.
The focus should be on what I do and talk, not on what I'm wearing. It's a business meeting, right?
Give to BRAND MINDS attendants 3 Basic Rules to follow for a flawless Business Style/Outfit.
The first rule is to

find your cut for pants and jackets

, that particular cut that fits you best and flatters your silhouette. Then, get at least 2 or 3 suits with this cut.

The second rule is to

give-up on accessories, prints and colours

and let your look as clean as possible.

The third rule is to

wear shoes that make your legs look good. T

ry to avoid those that might look good in the magazines but destroy your overall look when you wear them.
   
What is your opinion about the overall Romanian sense of style? Would you add or change anything about it?
There is an evolution when it comes to Romanian style and is easy to observe it by a quick overview across the last years. I actually see evolution year by year.
On a matter of recommendation, is simple: apply the three rules mentioned above and you'll be surprised by the results! 
There is nothing more attractive than confidence that comes when you wear a good suit wearing white, light blue or navy shirts, perfectly groomed.
SUIT UP!  ​
Let's suit up and see what we are wearing this year at BRAND MINDS!

ABOUT STYLAND
The philosophy of the brand and collections is to create beautiful and timeless pieces made of quality materials that will last a lifetime with minimal care. Our aim is to re-establish a sense of respect for tailoring and timeless silhouettes.
The brand specialises in ladies ready-to-wear garments focusing on tailored suiting. A good quality tailoring for women wasn't easy to find, especially for modern cuts, so we created a line for those women who wanted to wear a formal and cocktail attire with a twist.  
When we're creating, we have in mind the modern woman who has an eye for exclusive and beautiful design. A design that is, both, luxurious and functional in work and formal settings.
Joining BRAND MINDS? Then read this!
Are you coming to BRAND MINDS?
Then here are some things that you need to know!
We have prepared 10 SECTIONS you can check for any information you need to know related to the event. Find them below and if you have extra questions, send us an e-mail at contact@brandminds.ro.
We're glad you'll be joining us and get ready for an amazing and life-changing experience!
A. TICKETING & REGISTRATION MATTERS
B. LOCATION & DATA
C. DRESS CODE &
D. DAY OF THE EVENT
E. SECURITY
F. PROGRAM
G. MEDIA PARTICIPATION
H. MY PERSONAL DATA
I. FOOD & BEVERAGE
J. PARKING LOT
A. TICKETING & REGISTRATION MATTERS
1. How Do I REGISTER to BRAND MINDS?
To REGISTER for BRAND MINDS please access this link and complete the form as requested.
2. What are the PAYMENT methods?
You have 3 payment methods available to pay for your tickets order: by CREDIT CARD, through BANK TRANSFER and via PAY PAL.
You will receive further details about each of the methods after applying for one or another.
3. How can I TRANSFER my pass to someone else?
All the PASSES can be transferred to another person as long as the request is made with at least 5 days before the event.
If you plan on transferring your PASS to somebody else, please e-mail us at contact@brandminds.ro with the e-mail subject: Pass Transfer Request @YourName.
4. How can I UPGRADE my pass?
Depending on the availability, you can apply for a ticket UPGRADE.
Send us an e-mail at contact@brandminds.ro with the title: Pass Upgrade Request @YourName.
5. What are the differences between the event tickets?
We have two ticket categories:
GENERAL PASS Brand – Business Experience, coffee breaks, access to BRAND MINDS Networking App, lunch);
VIP Brand – Elitist Business Experience, coffee breaks, access to BRAND MINDS Networking App, VIP lunch, VIP Afterparty, a photo opportunity with the speakers.
6. Where can I find my TICKET?
We deliver the tickets by email to the address associated with the purchase.
Please have your ticket ready to show to our Customer Service representatives at the check-in desks on the event's day. We accept both: PDF tickets on your phone (recommended) and printed tickets.
7. How can I CANCEL my purchase?
Tickets are non-refundable.
They can be, however, transferred to another name. (Check Question #3).
If the ticket wasn't paid in the specified time, the booking request will be deleted from the system by default.
8. I am on the WAITING LIST. What does that mean?
If you're on our Waiting List, it means that the ticket(s) you were trying to purchase are currently sold out.
If any tickets in your chosen category become available, we will process your request and send you an order confirmation and invoice accordingly. The price of your ticket will match the price at the time you joined the waiting list.
9. What is VAT?
The VAT added to each order works in compliance with the laws of the country in which the event takes place. For example, a ticket to BRAND MINDS will be subject to Romanian VAT.
10. WHERE do I need the ticket?
You need to show your ticket (and your ID) to our Customer Service representatives at the check-in desks. This will let you collect your conference badge.
11. I have LOST MY TICKETS, can I still enter the event?
Don't panic!
First, make sure you have checked your email for your ticket. You will have received it by email from us.
If you still can't find it, ask one of our Customer Service representatives for assistance. If we have the correct attendee information in our database, you'll be able to collect your conference badge with your name and ID.
12. Where can I collect my CONFERENCE BADGE?
To enter the event, every attendee will need to collect their conference badge upon arrival from our check-in desks, located at the entrance of our conference venues.
13. Can I ENTER the event without my conference badge?
No, for security reasons, only guests with valid conference badges will be allowed into the conference hall. For this reason, we urge you to take good care of your conference badge and keep it with you for the duration of the event.
You can also pick up your badge at the venue, the day before the event.
14. What DOCUMENTS & ITEMS should I take with me to the conference?
We suggest that you bring your ticket, ID, and business cards with you, as well as anything else that would help you make the most of your time at the conference.
Chargers are hard to come by, so a power bank to charge your phone or a tablet would also be useful!
15. Can I RESELL my BRAND MINDS ticket?
You cannot sell your BRAND MINDS ticket. Doing so will result in a void ticket and the ticket holder will not gain entry into the event.
You can, however, transfer it to another guest.
16. When will the REGISTRATION process start?
The doors open at 7:00 AM, come early to register.
Registration will take place from 7:00 AM. The program starts at 9:00 AM.
B. LOCATION & DATA
1. Where is the EVENT held?
The event is held at The Palace Hall, Bucharest (No. 28, Ion Campineanu Street, 010039, Bucharest, Romania).
2. How do I ARRIVE at Palace Hall?
From the Airport: There is a 40 minutes car ride. You can take either a taxi or an UBER for less than 10 euros. If you decide to ride the bus, take #783 for 13 stops. From the last stop to Palace Hall there's a 9 minutes walk (750 m).
From the Train Station: There is a 15 minutes car ride. You can take either a taxi or an UBER for approx. 3-5 euros. If you decide to ride the bus, take #85 for 6 stops. From the last stop to Palace Hall there's a 7 minutes walk (550 m).
C. DRESS CODE & LUGGAGE

1. What is the DRESS CODE for BRAND MINDS?
Business Formal dress code is required.
Please make sure you have a coat/sweater at you, because the temperature in the conference room may vary.
2. Can I bring a SMALL BAG or a BACKPACK?
You can bring only a backpack. Due to security matters we cannot storage luggage that is bigger than a basic backpack.
Also, please keep in mind that unattended luggage will be removed by security agents.
Please do not leave your luggage unattended.
D. DAY OF THE EVENT
1. What is BRAND MINDS?
BRAND MINDS is the premium events label of BRAND EMOTION.
As a business event, BRAND MINDS is the Central and Eastern European Business Summit of the Year.
2. What are the channels to NETWORK at the event?
There are five channels to network at BRAND MINDS.
The GENERAL PASS is offering the opportunity to connect with other attendants not just by live contact but also through the Networking App, at the event and during the coffee breaks & lunch.
If you got the V.I.P. PASS, you get two more openings: the V.I.P. Lunch and at the V.I.P. After Party.
The last two, are also offering the attendants the chance to network with the speakers.
3. Can I MEET the speakers?
The V.I.P. Pass is offering you the chance to meet your favourite speakers in person since they'll be attending the After Party as well! Don't miss on your chance to network with your favourite mentor!
E. SECURITY
1. Are there any FORBIDDEN objects?
Professional Camcorders and recorders are prohibited in the Conference room.
Weapons of any kind or objects that can be considered weapons, including toys;
Tripods for cameras or sticks for making selfie (hands camera extensions for mobile devices are forbidden as well);
Refrigerated bags or rucksacks larger than 22 inches x 15 inches x width 18 cm high (54 cm x 38 cm x 46 cm);
Pets or other animals, except for approved animals accompanying people with disabilities, who must remain in the leash and always near their owner;
Recreation device, such as drones, remote control toys or any other wheel devices other than a briefcase or a briefcase mobility device for the persons with disabilities;
Glass objects;
Alcoholic beverages;
Food and hot drinks;
Any other articles we identify as harmful or that may create a diversion.
2. Will there be a SECURITY check?
Yes! All attendants and their packages must go through a security check at their arrival.
To ensure a safe and special experience for our guests, everyone has to wear the access bracket all the time.
The badges and all other accessories become null and void if modified.
3. Will there be MEDICAL SERVICES for extreme situations?
An ambulance will be provided throughout the event. In case you need medical attention, please contact our approved staff.
4. Can I bring a small bag or a backpack?
Yes but please keep in mind that unattended luggage will be removed by security agents.
Please do not leave your luggage unattended.
F. PROGRAM
1. Where can I find the conference PROGRAM?
The latest updates are on www.brandminds.ro.
2. Why has the SCHEDULE/lineup changed?
This could be due to a number of reasons. For example: if a speaker is unable to participate due to a medical emergency. Although rare, we reserve the right to make changes to our event schedules and lineups. Individual changes are not a valid justification for cancelling your ticket for a refund.
G. MEDIA PARTICIPATION
1. I'm interested in PARTNERING with the event, who do I contact?
For partnership queries please fill out our partners' application form on www.brandminds.ro/partners.
For information on partnership at BRAND MINDS, please contact@brandminds.ro.
2. I'm interested in a PRESS PASS for the event, who do I contact?
If you would like to cover BRAND MINDS in a media capacity, you can do so, before the event is sold-out, by filling out our press accreditation application form.
For information on press at BRAND MINDS please e-mail contact@brandminds.ro.
We cannot assure, however, that you will receive a press accreditation since the media collaboration proposals are subject to the company's selection criteria.
H. MY PERSONAL DATA
1. Why haven't I received any EMAILS with the event information?
If you have purchased a ticket, we have your contact information and you should be receiving emails from us.
Check your spam filter to see if you have missed our emails. If you have not received anything, please contact us at contact@brandminds.ro.
2. Why am I receiving emails from BRAND MINDS?
You are receiving emails from us because you have purchased a ticket and/or have subscribed to our newsletter.
Our emails usually contain information that is relevant to our events, important updates that we want you to know about or news about our company.
We value your privacy and will not distribute your email address to third parties without your consent.
3. Where can I find the TERMS AND CONDITIONS?
You can check them here.
I. FOOD & BEVERAGE
1. Can I bring food and beverage to the venue?
No outside food or drinks will be allowed at the event. Water and coffee/tea will be available during the event.
2. There will be any food & beverage at the event?
Throughout the conference, there will be breaks when food and beverage will be available.
Although, please keep in mind that food can contain allergens and we are not responsible for related situations. Do contact our staff if you have an allergy to some foods.
J. PARKING LOT
1. Will there be any parking lot in the area?
Yes. You can park on the side of the event's location, but we recommend to use the National Theatre Parking Lot.
There is possible not to find a parking spot in the venue area, depending on your arrival hour and overall traffic.
Meet Smiljan Mori | Behind the Suit
Smiljan Mori is a businessman, author, coach, and consultant to top performers from all walks of life. His business successes are legendary, including the founding and building of one the largest and most successful insurance brokerage company in Central Eastern Europe: the Mori Agency. 
He is also the creator of Top Success Club, the leading e-learning platform with more than 1000 hours of quality e-courses and lectures by more than 50 world-renowned experts.
His speaking credentials include an ongoing count of more than 300,000 attendees to presentations in more than 50 countries.  He has more than 20 years of experience in direct sales. He trained thousands of people in the direct sales industry, network market industry, insurance industry and bank industry.
MEET THE FOUNDER OF THE MORI AGENCY
1. How you came up with the business idea for The Mori Agency? Tell us the first three things you've done to turn it into facts.
How did I get the idea to start a company? It was actually very simple. One day my friend "accidentally" invited me to a seminar. If I had known that the seminar was going to be about insurances, I probably would not go, since I had no intention of ever working in the industry.
Then, I was working as a criminal police officer at the Ministry of the Interior and as an apprentice at the Supreme Court in Ljubljana. For that reason, sales and especially sales of financial products were everything but my dream job.
Things changed at that seminar because I felt that it could become my mission. It might sound strange and funny, but the main reason was that I didn't like getting up very early in the morning and knowing that working in the general government sector would involve working from 7 a.m. to 5 p.m. for the rest of my life, it did not go hand in hand with my dream job definition.
I wanted a career, I wanted freedom and that is how I decided to start an insurance agency without a penny in my pocket. My mother lend me money for gas when I started going to the first seminars.
Now, after 20 years, I can honestly say that I have made the best decision possible.
Also, when I started selling my fist insurance and financial products, I realized that I am really good at motivating people and training them for sales. Therefore I started with motivational and sales seminars, which later grew into business coaching.
Throughout my career I have written almost 10 books, coached many well-known people, including Olympic winners, professional athletes, top business people and managers.

2. Name one situation that made you want to quit.
When I started with organizing my seminars, writing books and sales coaching, and even though things had not gone as planned, I have to say that I never thought about giving up.
Of course I was disappointed because I did not earn as much as I had expected. Also, there have been more expenses than I thought and if I had known what it would be like, I wouldn't probably start in the first place.
Nevertheless, I never thought about quitting. When I set a goal, I stick to it until I reach it.
It was probably helpful that I did not receive any support from my father who threw me out of our house when he found out about my decision to quit working in the  general government sector and opted for insurances and coaching. Those circumstances motivated  me even more. 
3. Name one situation that made you want to go forward.
When I started selling financial and insurance products, people had problems deciding on buying the products or not. But when they ended up extremely satisfied after we closed the deal, it motivated me to go on.
Also, when I first started my seminars, there were people who told me that nobody will come. My first seminar was visited by over 280 people which gave me a real boost. By now, I have had more than 300,000 people coming to my seminars.
4. What do you think are the most difficult challenges entrepreneurs have to face in the Slovenian market nowadays?
When people strive to reach their goals, ideas or visions, they often find themselves in a non-supportive environment.

Slovenia, in my opinion, is a country where entrepreneurs wanting to start a company find themselves challenged by long bureaucratic procedures, the market is limited and small, since there is only 2 million inhabitants.
Also, when they try working outside the borders, it isn't simple to get started either, because many internet providers do not consider Slovenia a serious contender.  

However, the biggest challenge for entrepreneurs and companies is not their environment. It is the way they think, what they believe in, their lack of courage and self-confidence, perseverance and will.
When I ask businessmen in my seminars to enumerate what they need to succeed, these are the key points they make. Rarely, they start with points such as good marketing, well-regulated legal system, good products, etc. They talk about courage, will, perseverance, ideas and inspiration. 

5. Investment matters. If you would invest in something else but your actual business. What would that be?
I would invest in technologies, especially online technologies. During the last year I invested a lot in social media.
I have over 380,000 followers on my personal Instagram profile and also on Facebook Fan Page. On Instagram we own a network with over 2.5 million followers.
In a way I also invest into things that do not bring money straight away but help me create my personal brand in the long run.
6. If you could change something about Slovenian's Entrepreneurs Community to improve it in any way what would that be?
If I had that option, I would definitely make it possible for entrepreneurs to open new companies with less paperwork. Also something must be done about payment discipline, which is still on a very low level in Slovenia.
7. What is The Mori Agency bringing to the art market, that is different compared its competitors?
Every businessmen needs to strive to be as unique, innovative and different as possible in the market. They also need to stay authentic in order to become as influential as possible. When we talk about the Mori Agency, which specializes in selling financial products, we can definitely say that we are unique in our recruitment system.
Our onboarding system of new agents is extremely different from others in the industry. Financial and insurance industry is quite rigid, therefore we have implemented many trainings that include personal growth, motivation, inspiration, setting goals and activities, happiness, and other "soft touch" skills that help agents become more productive.
Also, my training seminars show our uniqueness, where I dedicate 80% of the time to mindset and 20% to acquiring skills. I do the same when I talk to entrepreneurs and focus on the way they think, their rituals, habits and on increasing productivity.
MEET THE MAN #BEHINDTHESUIT
1. Name one good habit that helps you deal with your active life.
Exercise. 19 years ago, when I started with insurance business, I was out of breath after reaching 2nd floor of our building. There and in that moment I decided that I will never be out of shape again. Even when I'll turn 50 I will be in a better shape than I was back then. I feel good about my body, I have a lot of energy and I exercise 6 times a week.
2. Name one bad habit you can't quit.
This is a very good question. The answer is coffee. I did not drink coffee for many years. Once I started, I drank too much coffee every day. It was my favorite habit. Only a few days ago I decided to stop. I don't need coffee for more energy. Wish me luck. 
3. If you could be anything else but an entrepreneur what would you be?
I would be a professor. Actually, I would be a professor of positive psychology or neuroscience. I have certificates in both subjects and I use my knowledge in everyday life and business.
4. You are the founder at The Mori Agency, what is the favourite movie of the man who founded it?
I have to admit that I don't watch movies. I don't want to insult anyone, but for me, movies are a waste of time. I read a lot.
I read a lot of books every year, that's why it will be very hard to answer question number 5. I actually like documentaries about successful people like Gandhi. They inspire me.
5. Tell us your favourite book. What's the best thing you learned from it?
I probably read more than 10 000 books so it's hard to pick one. One book that totally turned my life around was Feel the Fear and Do It Anyway by Susan Jeffers. It made me realize that people with the most difficult stories can become highly successful.
I have to mention Joseph Murphy's The Power of your Subconscious Mind because it thought me that our life depends on the way we think and our mindset. As an entrepreneur, I learned a lot from The E-Myth Revisited by Michael Gerber. 
6. Name the most important value that you believe in.
Honesty. In personal and professional life. We need to be honest with our partners, clients and employees. I like facts. People need to know that we are honest and fair. This is one of the reasons why I'm successful.

7. If you could compare your journey as an entrepreneur with a song what song would you choose?
We are the champions by Queen. I believe that we are all champions. Some people just need to find a champion within themselves. This song really helps me go through difficult times.
8. Tell us the best experience you had while working to build The Mori Agency.
This question is quite complicated. I would say that the best experiences were those that made me stronger and even more determined. Normally, they come when we fail at something. From these situations, we are able to learn the most and…
…I believe that rejections, failures, and defeats made me stronger and more experienced. Therefore, these are the experiences that I am most grateful for.
9. If you would give our readers one piece of advice from your entrepreneurial experience, what would that advice be?
I could give you lots of advice but I will focus on something very important. Many entrepreneurs say that their company is their family. I was one of them but in the last year, I learned this:
My business is not my family. My family is my business. What does this mean? Never forget about your family, your personal life and your free time. You own your business! Your business should not own you! Your family needs you and you should never forget that.
Meet the founder of Antal Risk Ventures | Behind the Suit
He set up his own business and named the company Antal – Hungarian for 'Anthony', in 1993. Since then, Tony and his team have developed substantial businesses in some of the most challenging emerging markets across the globe, such as Russia, India and China. All that, through a mix of wholly-owned operations, franchises and joint ventures.
MEET THE FOUNDER & CEO OF ANTAL RISK VENTURES 
1. How you came up with the business idea for Antal Risk Ventures?
I came up with the idea for Antal International in 1992 when I was reading the Financial Times and general business press and saw how much investment (and general interest) was going into the newly opened Central & Eastern Europe markets by the likes of Microsoft, Compaq Computers, Hewlett Packard, Procter & Gamble, GE Electric, Unilever, Mars etc. There were Western government sponsored programs (PHARE) ploughing $billions into the region to ensure that it didn't revert back to the old communist style regimes.
2. Tell us the first three things you've done to turn the idea into facts.
1. I started looking/ advertising/ networking and searching for people who had western qualifications that could speak hungarian, czech, polish and russian;
2. I hired my own consultants with those languages skills from all my research;
3. I started travelling to Warsaw, Prague, Budapest and Moscow in 1993/94, to check out how easy or not it was to do business there. This was an amazing time and I realised that the whole of CEE was undergoing a once in a lifetime transformation. I was so excited to be part of what was happening.
3. Name one situation that made you want to quit.
I wanted to quit in 2002/03 when we had a market crash in IT recruitment and we had to downsize from 22 offices to 12 and from 429 employees to 160. Fortunately we were also able to recruit into other disciplines too, but this was a really tough time. I had to remortgage my house and sell my Aston Martin car in order to support the business, and that was almost not enough. Very stressful indeed.
4. Name one situation that made you want to go forward.
I struggled on and continued partly because I had to keep going, I had no choice, really (like losing my food & supplies rowing across the Atlantic at the half-way point, no point in going back).
Also, I realised that we had created something unique and distinct that was worth persevering with. The Antal Brand had become firmly established as THE developing markets recruitment brand. 
5. What do you think are the most difficult challenges entrepreneurs have to face on english market nowadays?
Uncertainty surrounding Brexit and, as always, hiring the right people for our profession. Hiring good talent is our profession and building teams is one of the hardest parts of the job, even today with over 1,000 staff in 35 countries and 140+ offices.
6. Investment matters. If you would invest in something else but your actual business, what would that be?
I have invested in many businesses outside of my main recruitment business, most of which have failed, so now I only invest in my business/industry or directly related to it.
If I could have my time over again, I would probably have invested more of my capital into property in prime or up and coming locations. This is easier to manage than service businesses.
That said, I still love the challenge posed by building and creating something from nothing in our industry.
7. If you could change something about UK's Entrepreneurs Community to improve it in any way what would that be?
I believe that in the UK we have a brilliantly vibrant, flexible, open and positive environment to foster and nurture start-ups.
I think we may need to put more warnings about the ability to take on the inevitable challenges and have less of an expectation of success.
8. What is Antal Risk Ventures bringing to the market, that is different compared its competitors?
As a recruitment company (or business services) we are far more integrated than the rest of our competitors with the ability to "share information, knowledge and experience on behalf of our clients, candidates and colleagues" better than any other recruitment company in the world.
MEET THE MAN #BEHINDTHESUIT
1.Name one good habit that helps you deal with your active life.
I've always been a sports oriented and active person, going to the gym regularly, running four half marathons in the last three years and so on. Most recently I've gotten into cycling so I cycle to work most days (11 miles round trip) and go to my gym with my family to do Blaze exercise classes, which keeps me clear headed.
2. Name one bad habit you can't quit.
Watching box sets late into the night which upsets my sleeping pattern; my all-time favourites are Sopranos, The Wire, Narcos, El Chapo, Game of Thrones: Ozark, The Affair, MindHunter and some others.
3. If you could be anything else but an entrepreneur what would you be?
I would love to have been a terrific professional sportsman in any field, but football and tennis would have been my top choices although I wasn't particularly good at either. However, post that career, I am sure I'd have gone on to do something entrepreneurial afterwards, it's just in my blood and my DNA.
4. You are the founder of Antal Risk Ventures, what is the favourite movie of the man who founded it?
There are so many good movies but pushed to choose, would be The Big Short, Inception or All the Money in the World.
5. Tell us your favourite book. What's the best thing you learned from it?
I read so many autobiographies of famous entrepreneurs and businessmen 20 years ago that I realised no-one really knows what the true ingredients of success are and that they cannot be replicated time after time.
I loved Warren Buffet's 'Shoe Buckle Principle' which is about the fact that if you are good at capturing one market, doesn't mean you know everything about anything else.
6. Name the most important value that you believe in.
Integrity. Antal has done business in some of the most difficult countries & markets on the planet and have done so without offending any laws or regulations by doing things properly, legally and fairly. I consistently say that we don't 'do dodgy' deals or aren't things that are a straight-forward honest transactions. That hasn't always been reciprocated by the people we have dealt with!
7. If you could compare your journey as an entrepreneur with a song what song would you choose?
Swedish House Mafia – 'Don't you worry Child' (Heaven's got a plan for you).
8. Tell us the best experience you had while working to build Antal Risk Ventures.
The totality of the 25 year journey; the pain and pleasure of going to some of the most interesting and challenging countries in the midst of their great economic upheaval's that have ever occurred to them; China; Russia & India to name, but a few of the 35 we have offices in and the other 30+ I've visited on business.
9. If you would give our readers one piece of advice from your entrepreneurial experience, what would that advice be?
Don't take no for an answer, ask why, then change your product or service offering accordingly, then be relentless.