Can an app cure your mobile addiction?
In March, thousands of people in the United States and internationally put away their phones for 24 hours to commemorate National Day of Unplugging, "a 24 hour global respite from technology".  But is it too little, too late?
Data shows without any doubt that the population is getting more and more addictive about using the smartphone all the time,for many people the first thing done in the morning after waking up being picking up their smartphones and checking the latest news on their favorite social media channels and apps.
At the moment there are already over 3.5 billion mobile internet users in the world, which represents almost half of the total population. The global share of mobile devices in online activity is 52.64%. It is estimated that every day we spend almost 3.5 hours using the Internet through mobile devices. In 2018 this time will be further extended. According to App Annie, more than 3.5 million applications are currently available on Google Play, while Apple App Store has over 2 million. According to Statista data, both stores last year recorded 197 billion downloads, and by 2021 this number will increase to over 350 billion. Analyzing the statistics, one can conclude that the generally known 80/20 rule also works in the case of mobile. 80% of the time we spend in this channel using 20% of mobile applications installed on the phone. The average user has 5 favorite applications. It is worth noting that the first most frequently downloaded application is active for 45% of the time, and the fifth one is only for 4%.
Deloitte surveyed 4,150 British adults in 2017 about their mobile habits, 38% said they thought they were using their smartphone too much. Among 16- to 24-year-olds, that rose to more than half.  More than half (53%) of 16-75-year-olds in the UK use their smartphones while walking – the equivalent of around 22 million people – according to the latest research from Deloitte. For younger consumers aged 16-24, the proportion rises to 74%. Worryingly, more than 4.5 million people (11% of respondents) also admit to using their smartphones while crossing the road. This proportion almost doubles for 16-24-year-olds (21%).
Most people can relate to 'smartphone zombies', either through being one or bumping into one. But this is just one indication of just how infatuated we are with these devices, for better or worse. While we may be glued to our smartphones, it is important to acknowledge that these devices are also, increasingly, the glue that is binding society together, and will soon become the primary way to communicate, interact and transact with customers and fellow citizens, said Paul Lee, head of research for technology, media and telecoms at Deloitte.
Deloitte's research shows that the UK's continued love of smartphones continues to affect almost every aspect of daily life, including night-time. Among 16-19-year-olds, two-thirds (66%) check their phones in the middle of the night, double that of all UK respondents (33%). More than a quarter of 'screenagers' (26%) actively respond to messages they receive after falling asleep at night. More than a third (34%) of respondents look at their smartphones within five minutes of waking, and over half (55%) do so within a quarter of an hour. At the end of the day, more than three-quarters (79%) check their smartphones within the last hour before going to sleep.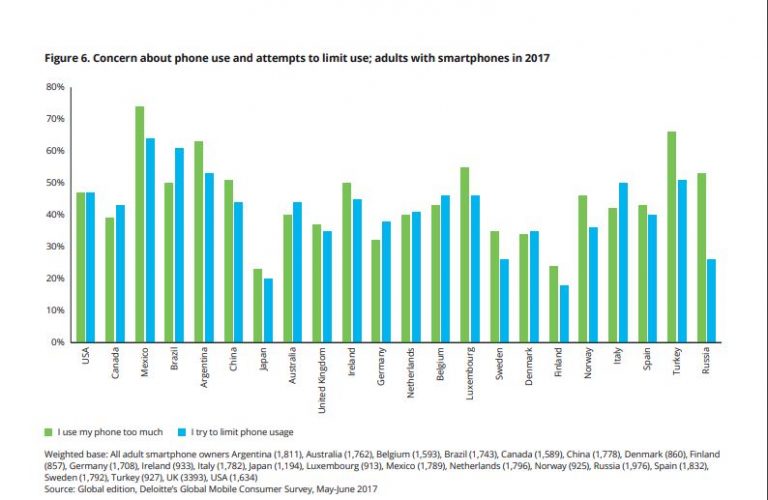 source: Deloitte
At the same time, according to another Deloitte study, 47 percent of U.S. smartphone owners have made an effort to limit their phone use in the past. The most popular ways of trying to turn off are keeping the phone out of sight in a pocket and turning notifications off. The attraction for social media platforms remains hard to resist however: only 30 percent of smartphone owners have succeeded in reducing their phone time.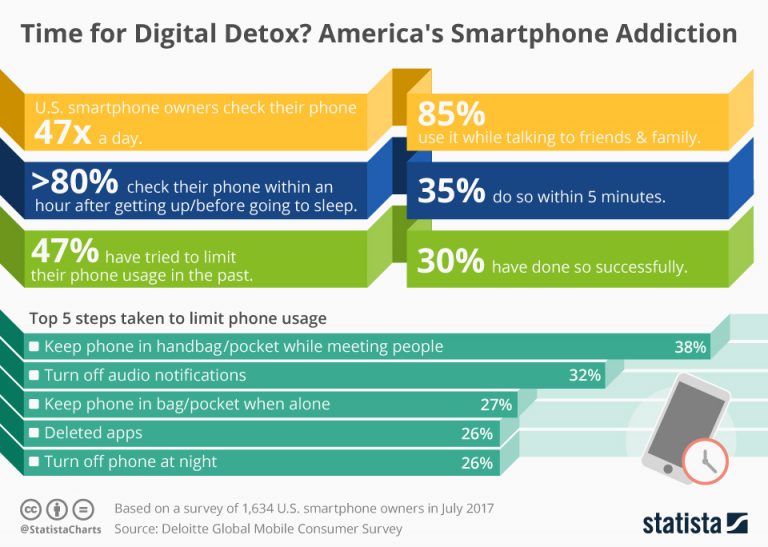 In this context, the new app called Siempo wants to "un-addict" you from your smartphone and its numerous attention-stealing apps. Siempo's interface removes distractions and prevents you from getting sidetracked. The app also promises that you will get interruptions only when you want them, as it will batch all notifications to arrive at any interval or time of day that you desire.
"Siempo also leverages a number of design techniques to distance you from your distractions, including by unbranding app icons and turning them to greyscale. Plus, the launcher organizes apps into a tiered menu system where distracting apps are further away on a third page, and the location of those apps is randomized upon each visit to prevent unconscious opens and usage," wrote TechCrunch.
Other apps that say they will help reducing the smartphone usage:
How much do you think you use your phone every day? 1 hour? 3 hours? Mute keeps you posted on: your daily screen time and pickups; the frequency you check your phone; and how long you can resist it's pull! .
Moment sets daily limits on your usage and will even try to force you off the device with a barrage of notifications if you choose that option.
It locks you out of your favorite apps until you have completed your exercise goal. This means that instead of stalking someone's Instagram, you'll be greeted by a screen telling you how many more steps you have to take before you can even open the Instagram app.
It's a personalized behavior change program designed to help you think about how you use your phone, and how it affects your life.  It's designed to help you to see the opportunities to put down your phone and to look up at the world around you.
This is a handy app for iOS users which inhibits you from accessing apps for an allocated period of time, allowing you to enjoy your meal. Users can set a timer, put down their phone, and "make dinner the place to be tech-free" for 15 minutes, 30 minutes, or 1 hour.
Aimed at students, Hold tracks how much time they spend not using their phone, and converts that into points to be redeemed for real-world rewards.
This app has a different approach: starting the app plants a virtual tree, which grows for as long as you don't quit the app, but dies if you exit. Moreover, Forest team partners with a real-tree-planting organization, Trees for the Future, to plant real trees on the earth.
The app promises to reduce your smartphone overuse with the help of a personalized Al coach (i.e., a sympathetic bot called 'O'), and forces users to confront the amount of time they're spending on their phones. Simply enter your number at the "Get Started" prompt on the site and a download link will be sent to your device.
Top 5 social media platforms you never knew about
Are you looking for business deals, investors or opportunities for growth?
Have you grown tired of LinkedIn?
Then it is time you learn of other business-focused social media networks.
Here is our list of top 5 social media networks that you can use to grow your business:
Viadeo – where professionals meet
Viadeo is an online business-based social networking site that helps business people, mostly Europeans, connect with one another. As of 2014, the site had 65 million members mainly business owners, entrepreneurs and managers. Its interface is available in 11 different languages: Dutch, English, French, German, Italian, Spanish, Polish, Portuguese, Russian, Simplified Chinese and Turkish.
By displaying how each member is connected to any other member, Viadeo visualizes the small-world phenomenon.
The platform offers personal profiles, groups, discussion forums, event coordination, and other common social community features. Basic membership is free, but many core functions, like searching for people with specific qualifications or messaging people to whom one is not already connected, can only be accessed by the premium members.
Xing – for a better working life
Xing is a European career-oriented social networking site for enabling a small-world network of professionals. The company claims that it is used by people from over 200 countries.
This professional social networking site offers features that are similar to LinkedIn's features, with its main users based in Switzerland, Austria and Germany. However, it is unique in the sense that it enables closed group discussions between the members of a certain company or business.
Xing also offers the system for closed communities, called Enterprise groups with their own access paths and interface designs. The platform serves as the infrastructure for corporate groups, including IBM, McKinsey, Accenture and others.
Opportunity – Welcome to the land of opportunity
Opportunity is a business network that uses a matchmaking algorithm to connect you with other professionals who can provide employment, sales, networking and relationship opportunities.
Its members can discover sales leads and employment opportunities, post jobs and build relationships, both personal and professional. Here are a few statistics: 1 billion opportunities discovered, 85 million professionals referred and connected and members from 190+ countries worldwide.
Ryze – expand your influence with Ryze
Ryze helps people make connections and grow their networks.
You can network to grow your business, build your career and life, find a job and make sales. Or just keep in touch with friends.
Members get a free networking-oriented home page and can send messages to other members. They can also join special Networks related to their industry, interests or location. More than 1,000 organizations host Networks on Ryze to help their members interact with each other and grow their organizations.
PartnerUp – your partner in business!
Are you searching for people and resources for business opportunities?
If your are, PartnerUp is just the social networking site you need to be on.
From co-founders and business partners to executives and board members, anyone who joins is bound to get the most out of this one.
PartnerUp allows users to connect with top people in a niche within a particular geographical location and make custom searches pertaining to job specifications. Yet another interesting feature of PartnerUp is that it favours entrepreneurs who are looking for advice and gives its users the opportunity to advertise their products or services.

Did you find our article useful?
Share it with your friends!
How can behaviors be changed?
Marketers' goal is to convince the consumer to choice his product or brand, to like it and become a fan of it, a loved brand. What can a marketer do when he needs to convince the consumer to change his behavior and change his favorite brand or change his daily routines? How can he reach his goal?
For once you can try doing it online. While all of us spend a great deal of time online,  the digital world has become a convenient gateway to the audience a marketer needs to reach. And because behavior change happens over a period of time, digital is an affordable way to stay in front of your targeted audience. "Behavior change marketing, also known as social marketing, involves adapting the principles of traditional marketing in order to effect a positive behavior change. It involves a deep understanding of an identified target audience in order to better understand the barriers that exist and what might be helpful in motivating them to change," wrote Vont Performance Digital Marketing.
Moreover, according to the website, the message needs to be fun, easy and popular. Targeting is key and enables you to more closely reach your specific audience. Social media platforms offer you good targeting capabilities, ads are not targeted based on a keyword being searched, but rather on rich demographic and psychographic data known about social media users. Ads can promote content designed to inform and engage the target audience and, therefore, "capture" the wanted audience.
You can also do programmatic digital advertising and use Landing Page/Conversion Rate Optimization (CRO)."Targeted ads with calls-to-action that lead to specific landing pages work in tandem to lead your audience to you – and to the specific action you wish them to take. Optimizing the landing page (CRO) further increases the likelihood that the action will be taken," added Vont.
"Your target audience is (usually) not you. You may think you know them – but do you really? One of the most important pieces of Behavior Change Marketing is having a deep understanding of your target audience. How they think, feel, act…where they hang out, how they talk, who they trust, etc. Don't assume – do your research. In-depth quantitative and qualitative research is critical in developing an effective behavior change campaign," explained Ethos Marketing on its blog.
Moreover, the blog shows that when it comes right down to it, Behavior Change Marketing isn't entirely different from traditional marketing, in which we attempt to convince people to buy a product or service. Behavior Change Marketing is also transactional, but instead of goods we barter with behaviors. "Before you can make someone change their behavior, you need to uncover what's in it for them. What matters to them enough to change the way they act? Research tells us that this is different for different audiences. In order to affect behavior change you need to alter the perception of the desired action (or inaction). If the goal is to recruit those teenagers back over to Facebook (or away from social media in general), we need to convince them there is a fun, easy, and wicked cool reason to do so."
Start step by step and keep it up.  Be in continuous connection with your target, follow it, research it, interact with it, use an integrated communication to make sure the consumer feels you are with him all the way.  Don't just use digital and PR, digital, use traditional and interactive tools as well. Social media, video, direct mail, and experiential marketing all play a part in giving the target audience the knowledge, will and skill to change.
Moreover, make sure you are measuring all the time, in all the campaign's stages. It's the only way you can actually see if your process has results or not.