Questo is a real-world exploration game, offering mission-like tours which anyone can play.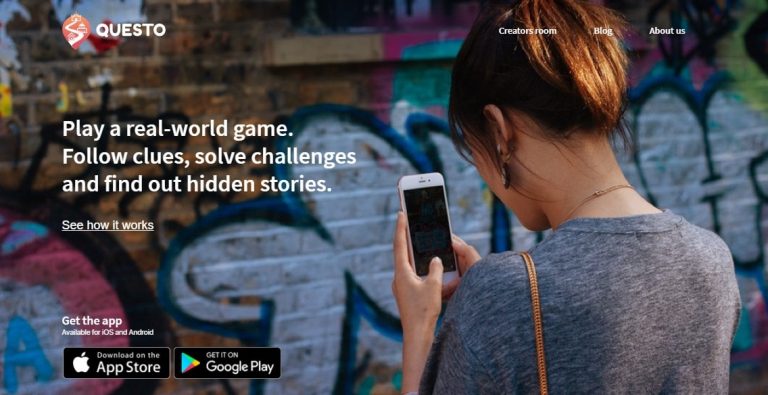 With names like Expose the spies of Rotterdam, The Angels and Demons of Rome or The Haunted Vienna, the app's quests promise an exciting and thrilling experience to its players. Judging by the latest stats, the app's experiences live up to the players' expectations:
+60k downloads;
+35.000 players;
+100.000 km walked;
+100 quests in 35 cities from 7 countries.
Founded in early 2017 by a team of four Romanian entrepreneurs, Questo won the Best Travel App at the 2017 eTravel Awards and in March 2018 won a grant from Booking.com's Booster Labs in Tel Aviv.
I was interested to know more about Questo so I talked to Alex Govoreanu, co-founder and Chief Play Officer.
1. What is the story behind QUESTO? How did it all start?
The first spark came when one of us accidentally discovered the best pizza in Rome. Away from the overcrowded, touristic parts of the city stood this little place where a family-owned restaurant prepared amazing food. The owners also had very insightful and funny stories about the area, which they joyfully shared with their clients.
This triggered a sense of mission for us, to discover all these incredible places in every city, which only insiders knew about.
About a year later, it transformed into a gamified way of discovering every city: the Questo app. We blended the joy of exploring new places with the excitement offered by a real-world game, all wrapped in storytelling.
By following clues and solving challenges, puzzles and riddles, you can now game your way around a new place, while finding out the spiciest stories it has to offer. You will discover both popular and lesser-known places and unknown stories about your city or any other one.
Questo – How it works from Alex Govoreanu on Vimeo.
2. The latest consumer behaviour trend shows that brands focusing on their social impact earn their consumers' love and loyalty. What can you tell us about QUESTO's social impact?
Redistribution of tourism income
We have many ways in which we create social impact, with one that is built into our very core.
What we do is take people around the most interesting parts of the city, and, for us, this means the players will most of the times end up in lesser-travelled areas of the city, the ones where tourists don't usually tend to visit. This helps in redistributing the income coming from tourism. Along the way, we recommend small, less fortunate local businesses located away from the touristic focal points, which can greatly benefit from this.
Less overcrowding
Also, this makes a dent in the overcrowding issue as well. We were recently awarded by Booking.com for these very reasons.
Calls-to-donation
One other social impactful action we take is to add local causes and charities into our exploration paths. When you pass by a local patrimony house in need of renovating, we place a call-to-donation into the app. If you pass by a centre supporting any kind of people in need, we place a call-to-donation/volunteering. We also have plans to launch entire quests (what we call our trails) focused on social causes, with contributions going to NGOs.
3. What strategies do you implement to grow QUESTO?
Right now we are focusing on expanding across Europe, with plans to have several quests in the most popular cities by the end of the year.
To do this, we are actively looking for creators who can create quests of their own. These are either players who enjoyed a quest so much that they want to build one too or just writers and enthusiasts who enjoy storytelling mixed with real-world gaming. They are rewarded with a commission for each sold quest.
---
Join the Conversation
We'd love to hear what you have to say.
Get in touch with us on Facebook Group and Twitter.