The Story of Instagram's Acquisition
In 2010, co-founders Mark Krieger and Kevin Systrom had a great product – Instagram, where users can tell their stories through photographs.
One week following its launch, Instagram had 100.000 users and by December, 1 million users.
There's no doubt – Instagram was the rising star of photo-focused apps. The powerful duo worked by having complimenting skills: Krieger loved working on the technology and engineering side while Systrom focused on product and design.
They knew the future of Instagram was bright so they came to the conclusion they needed help to grow faster. Facebook monitored Instagram's meteoric rise closely with good reason – its position as the heavyweight of the social media landscape was coming under threat. When the occasion presented itself, Facebook didn't miss it and moved to acquire Instagram in 2012 for $1 billion. Both parties were happy with this acquisition: on one hand Facebook's almost endless resources and infrastructure provided the fuel for Instagram's growth and on the other hand Facebook managed to eliminate a powerful competitor while gaining access to a large pool of young users.
"The whole idea of joining Facebook was that we could scale way more quickly than we would independently. So if that is your goal, I think we've fulfilled that, and then some. If your goal, on the other hand, is not to have a billion dollars but two, or three, or four or whatever, well, good luck spending it. That's not what makes you happy in life."

Kevin Systrom via cnbc.com
Both Krieger and Systrom anticipated that, by selling to Facebook, they could let Facebook handle the tedious organisational aspect of running a company, while they focused on the parts they loved most: building products.
The acquisition took Instagram to a whole new level. The number of employees grew from 13 to 550+. They launched new products and features and monetized the platform by running ads. Instagram soon generated close to $8 billion in ad revenue. The Stories feature launched and it quickly overtook Snapchat Stories, which served as inspiration.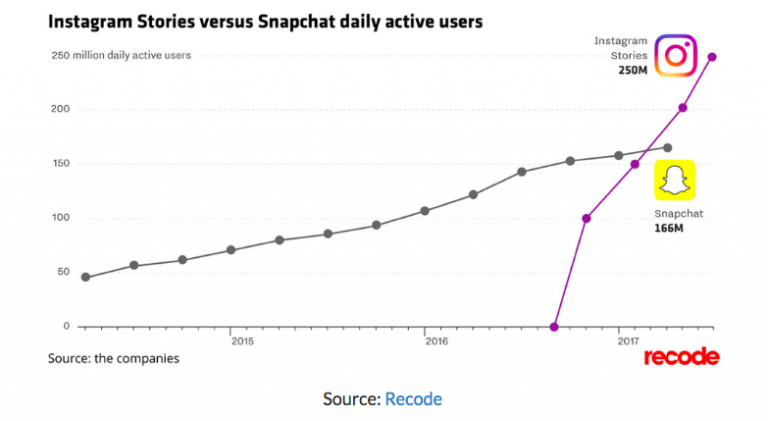 In early 2018, Instagram announced it had finally hit a billion users worldwide.
At the time of the acquisition, Zuckerberg declared his commitment to running Instagram independently.
Recently, Krieger and Systrom became reportedly frustrated due to their creative independence being eroded. Although neither one of them went public on this subject, they may have felt Facebook was changing its story: instead of sustaining Instagram's growth, the social media giant was apparently using the platform to slingshot itself.
Sources estimated Instagram was currently worth more than $100 billion and on track to provide Facebook with $20 billion in revenue by 2020. The decision of both co-founders to leave the Facebook-owned Instagram was not surprising to those looking beyond Mark Zuckerberg's lofty words of "connecting the world".
What does the future of Instagram look like?
Analysts are saying that Instagram's bright star is growing colder – the platform is most likely to become "a product division of Facebook than an independent operation".
The story of WhatsApp's Acquisition
Jan Koum started WhatsApp in 2009 after he got annoyed that he was missing calls when he went to the gym. Later that year, he brought Brian Acton to the company. By 2013, WhatsApp had 200 million active users and a staff of 50. The company's values are heavily influenced by Koum's childhood life in communist Ukraine:
• Protection of users' privacy through powerful encryption codes (the company doesn't have any information on its users);
• It doesn't read users' messages;
• No adds-policy.
Because WhatsApp doesn't store its users personal information, delivering adds to them is out of the equation. In our world, the world of giant tech companies (Google, Facebook) which store users' personal data and sell it to advertisers, such company values seem quite odd and very out of place, while terribly correct.
In 2014, WhatsApp was acquired by Facebook for $22 billion.
When the Facebook acquisition of WhatsApp was announced, many questioned the company's capacity to remain true to its values. Here is Jan's statement on the WhatsApp blog:
"Respect for your privacy is coded into our DNA, and we built WhatsApp around the goal of knowing as little about you as possible: You don't have to give us your name and we don't ask for your email address. We don't know your birthday. We don't know your home address. We don't know where you work. We don't know your likes, what you search for on the internet or collect your GPS location. None of that data has ever been collected and stored by WhatsApp, and we really have no plans to change that."
As with Instagram, Facebook promised WhatsApp autonomy and independent operation. Both Brian Acton and Jan Koum were assured that WhatsApp wouldn't have to run ads or merge its data with Facebook's earlier than 5 years. But apparently Facebook changed its mind.
In its interview with Forbes, Acton claims Facebook used him to get the acquisition past EU regulators by convincing them that a data merge between the two platforms would not take place. Two years later, Facebook managed to connect WhatsApp and Facebook user accounts, which lead to a $122Million fine from the EU.
In 2017, WhatsApp announced the introduction of new features to make it easier for people to communicate with businesses over the messaging platform: the WhatsApp Business App. Business looking to use the new app will pay to send certain messages.
Talking about Mark Zuckerberg and Sheryl Sandberg, Acton said:
"They are businesspeople, they are good businesspeople. They just represent a set of business practices, principles and ethics, and policies that I don't necessarily agree with".

Brian Acton via forbes.com
Brian Acton left in late 2017 due to disagreements over how to monetize their anti-ads messaging platform. Acton said he tried to push Facebook towards an alternative, less privacy hostile business model for WhatsApp. He suggested a metered-user model in which the user is charged a tenth of a penny after a certain large number of free messages were used up. Mark Zuckerberg and Sheryl Sandberg were dissatisfied with his proposal. Consequently, Brian chose to leave the Facebook-owned messaging platform, losing $850 billion. He later joined the #deleteFacebook movement. The same year, WhatsApp reached 1 billion users daily.
"Dealing with ads is depressing . . . You don't make anyone's life better by making advertisements work better."

Jan Koum
In early 2018, a few months after Acton had left, Jan Koum followed suit and left WhatsApp over conflicts related to WhatsApp user data privacy and weakened encryption.
Media reported on Jan being angry with Facebook executives who pushed for a weakening of WhatsApp's end-to-end encryption in order to facilitate its new WhatsApp For Business program. The next step in the foreseeable future is Facebook allowing businesses to upload lists of phone numbers to target people with ads.
Opinions in the media
Time says the Instagram founders leaving the platform is really bad news for Facebook, The Verge casts a gloomy conclusion saying this is the end of Instagram as we know it while The Guardian names Zuckerberg the Supreme Leader and suggests the co-founders' have left because they must have realised that what they were trying to do within the Facebook empire was doomed to fail.
Conclusion
Some may say Facebook looks a lot like the witch in Hansel and Gretel who was luring the children lost in the woods with candy and chocolate to enter her house, kill them and eat them.
Maybe it's good to remind the supporters of this opinion that the founders are not the children in Grimm's tale.