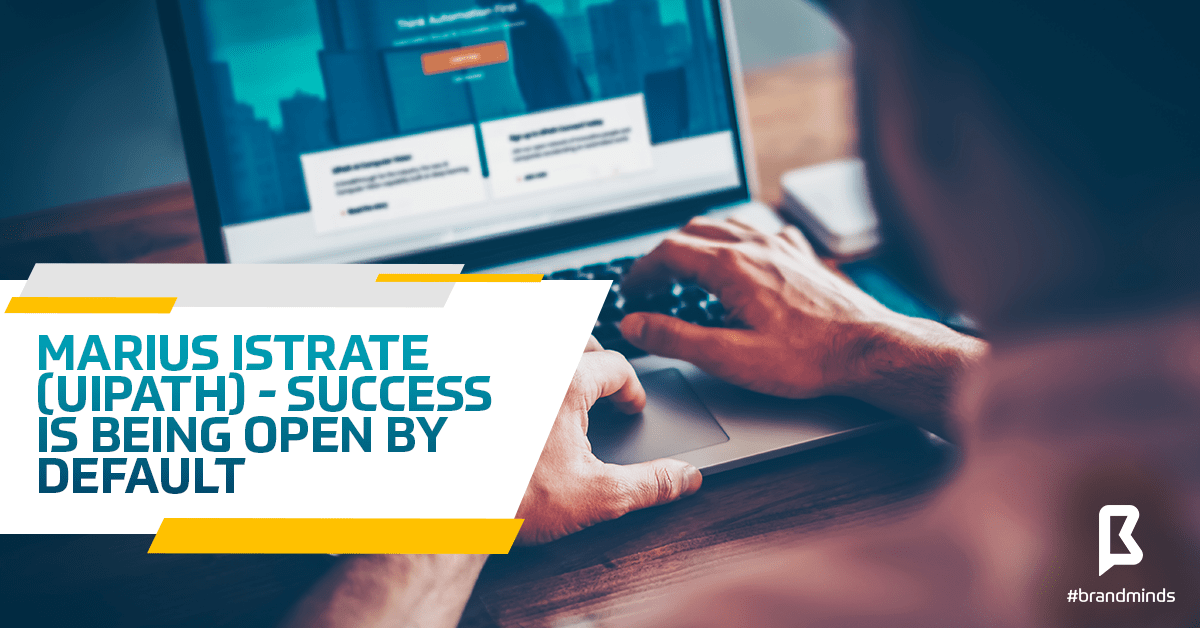 UiPath is one of the leading enterprise Robotic Process Automation (RPA) software companies in the world.
The company is currently valued at $3 billion and has been recently included by CB Insights in its Global Unicorn Club and AI 100, a list showcasing the 100 most promising private artificial intelligence (AI) companies in the world.
UiPath's mission is to help companies develop an agile digital workforce that enables them to eliminate repetitive business efforts and improve operational quality.
With offices all over the world today, UiPath was founded by two brilliant Romanian engineers driven by an enduring ambition to build the best technology they possibly could.
To discover the company's secret for success, I invited Mihai Istrate, Chief People Officer at UiPath to answer a few questions.
Question:
In Comparably's 2018 Culture Awards, UiPath ranked 6th for Happiest Companies. How do you achieve that? Who has the most important role in driving employee happiness and engagement?
Answer: UiPath's success is strongly linked to the way it was built: as a global, diverse and inclusive company from day one. Everyone has a role in driving employee engagement because we challenge each other and we hold each other accountable for maintaining an "open by default" culture and a pleasant work environment.
A ranking cannot tell you how much effort goes into this, unfortunately: happiness at work means a lot of effort invested in listening to one another, learning from one another across borders and across departments.
[bctt tweet="Marius Istrate @UiPath: Happiness at work means a lot of effort invested in listening to one another, learning from one another across borders and across departments." username="brand_minds"]
We currently have 31 offices in 19 countries, which all bring along their own culture. You achieve happiness by being inclusive and challenging people to be empathetic and listening to each other out.
Q:
Building a strong community is paramount for long-term business success. What is UiPath's approach to this subject?
UiPath has always been community driven: even the early pieces of software we developed were released publicly and we rejoiced in the community's feedback.
It is through our community of developers that we managed to sign the first customer and understand the fit between the product we had developed, UiPath's Robotic Process Automation (RPA) platform, and a growing market projected to reach $1.7 billion in revenue this year.
Today UiPath is 2500 people strong, but with a community of 250,000 developers behind, 25% of whom have graduated at least 1 course in our online Academy. This instils a feeling of great responsibility in our team, but, again, it is critical for holding us accountable for the quality of our work.
Q:
How do you and other UiPath leaders connect your employees with your company's mission?
We know that over-communicating and living the values, such as leading by example, are the key things to do to help everyone in our organization connect the dots and understand where we're heading.
UiPath has expanded tremendously over the past three years, both in terms of headcount and as market positioning, becoming the leader of the global RPA market, and one of the fastest growing enterprise software companies in history.
As we grow, we are working towards keeping the organization structured in a simple and lean way. This is not to say that we have 100% achieved this: it is work in progress and there is still a long way to go. But, as we progress towards that goal, we ask our leaders, for instance: "Do you feel like you have communicated enough on the topic of psychological safety within your teams?" And if they haven't, we challenge them to simplify their organizational structure.
Psychological safety is paramount if we are to achieve what we've set out to do, which is deploying a robot on every human worker's computer.
—————————————————————————————————————————————–
Read our previous Success Stories:
Building the homes of the future,
Turning plastic sea waste into fashion,
Writing code to change the world,
Enhance your art experience with tech
---
Join the Conversation
We'd love to hear what you have to say.
Get in touch with us on Facebook Group and Twitter.